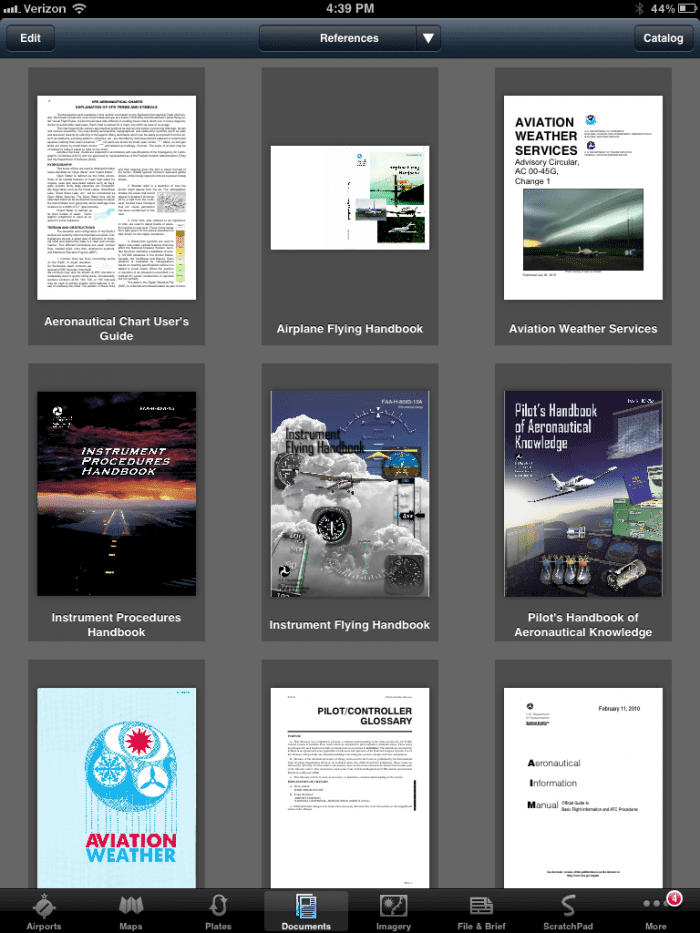 How to use Documents in ForeFlight Mobile
2

min read
For many pilots, the iPad has become an all-in-one resource in the cockpit, storing charts, flight plans, weight and balance data and even logbooks. In addition to these functions, pilots need to carry a lot of documents, including scanned versions of paper files. While there are a number of stand-alone document viewers, up until now, this has meant switching apps in flight–not always a good option if you're viewing maps or weather.
But there's an easier way now. Beginning with version 4.4, ForeFlight Mobile added a new tab to their main menu–Documents. This powerful document viewer and organizer is a great way to find and carry a wide variety of useful products. The nice part about ForeFlight is that there is a built-in catalog of helpful files. Just tap on the Catalog button at the top right, pick a document and ForeFlight adds it directly to your stored library:
FAA and NavCanada chart legends (what do all those symbols mean?)
Airport/Facility Directory "front of book" information (preferred routes, frequencies, phone numbers)
FAA handbooks (study for your next license or rating anywhere you have your iPad)
ForeFlight Pilot's Guide (become an expert user of the app)
Enhanced Class B airspace graphics (not easily displayed on the Map tab)
Pilots can also add their own documents, which is ideal for aircraft manuals or other reference data. Specifically, ForeFlight accepts PDFs and image files (PNG, JPG, TIF, GIF). You can import files into ForeFlight by viewing a document in another app, like Safari, Mail, Dropbox or GoodReader. Tap the arrow button, which will show an "Open in…" window, then choose ForeFlight. Alternately, files can be brought into ForeFlight by syncing your iPad with iTunes, although this isn't as easy.
To stay organized, pilots can create document binders, just like on the Plates tab. Tap the My Documents menu at the top center of  page, then tap + to create a new binder. This is a great way to organize imported documents by aircraft if you fly different models.
You can also bookmark, email and print documents right from ForeFlight. Because it uses the larger screen, this feature is available on the iPad only.
ForeFlight also has a video showing off the features of Documents:
https://ds2q22dwzczts.cloudfront.net/wp-content/uploads/2012/06/07191159/FFdocs.png
933
700
John Zimmerman
https://ipadpilotnews-images.s3.us-east-2.amazonaws.com/wp-content/uploads/2021/04/07120009/logo.png
John Zimmerman
2012-06-07 12:38:24
2013-01-15 14:30:44
How to use Documents in ForeFlight Mobile