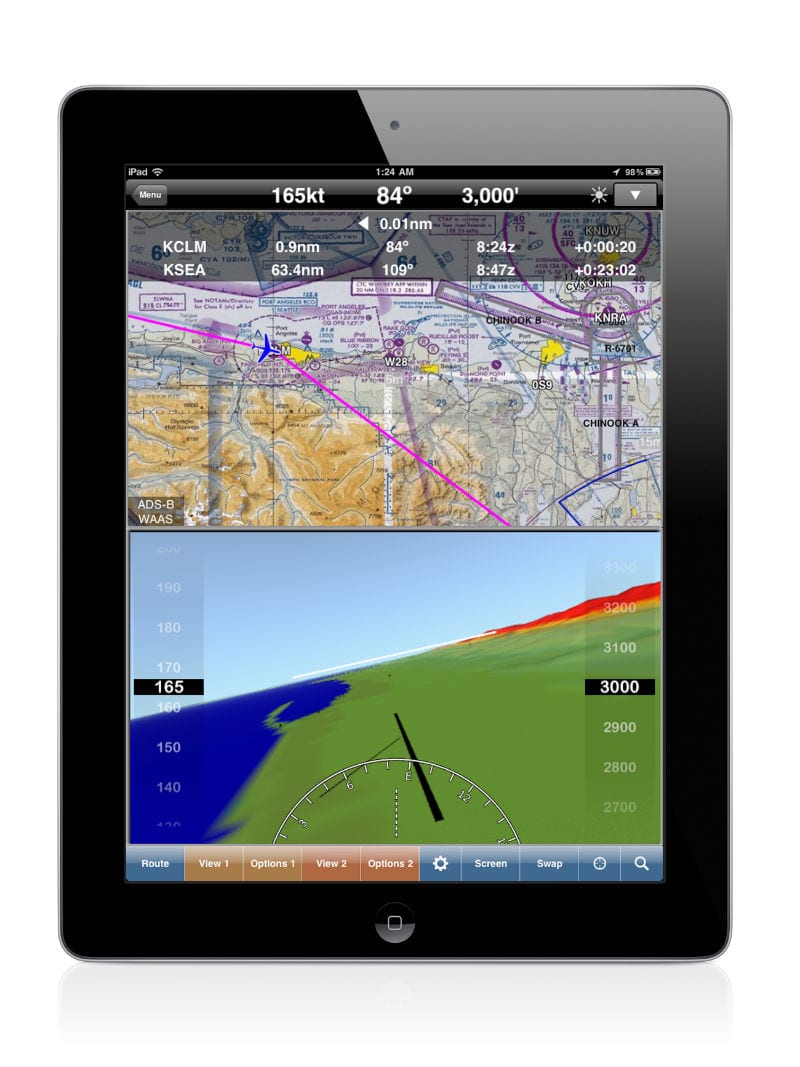 Split screen setup on WingX
2

min read
One of the standout features in WingX Pro7 is the ability to use the iPad's large 10" screen to display 2 different view options side by side. This can be very helpful to display both terrain data and an instrument approach chart at the same time, for example. Here's how to set it up in landscape mode (it works in portrait mode too, except the windows are stacked vertically instead of horizontally):
From the Main Menu, select the "Moving Map" button
By default the Route window will be visible allowing for easy flight plan entry. Once your airports are entered, you can press the "Route" button in the lower left twice to hide this if desired.
The View 1 and Options 1 buttons control what's shown on the left pane, and the View 2 and Options 2 control the right pane. For this example, set the View 1 to display "Charts" and View 2 to "Terrain".
When Charts are chosen as the selected view, the Options menu provides quick access to the necessary chart based on phase of flight:
Takeoff –> Taxi Diagram
Climb –> Standard Instrument Departure (SID) Charts
Descent –> Standard Terminal Arrival Procedure (STAR) Charts
Approach –> Instrument Approach Procedure Charts
Landed –> Taxi Diagram
(if multiple charts are available for a particular phase, press the darkened box labeled "Chart" in the lower right of the view window to change what is displayed)
With Terrain selected as the View 2 option, you'll now have increased situational awareness by having both an instrument procedure and nearby terrain visible at the same time. You can use the Options 2 button to add additional overlays to the Terrain view, like airspace, airways and runways.
You also have the option of displaying the left View window in full screen mode by pressing the "Screen" button. If you want to display the right View window full screen, you'll need to press the "Swap" button first.
https://ds2q22dwzczts.cloudfront.net/wp-content/uploads/2012/01/07191827/WingX-dual-screen.jpg
1067
800
Bret Koebbe
https://ipadpilotnews-images.s3.us-east-2.amazonaws.com/wp-content/uploads/2021/04/07120009/logo.png
Bret Koebbe
2012-01-16 18:40:35
2016-02-27 16:02:07
Split screen setup on WingX