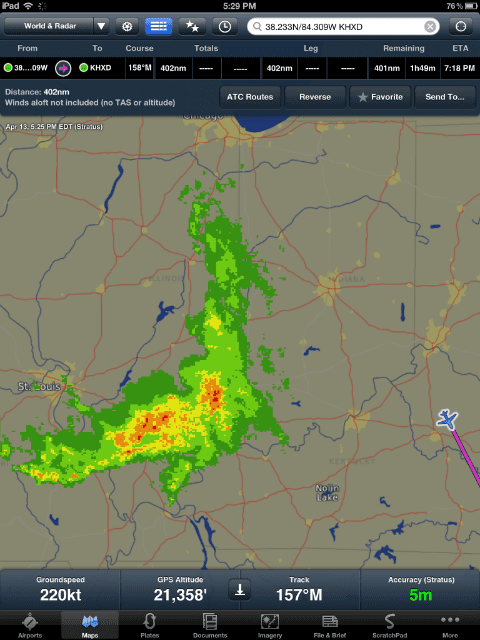 ForeFlight update adds Stratus support
2

min read
ForeFlight recently released version 4.5, a substantial update for the app that enables ADS-B weather and adds other features. The update is free, and available in the iTunes App Store.
Subscription-free weather
The big news here is that pilots can now view in-flight weather on ForeFlight Mobile without a monthly subscription by using Stratus, a wire-free ADS-B receiver available from Sporty's. Stratus seamlessly integrates with the app, showing NEXRAD radar, METARs, TAFs, TFRs, Pilot Reports and more. Because it uses the FAA's network of ground stations, all weather data is transmitted free.
Stratus is completely wire-free, with built-in GPS and ADS-B antennas and an internal 8-hour battery. This makes it the least expensive and most portable solution for in-flight weather on the iPad. As ForeFlight says, "Stratus is a great step forward for low cost in-flight weather."
Easier direct-to navigation
In addition to ADS-B weather support, version 4.5 also adds some other exciting features. For example, direct-to navigation is now easier than ever. Pilots can simply enter D in front of an identifier for instant navigation from present position to the identifier. For example, simply enter D I69 in the search box at the top right of the map page to go direct to the Clermont County Airport.
Estimated departure time updates
Another handy update allows pilots to update a departure time and view the appropriate weather forecast and winds aloft. For example, entering I69 KIAD +2h would update the flight plan from Clermont County Airport to Washington Dulles for two hours from now. Likewise, I69 KIAD 11:30am would update the flight plan to 11:30am local time.
Flight plan altitudes
The File & Brief tab is a great way to plan flights, but for pilots who fly at low altitudes, ForeFlight has been a little restrictive about cruise altitude rules. Not any more. Below 4100MSL, ForeFlight will now let you fly at any altitude.
Name favorite routes
Finally, ForeFlight now allows pilots to name favorite routes. Simply create a route using the search box on the Map tab, then tap the star button. This will make the planned route a favorite, and it will prompt you to name the route. This can be a real time saver for pilots who fly the same route frequently.
https://ds2q22dwzczts.cloudfront.net/wp-content/uploads/2012/04/07191718/ADS-B-radar.png
640
480
John Zimmerman
https://ipadpilotnews-images.s3.us-east-2.amazonaws.com/wp-content/uploads/2021/04/07120009/logo.png
John Zimmerman
2012-04-17 09:49:22
2012-04-17 09:49:22
ForeFlight update adds Stratus support