Sporty's E6B adds new aviation functions and conversions
1

min read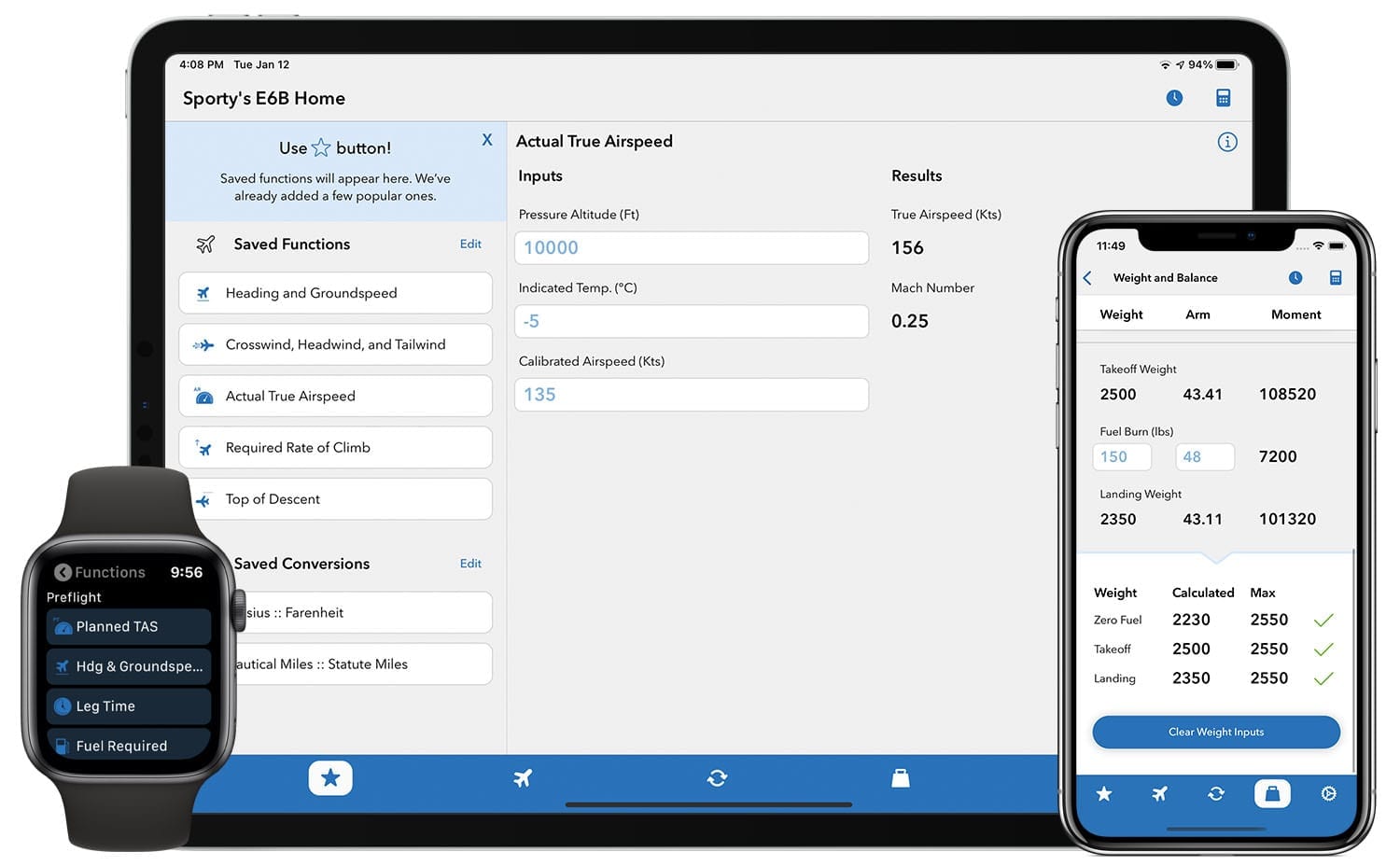 Sporty's E6B app has been the flight computer app of choice for tens of thousands of pilots around the world for the past decade. It has been updated, improved, and redesigned numerous times since it was first developed in 2009 for the original iPhone. It includes 27 unique aviation functions, 22 conversions, a clock/timer with alerts and an integrated calculator.
The E6B app has grown extensively in recent years, adding support for full multitasking capabilities on iPad, dark mode theme, a standalone Apple Watch app and even a dedicated app for Mac computers.
The most recent update expands the core functionality across all platforms by adding 7 new functions and conversions:
Freezing Level > computes the approximate freezing level based on the surface temperature and dew point
Hydroplane Speed > determines the speed at which your tires will dynamically hydroplane based on tire pressure (PSI)
Compass Heading > calculates True, Magnetic and Compass Heading when planning a cross-country flight
Pivotal Altitude > useful when flying the Eights on Pylons maneuver during Commercial Pilot training
Actual True Altitude > determine your actual height above mean sea level, based on temperature variations
Glide Distance > calculates how far your airplane can glide based on glide ratio and height above the ground
Climb Conversions > convert climb requirements from percent or degrees to Ft/NM
Sporty's E6B app
is available for purchase for $9.99 in the Apple App Store and includes access to all platforms: iPhone, iPad, Apple Watch and MacOS. This latest update is available free to all existing Sporty's E6B app users.
https://ds2q22dwzczts.cloudfront.net/wp-content/uploads/2021/01/07115709/E6B-3.0-featured.jpg
928
1500
Bret Koebbe
https://ipadpilotnews-images.s3.us-east-2.amazonaws.com/wp-content/uploads/2021/04/07120009/logo.png
Bret Koebbe
2022-06-28 17:17:36
2022-06-28 17:18:07
Sporty's E6B adds new aviation functions and conversions