Sporty's releases new E6B app for Apple computers
2

min read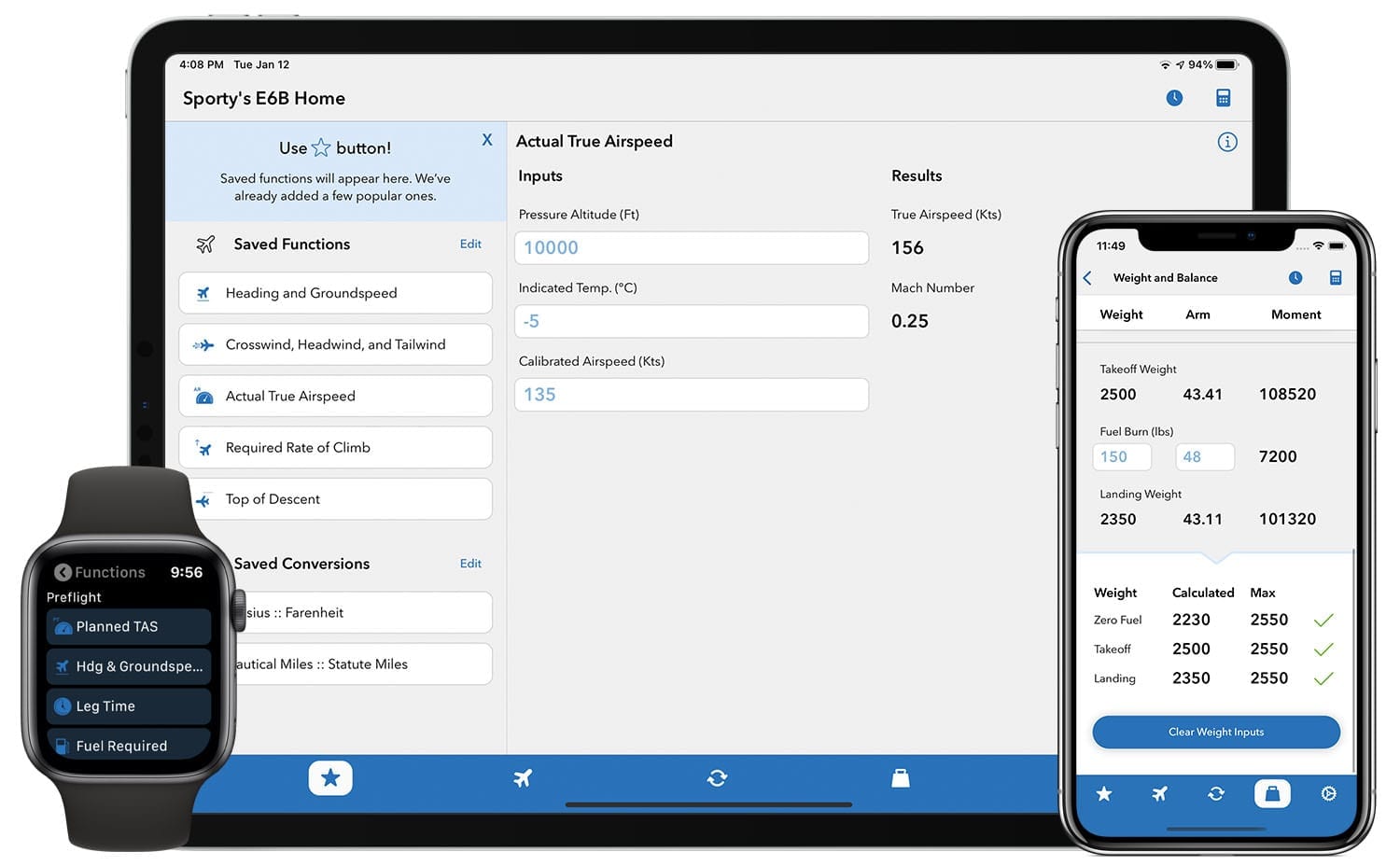 In the early days, pilots used the E6B "whiz wheel" during flight planning to help compute headings to fly and estimated ground speed for cross-country flights. Next came the electronic E6B, which was more intuitive to use and provided even more accurate results compared to the spinning slide rule. Today most pilots use flight planning software, either online or on mobile devices, which automatically accounts for current conditions and your airplane's performance, to plan a flight from start to finish.
Interestingly enough, the popularity and growth of flight planning and navigation apps for iPad didn't send the E6B the way of the dinosaurs. It's considered a required piece of equipment during flight training for student pilots and is just as helpful in the airplane to calculate performance based on actual conditions. It's equally useful when studying for any of the FAA knowledge tests and can be brought into the testing center to use on the test.
After the checkride, many pilots transition to an E6B app on Android, iPhone, iPad or Apple Watch for convenience and simplicity. Sporty's E6B app has been the flight computer app of choice for tens of thousands of pilots around the world for the past decade.
With the goal of making the E6B even more accessible, Sporty's recently released a new version designed specifically for Mac/Apple computers. If you own a Mac, like an iMac, Macbook or Mac Mini, open up the App Store application (it comes pre-installed like the App Store on iPad) and search for E6B. The app sells for a one-time price of $9.99, but you won't have to pay this again if you've previously purchased the E6B app for iPhone or iPad.
The interface and functionality are nearly identical to the iPad version of the E6B app, except that interaction is accomplished with the mouse/trackpad and keyboard: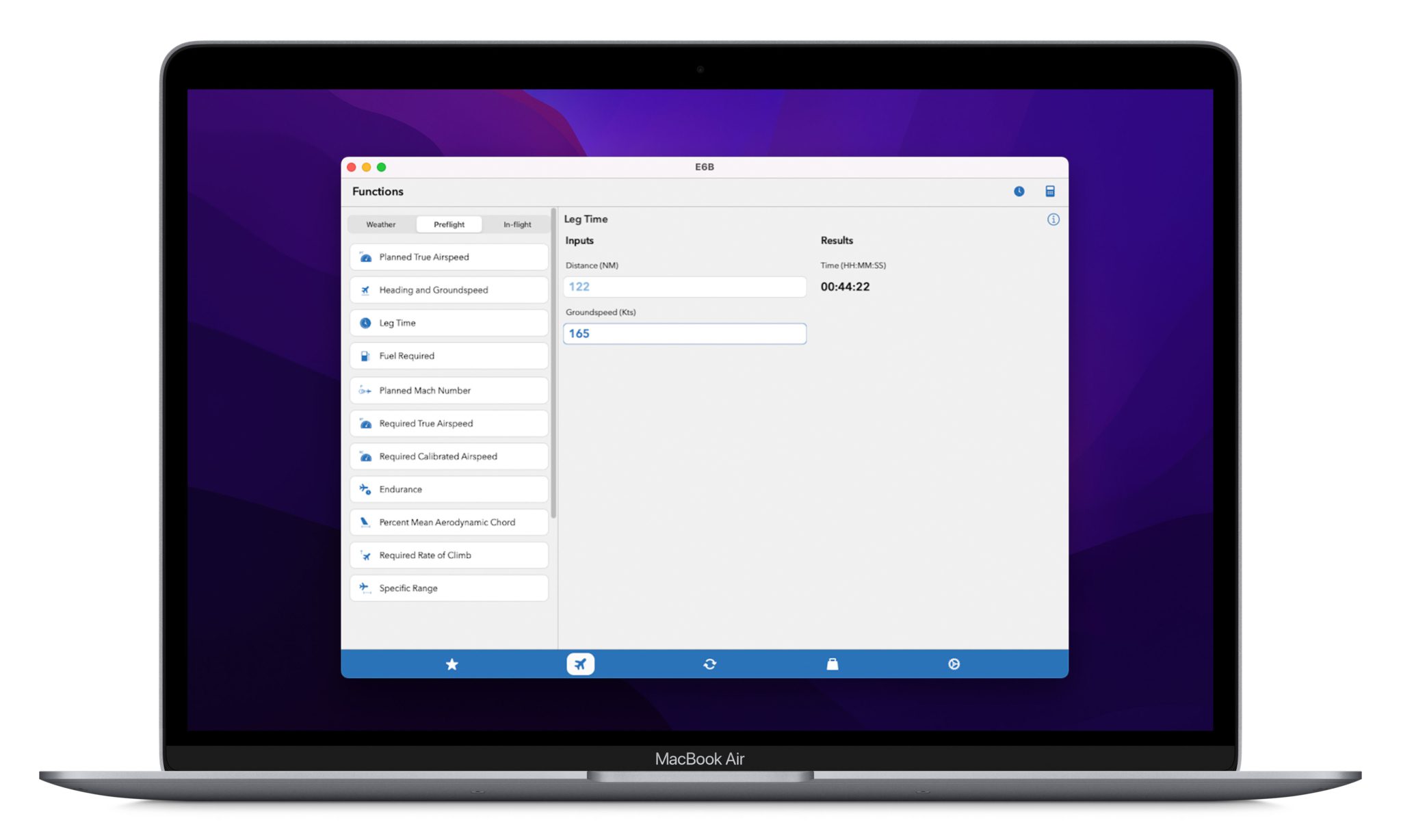 Many pilots prefer to do a lot of the preliminary flight planning work from a computer's large screen. When using the web/online version of ForeFlight, we found it helpful to have access to the E6B Mac app at the same time to use its core planning and conversion functionality:
The E6B Mac app also comes in handy alongside flight simulator programs, like X-Plane, to practice using its in-flight functions like calculating actual true airspeed, or when to begin a descent:
Pilots studying for an FAA knowledge test will find the E6B Mac app convenient to use with online test prep software as well, to help answer questions that require heading, groundpseed or density altitude calculations:
You go right to the Sporty's E6B product page in the Mac App Store when using an Apple computer.
https://ds2q22dwzczts.cloudfront.net/wp-content/uploads/2022/02/07113804/Macbook-E6B-2-scaled.jpg
1228
2048
Bret Koebbe
https://ipadpilotnews-images.s3.us-east-2.amazonaws.com/wp-content/uploads/2021/04/07120009/logo.png
Bret Koebbe
2022-02-24 16:08:39
2022-02-24 16:08:39
Sporty's releases new E6B app for Apple computers