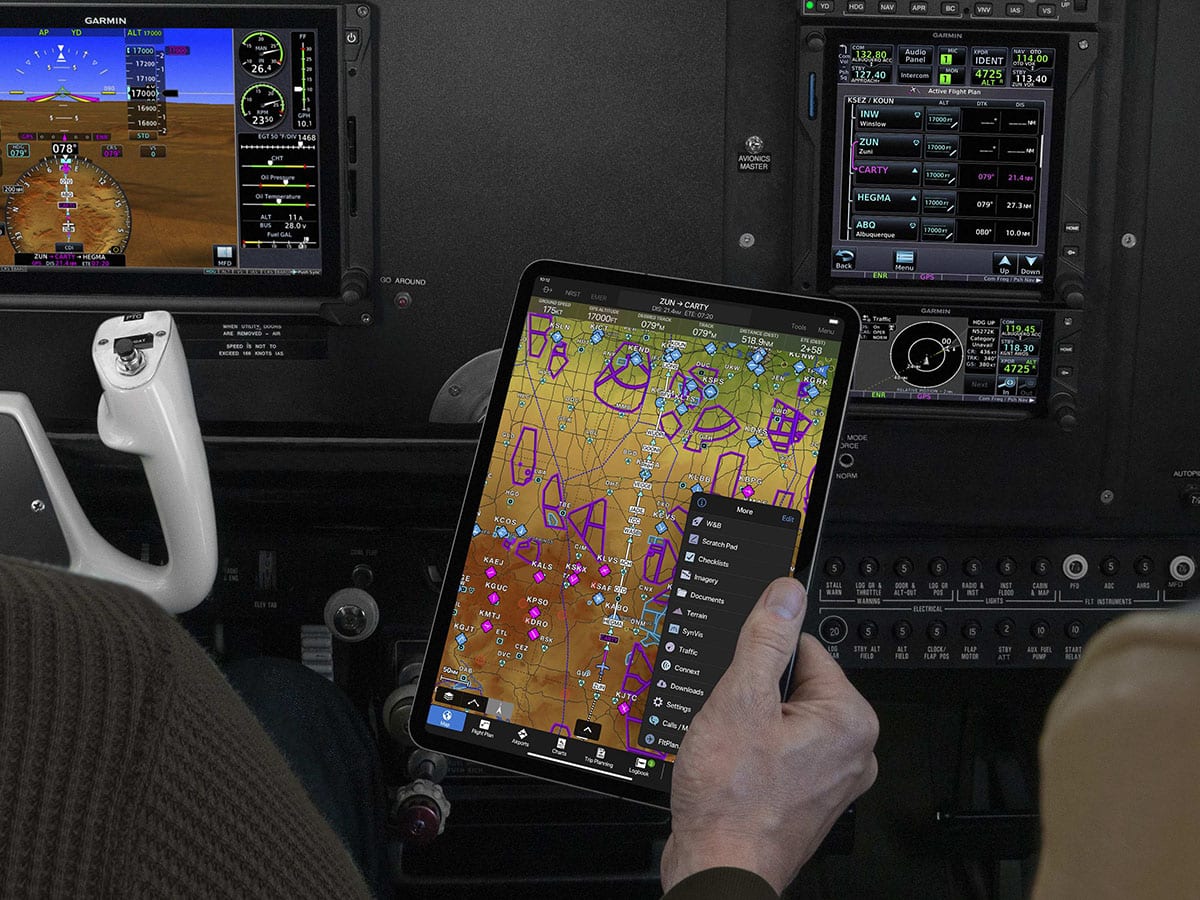 ForeFlight vs. Garmin Pilot: Which mobile app is best for you?
19

min read
There are a handful of full-featured aviation Electronic Flight Bag (EFB) apps available today for pilots, both free and paid, which provide just about every preflight and in-flight resource you'll need for both VFR and IFR operations. If you've been flying for a while it's likely you've already settled in on your favorite app and can nearly use it with your eyes closed. For those new to aviation or those making the leap from paper charts, there comes a point when a decision is necessary on which app to use in the cockpit.
The most common question we receive at iPad Pilot News after a pilot purchases an iPad is "which app is better, ForeFlight or Garmin Pilot?" There is a good reason that these two apps are at the top of most pilots' list, as they have both been around since the iPad was introduced and have gained a strong following in the aviation community over the past ten years. Both are supported by large aviation companies and are continuously updated throughout the year with new features and improvements.
The mission of both apps has also grown from electronic chart display to an integrated avionics system, and now they can do more than most certified avionics. They also offer the most comprehensive collection of connectivity options, including ADS-B, SiriusXM, satellite messaging, flight plan syncing with panel-mount avionics and engine monitoring, to name a few.
When you break it down though, the real question you should be asking is which app is best for me. Both apps have all the features and capabilities to feel right at home in the cockpit of a student pilot learning to fly, while simultaneously meeting the needs of professional pilots flying turbine airplanes. They've also grown to offer international chart and trip support thanks to partnerships with Jeppesen and Eurocontrol.
The Rise of the iPad
Prior to the iPad's introduction in 2010, pilots primarily relied on handheld GPS receivers to provide supplemental airport data and a moving map in the cockpit. Garmin dominated this segment with a variety hardware options and screen sizes, selling for as much as $2,500. These portable GPS systems were a nice-to-have accessory in the cockpit, but didn't replace paper charts or provide much in the way of preflight weather or trip planning. It also took some work and expense to keep the databases current.
Then, when the iPad was announced in 2010, pilots instantly recognized it as the long-awaited consumer product that could transform how data was managed and consumed in the cockpit. It was almost too good to be true: a slim tablet with a bright, responsive, 10" color touchscreen and a battery life that would outlast a 4-hour flight. And on the software side, ForeFlight was just as responsive and released a single-solution iPad app, building on the popularity of its iPhone version of the app. The paperless cockpit era had officially begun.
While they didn't get the early jump like ForeFlight, Garmin debuted their full-featured Pilot app for iPad, iPhone and Android two years later in the spring of 2012. Garmin may have been the largest general aviation avionics company at that time, but they found themselves in the position of playing catch up in the mobile app market.
Garmin responded with a steady-stream of innovative feature additions over the past six years, which has allowed it to meet, and on some fronts exceed, the capabilities of every other aviation iPad app available today. Combined with its extensive portable and certified avionics connectivity options, Garmin is making the decision tougher than ever when deciding on the best app for your needs.
More similar than different
While the layout and user interface of these apps couldn't be more different, you'll quickly find that after spending some time with both apps they offer the same core capabilities:
Trip planning– airport data, FBOs details and fees, preflight weather briefing, aircraft performance profiles, electronic navlog, flight service weather briefing, weather imagery, ICAO flight plan support, pre-departure clearances (PDC)
Charts– data-driven aeronautical charts, FAA VFR Sectionals and TACs, IFR high and low altitude enroute charts, terminal procedures, worldwide Jeppesen VFR/IFR enroute and terminal procedures
In-Flight Navigation– digital flight instruments, synthetic vision, GPS-driven moving maps with geo-referenced charts and terrain awareness
Connectivity– ADS-B weather, SiriusXM satellite weather and entertainment, integration with Garmin panel-mount avionics; compatible with home flight simulators
Digital assistant– weight & balance, logbook, aircraft checklists, track logging and scratchpad

Document Management

– upload, view and edit flight-relevant documents like aircraft manuals, international paperwork and training documents
What you'll find after using either app is that they really are a one stop shop for everything you need to both prepare for and execute a flight. The next step is to dig deeper into each app's core capabilities and see which provider will deliver an edge for you based on what, where, and how you fly.
ForeFlight
ForeFlight's design incorporates many of Apple's standard iOS interface conventions, menus and controls, which eases the learning curve. It takes just a few taps to get to any location in the app which you'll appreciate when you need to access information quickly, like finding an instrument approach chart or airspace information. ForeFlight uses the familiar iOS tab bar menu at the bottom of the screen to quickly switch between screens with one tap. Alternatively, the universal search function, accessible at the top of the Maps, Airports and Plates sections of the app, allows you to search for any type of data (airport info, chart, route, etc.) and jump to its location in the app.
After spending some time with ForeFlight, you'll find many thoughtful features designed to make life easier for the GA pilot flying single-pilot. The app excels at taking routine data that we've been using for years and presenting it in a much more meaningful way. For example, when viewing an instrument approach chart or airport diagram, ForeFlight displays a shortcut on the screen to view all applicable NOTAMs about that procedure. And when an airport has a NOTAM for a closed runway, the app presents a bold red banner across the center of the airport info screen to make sure it doesn't get overlooked. An automated chart pack option is available when planning a flight, allowing you to press one button to download all the VFR/IFR charts needed for the trip. Then, when new charts become available for download every 28 days, ForeFlight will automatically download them when you open the app, reducing the likelihood you'll ever get stuck with old charts in flight.
When it comes time to plan a flight, the Flights section of the app guides you through each step of the process, eliminating the need to bounce around to gather and enter data. For IFR pilots, ForeFlight offers a Recommended Route feature to help choose the optimum IFR route. This routing engine analyzes thousands of possible options based on your detailed aircraft performance profile and time/fuel savings, while also accounting for your aircraft ceiling, preferred routes, and trending ATC cleared routes.
ForeFlight's Alternate Advisor analyzes other similar filed flight plans, as well as time and fuel requirements, forecast weather conditions, available approach procedures to suggest IFR alternate airport to include in your flight plan.
Takeoff and landing performance planning is another unique capability within ForeFlight. This powerful feature will automatically calculate takeoff and landing performance data based on the aircraft profile selected for the flight. It factors in the current weather, runway variables and aircraft weight to automatically compute takeoff and landing distance (this does require a Performance Plus subscription).
There are just as many tools available in-flight when automation can really help. ForeFlight's contextual alerts play the role of the digital copilot, and will alert you on the ground with both a visual and aural message as you approach and enter active runways. In the air, they'll notify when approaching a TFR or the Washington, D.C. SFRA. From a flight safety standpoint, the app will alert you to cabin altitude concerns, nearby terrain/obstacles, high sink rates, descent through 500' AGL, and nearby traffic when coupled with an ADS-B receiver.
There are also convenience alerts like displaying the ATIS frequency for the destination airport during the arrival, or displaying the nearby altimeter setting when descending through FL180. And the performance planning feature will warn you if computed takeoff or landing distances exceed available runway lengths.
Another standout ForeFlight feature is its dedication to providing a high-quality weather briefing experience. It includes all the essentials like text weather reports, forecasts and basic weather imagery, but then goes beyond with the inclusion of lesser-known forecast products. For example, on the airport weather screen, you'll see a computer-generated text MOS Forecast next to the TAF that is available for over 2,000 airports in the U.S. and includes a 72 hour forecast period. You'll also see a Forecast Discussion option that includes plain language notes from the forecaster who created the TAF describing the weather factors and confidence level that were considered.
ForeFlight includes a dedicated Weather Imagery section in the app that features a variety of forecast graphics and is by far the most comprehensive of any aviation app on the market. It aggregates data from a variety of sources, including the National Weather Service, Aviation Weather Center, Storm Prediction Center and Aviation Digital Data Service in one well-organized location. Here you can track long-range precipitation, thunderstorm, visibility and cloud coverage forecasts with easy-to-read graphics. If you don't mind leaving your comfort zone and learning some new weather products, you'll be rewarded with a better understanding of the weather before each flight.
For those who prefer the standard Flight Service weather briefing, ForeFlight is the only app to offer a graphical weather briefing option in the Flights section of the app, similar to what you'd find at 1800WXBRIEF.com, full of useful color graphics and images. This is a significant upgrade to traditional Flight Service briefings which were commonly referred to as the "wall of text" – useful information, but time-consuming to put into context.
ForeFlight seamlessly offers a subset of features designed for the turbine and professional pilot segment, offering an additional level of capability designed for the needs of high-performance operations. It includes custom aircraft performance profiles for hundreds of airplanes, ranging from piston-engine trainers to Citations and Boeing 737s, which makes long-range flight planning nearly effortless. They even offer full runway analysis and engine-out procedures for most of the modern business jets in production today.
These profiles were created using data collected directly the manufacturer's performance tables, providing highly accurate ETE and fuel calculations when planning a flight. The app will monitor your structural weight limits for each phase of flight, and offers various fuel policy options to assist with fuel planning. And since JetFuelX is a ForeFlight company, this free fuel card management program is nicely integrated into the app, allowing you to view contract fuel prices and submit fuel releases directly from app.
For larger operators, ForeFlight's optional Dispatch service allows pilots, dispatchers, management and other flight personnel to manage multiple flight plans for a fleet of aircraft. This collaborative flight planning feature makes flight planning much easier for corporate flight departments, and all the relevant details for each flight are sent right to the ForeFlight app on the assigned flight crew's iPad or iPhone.
Garmin Pilot
Compared to ForeFlight's start as a weather app, Garmin's roots have always been in GPS navigation, and that's where this app really excels. Pilots familiar with other Garmin navigation products, including the GTN 650/750 navigators, Aera portables and G1000 integrated flight deck, will feel right at home using Garmin's data-driven moving map.
The app has a custom feel to it and doesn't rely much on Apple's standard iOS conventions and design. The icon-based main menu looks very similar to the home screen of the GTN 750 and FMS controllers used in Garmin's OEM installations, again bringing an additional level of familiarity to those with previous Garmin experience. Similar to what you'd find on other Garmin navigation systems, there are nearly endless customization options for the moving map display, providing a high degree of control. The downside of this design is that it can lead you to overlook some key features and settings when first using the app, but nothing that can't be sorted out with a little extra armchair flying.
The first major difference you'll find on the map screen is the ability to launch a split-screen view with 13 different options to display alongside the map. Garmin's implementation of these options is very well done and allows you to keep an eye on your position on the chart graphically while simultaneously showing important items like taxiway diagrams, instrument approach charts, a flight plan screen, dedicated traffic display or terrain.
Flight instruments can either be displayed with the modern glass-cockpit layout, or using Garmin's unique round instrument display. The synthetic vision display is visually appealing and uses the same graphics as their certified PFDs.
Similar to their panel-mount navigation systems, the Garmin Pilot app offers dedicated Direct-To and Nearest functions, which are always in view in the top menu bar. Pilots have learned to love the dedicated Direct-To button on just about every other aviation GPS device, so it only makes sense that it should be front and center in the app too.
The Nearest function highlights the nearby airports on the moving map that meet your preset criteria for runway surface type and length. It will also display a list of the nearest airports across the top of the screen – tap one of the symbols, press the Direct-To key and follow the magenta line to that airport.
Then there's Garmin Pilot's Emergency Mode, which is arguably the most useful in flight when things go south. When you need to take action quickly (engine failure, instrument failure, medical issue), tapping this button will activate a modified version of the Nearest function, highlighting all the airports on the map within gliding distance of your current position. It also activates the split-screen view and displays the emergency checklist for your airplane. Well done, Garmin.
Pilots flying with ADS-B receivers will really appreciate the dedicated traffic screen, either in the full or split-screen view. This helps to keep the moving map screen decluttered and allows you to better identify nearby traffic when in busy airspace. This uses Garmin's signature TargetTrend technology to show you where the aircraft will be in a user-configurable amount of time (say 2 minutes), depicted with a green trend line. You can easily filter targets based on relative altitude, and you can tap one to view its ground track, climb/descent rate, groundspeed and rate of closure.
Garmin Pilot has its share of smart features too, which provide contextual alerts. Start off with preflight planning – the app will constantly compare the weather reports for your planned departure and destination airports to the personal minimums you set in the app (maximum surface wind, minimum visibility and ceiling) and display a yellow triangle next to an airport ID on the Trip Planning screen when these will be exceeded, based on nearest TAF.
For IFR flights, it will display a similar caution symbol in the same location when the weather dictates an alternate airport is needed, and display a helpful Alternate Airport Selection Guide to help you find an option that meets the requirements of FAR 91.169. You will also be notified when your selected altitude is too low for terrain, when incomplete aircraft data is entered for filing a flight plan, and on the moving map when approaching controlled or special-use airspace.
In the air, Garmin provides pop-up and audio alerts for nearby traffic, terrain, nearby airspace and TFRs. If you're connected to a Garmin engine monitoring system in the panel, you can even enable custom alerts for exceeding preset parameters like CHT on a piston engine or N1 on a jet airplane.
While Garmin Pilot doesn't offer the same level of support for professional aviation as ForeFlight, it does offer full integration with FltPlan.com, a popular flight planning service used in corporate aviation. This allows you to create, edit and sync flight plans with fltplan.com and view all the relevant data right in the Garmin Pilot app. This also allows pilots to take advantage of FltPlan.com's premium services in Garmin Pilot, like pre-departure clearances (PDCs) and Electronic Advance Passenger Information System (eAPIS) filing.
Connectivity
An important element to consider when choosing an app is connectivity. On the most basic level, you'll want some type of GPS position source, and both apps are fully compatible with the internal GPS found on iPad models with the cellular data option and third-party GPS accessories from Bad Elf and Dual.
The next upgrade is adding a portable ADS-B receiver, which provides subscription-free weather and traffic. Both apps are only compatible with a few select ADS-B receivers which guarantees a reliable user experience and tight hardware/software integration. The Garmin GDL 50, Stratus (ADS-B only), and GDL 52 (ADS-B and SiriusXM) receivers work with both Garmin Pilot and ForeFlight, while the Sentry Mini and Sentry receivers will only work with ForeFlight. The key takeaway here is to choose your app first, and then buy the compatible ADS-B receiver since they all offer excellent performance.
Both apps are also compatible with the same SiriusXM satellite weather options, which offers improved coverage over the ground-based ADS-B network. The Garmin GDL 51 is a dedicated SiriusXM receiver, while the Garmin GDL 52 is a hybrid device that delivers both ADS-B weather/traffic and SiriusXM weather from the same portable device. Both the GDL 51 and 52 work equally well with ForeFlight and Garmin Pilot.
The big advancement in recent years has been in connecting the iPad to the avionics in the panel, providing two-way flight plan transfers and an installed source of GPS, weather, AHRS and more. Garmin's connected-panel system is called Connext and was initially designed to work exclusively with Garmin Pilot, but is now compatible with the ForeFlight app as well. Garmin avionics that offer this connectivity include the Flight Stream 110/210/510, GTX 345 and 375 ADS-B in/out transponders, G3X experimental flight display and most of the new Garmin glass-cockpit systems installed in new aircraft.
There are a few Garmin connected-cockpit features that work exclusively with the Garmin Pilot app. First, you can only send SiriusXM satellite weather to Garmin Pilot using the Flight Stream system and an installed GDL 69 SiriusXM receiver (Flight Stream will send ADS-B weather to ForeFlight though). There's also a time-saving feature, Database Concierge, that allows you to wirelessly update the databases on the GTN navigators from your iPad using the FlightStream 510. This can only be done with the Garmin Pilot app.
If your airplane is equipped with a Garmin Flight display with the Engine Indication System (EIS) and a Flight Stream 510, you can view data from all your engine sensors (CHT, EGT, oil pressure, etc.) in the app as well. This provides both in-flight monitoring and post-flight review capabilities and can be set up to display alerts in the app when limits are exceeded. This engine information can even be presented in split-screen view.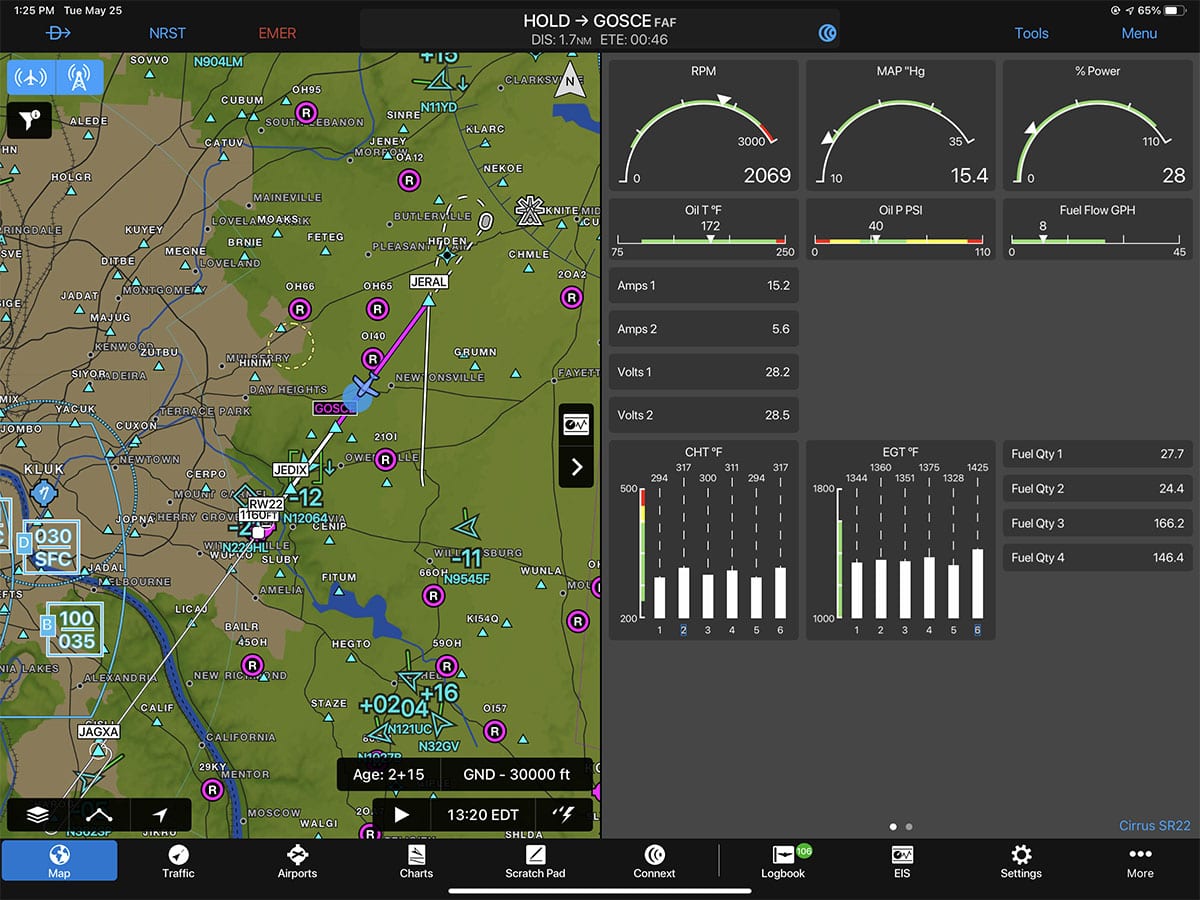 Garmin Pilot also interfaces with the Aera 660 and Aera 760 portable GPS units, D2 smartwatch collection, VIRB camera, inReach messenger and GSR 56 Iridium datalink for satellite calls and messaging. ForeFlight users, on the other hand, have the option to connect to additional avionics including the Avidyne 550/540/440 navigator, Dynon SkyView panel, and ADS-B transponders from L3, FreeFlight and uAvonix.
Making a decision
When choosing an app there's more to consider than just how it looks and works on your iPad. Both apps include access to a version specifically designed for the iPhone's smaller screen, which often serves a completely different purpose than the iPad. Many pilots prefer to use the iPhone version when away from the airport to look up airport and FBO info, weather maps, and for route planning, so spend time with this version while evaluating. It's a great backup for charts in the cockpit too.
You may prefer an Android phone, but use an iPad in the airplane – Garmin has you covered since it works on Android and a subscription provides access to three separate devices. An additional consideration is whether you prefer to use a web browser on a computer for preflight planning. ForeFlight is unique in that it offers a full-featured web interface to view charts, weather, and plan a flight. This information syncs with the app on your iPhone and iPad.
You can't go wrong with either app since both provide the core functionality to say goodbye to paper charts, but there are enough differences that it's worth personally evaluating both applications to see which is a better fit for your preferences and type of flying. There is no risk in making the wrong choice, since you can try out both apps free for 30 days. Annual subscriptions start at less than $100 – which is the same amount you'd spend on paper charts for a 200 mile IFR cross-country flight.
Try both apps and you'll likely find that one will ultimately feel right to you. Yes, you need to compare features, connectivity and pricing for premium features, but also spend some time thinking about which app you'll feel comfortable with on your lap while flying a low-ILS approach in turbulence and driving rain. That's what really matters.
Pricing
ForeFlight offers several levels of performance, based on features and your type of flying:
Basic Plus: Flight planning, weather, VFR/IFR charts, weight and balance, logbook. $120/yr
Pro Plus: Everything in Basic Plus, plus geo-referenced approach charts, hazard advisor, synthetic vision, icing/turbulence/surface analysis weather layers. $240/yr
Performance Plus: Everything in Pro Plus, plus aircraft performance profiles, advanced planning engine, AviationCloud routes, fuel policies/safety checks, JetFuelX prices. $360/yr
You can also add additional database and charts for Canada or Europe for an extra $100/yr., or Jeppesen worldwide charts.
Click here for a complete comparison of ForeFlight subscription options.
Purchase a ForeFlight subscription here.
Garmin Pilot offers two packages:
U.S Standard: Flight planning, weather, VFR/IFR charts and terrain. $99.99/yr
U.S Premium: Everything in the standard package, plus geo-referenced approach charts, icing forecasts, Garmin FliteCharts, terrain/obstacle alerts, synthetic vision and SafeTaxi airport diagrams. $159/yr
You can also add additional international regions and Jeppesen charts to Garmin Pilot for an additional subscription fee.
https://ds2q22dwzczts.cloudfront.net/wp-content/uploads/2020/07/07123442/garmin-tab-feature.jpg
900
1200
Bret Koebbe
https://ipadpilotnews-images.s3.us-east-2.amazonaws.com/wp-content/uploads/2021/04/07120009/logo.png
Bret Koebbe
2021-08-31 12:47:38
2022-03-25 16:18:51
ForeFlight vs. Garmin Pilot: Which mobile app is best for you?