ForeFlight introduces multi-user tools, enhanced map options at NBAA 2019
5

min read
The annual National Business Aviation Association (NBAA) show is always packed with news, and that means more than just business jets. ForeFlight kicked off the show with a number of announcements, including new multi-user flight planning tools, enhanced map options, and new airport information. Here's what you need to know.
Dispatch
The biggest news is Dispatch, a suite of tools that is aimed squarely at flight departments and fractional fleets. While ForeFlight has made major inroads in the turbine market, there were still some fairly common use cases where the app couldn't handle multiple pilots seamlessly. For example, a dispatcher or chief pilot might make up a schedule but struggle to share that across the entire flight department (or to just the crew affected).
Now those problems have been solved – and much more. Dispatch, developed in conjunction with fractional giant Flexjet, goes far beyond multiple pilot support. Notably, it allows flight departments to load flight plans directly into ForeFlight from a third party scheduling system (initially supported integrations include Jeppesen Operator, SD Scheduler, Flightdocs Enterprise, BART, PFM Ops Console, and Avmosys).
From there, schedulers, dispatchers, or pilots can modify routes, altitudes, and times, so collaborative flight planning is much easier. All of ForeFlight's impressive planning tools come into play here, plus some new features. For example, oceanic planning now considers engine-out scenarios, ETOPS validation and automatically identifies the equal time point. Likewise, a dispatcher can easily plan an international flight so that it avoids certain countries or airspace boundaries.
It's not all about schedulers and dispatchers, though. Individual pilots can see any flights assigned to them on their mobile devices or add a new one, a key improvement over some web-only tools. The goal, as ForeFlight's Stephen Newman told us, is to "start at scheduling and push all the way to phones and tablets."
It's worth noting that, while fractional fleets like Flexjet will love the new tools on offer, Dispatch is not just for large operators. Even a one airplane flight department with multiple pilots would benefit from sharing flights between pilots. An annual subscription to Dispatch is priced per tail, and is based on the maximum takeoff weight of the aircraft (there are classes for Light, Medium, and Heavy). This is in addition the existing ForeFlight Performance subscriptions, which are priced per user. Contact [email protected] for a custom quote.
Version 11.9
In addition to Dispatch, ForeFlight also released version 11.9 of the app, which includes a number of small but helpful enhancements. The most noticeable will be the new map options. Right away, you'll see a new High Resolution Basemap option in the Downloads menu – this adds more detailed road, railroad, and lake maps, plus terrain elevation markers. This information is displayed on the Maps page when the Aeronautical layer is selected (ForeFlight's data-driven map layer). It's a nice enhancement for VFR pilots, and all but eliminates the need for sectional charts.
This new database should be on by default, but if it's not you can turn it on from the More -> Downloads page (choose your coverage area at the top of the screen). You can manually adjust what data is displayed by tapping the gear symbol at the top of the Maps page, then Cultural Elements.
Another improvement on the Maps page – one we have long wished for – is the ability to turn on/off multiple map layers at a time. Until now, if you wanted to switch from a sectional map with radar and METARs to an IFR map showing satellite and PIREPs, you had to continuously open and close the map layers menu: open menu, tap IFR, menu closes, open menu, tap Aeronautical off, menu closes, open menu, tap Satellite, etc. This sounds like a minor issue, but it's annoying in the cockpit because it wastes time and opens the door to mistakes.
Now you can turn on Multiple Selections from the Maps setting menu (note that it's not on by default, unlike the high resolution basemap). With this setting enabled, you can tap on multiple map layers without the menu closing. You can even zoom and pan on the map without the menu closing. Only when you tap on the map outside the menu will it close. Once you get used to it, you'll never go back to the old way.
Another addition is FBO fees, a subject of increasing attention in the general aviation industry. This is built into the FBO information page that's part of the Airport tool, so it's available throughout the app. This can be accessed from the Airports tab, by tapping on an airport on the Maps tab, or in the Flights tab under Destination Services. Tap on an FBO, then choose the Fees section. Note that you might have to tap on individual fees for more information, since many of these depend on airplane weight or fuel purchase. The data is supplied by AOPA, and ForeFlight promises to update the data weekly.
For pilots who subscribe to a Performance plan, ForeFlight can calculate detailed takeoff and landing performance data. This is invaluable for high performance aircraft or short runways, but it gives the "book answer," which is often pretty optimistic. Now there's a new safety factor option that can make runway numbers a little more realistic. From the Flights tab, tap on Takeoff or Landing next to your departure and destination airports to see the standard calculations. At the bottom you'll see a field to add a safety factor, meaning the app will multiply the takeoff/landing distance by the number you enter. For example, some pilots automatically double the book number, so you would enter 2.0. Once you've entered a safety factor, the app will automatically assign this to every calculation made with that airplane tail number.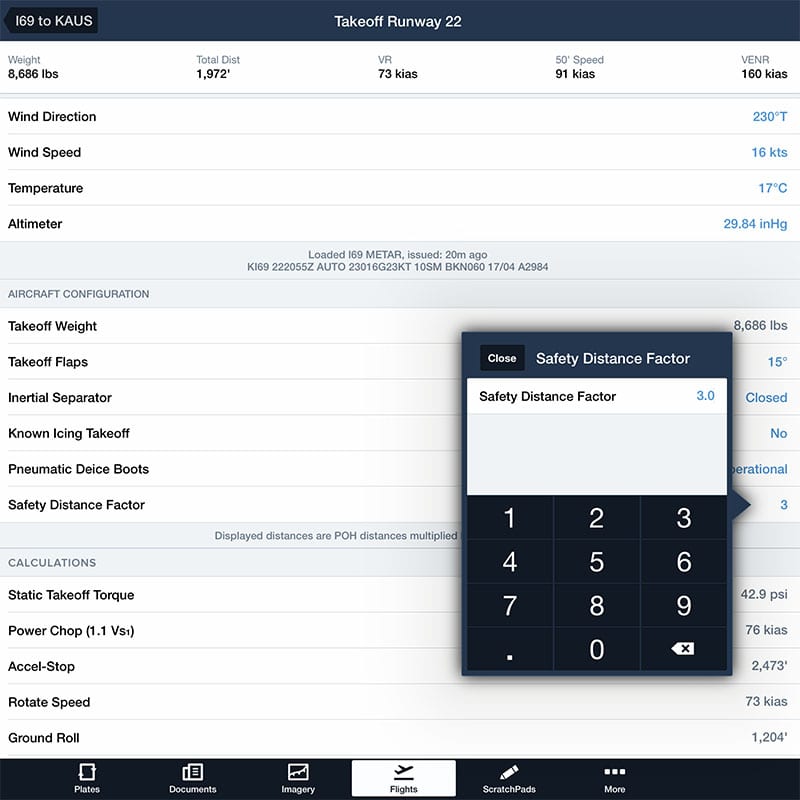 https://ds2q22dwzczts.cloudfront.net/wp-content/uploads/2019/10/07133054/ForeFlight-Dispatch-feature.jpg
578
900
John Zimmerman
https://ipadpilotnews-images.s3.us-east-2.amazonaws.com/wp-content/uploads/2021/04/07120009/logo.png
John Zimmerman
2019-10-22 17:41:07
2019-10-23 06:39:47
ForeFlight introduces multi-user tools, enhanced map options at NBAA 2019