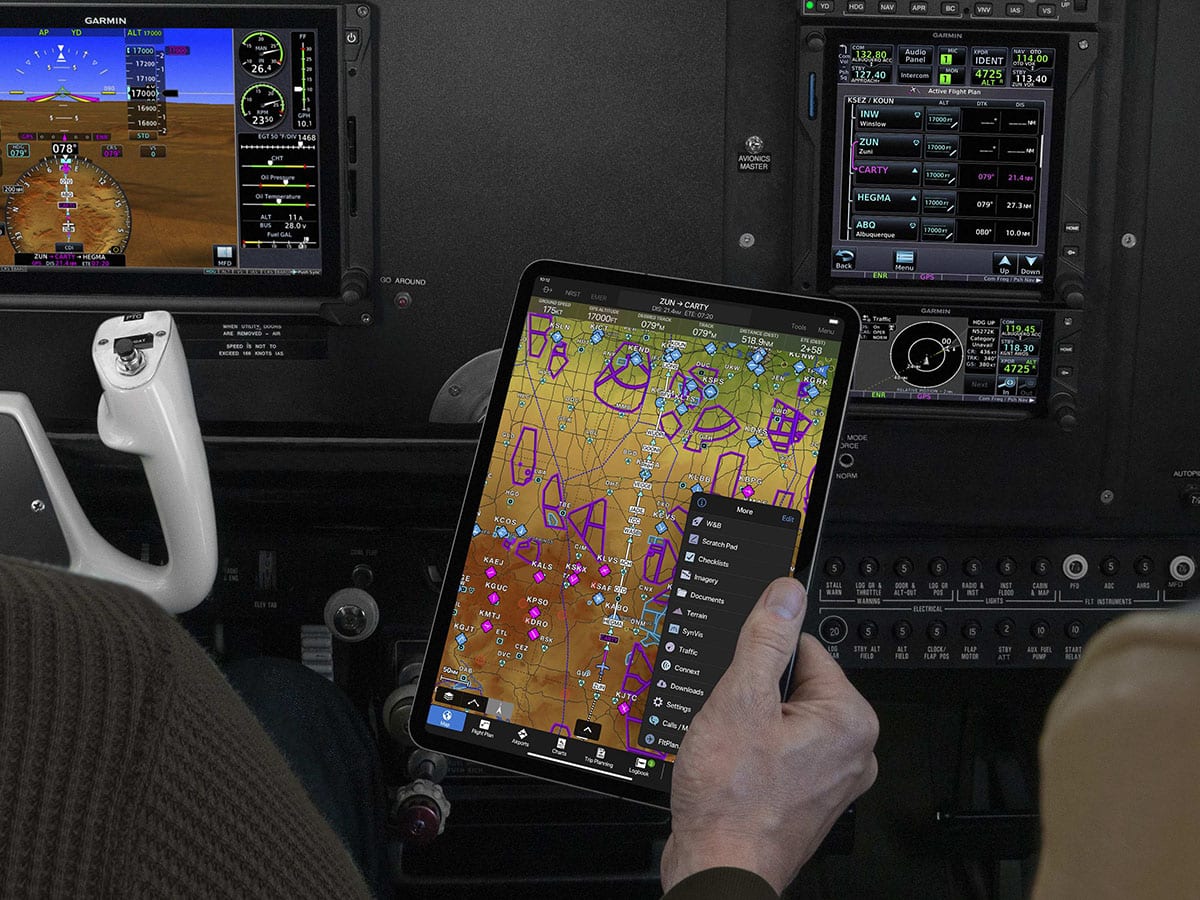 ForeFlight vs. Garmin Pilot: 3 key differences to help you decide
12

min read
There are a handful of full-featured aviation Electronic Flight Bag (EFB) apps available today for pilots, both free and paid, which provide just about every preflight and in-flight resource you'll need for both VFR and IFR operations. If you've been flying for a while it's likely you've already settled in on your favorite app and can nearly use it with your eyes closed. For those new to aviation or those making the leap from paper charts, there comes a point when a decision is necessary on which app to use in the cockpit.
The most common question we receive at iPad Pilot News after a pilot purchases an iPad is "which app is better, ForeFlight or Garmin Pilot?" There is a good reason that these two apps are at the top of most pilots' list, as they have both been around since the iPad was introduced and have gained a strong following in the aviation community over the past ten years. Both are supported by large aviation companies and are continuously updated throughout the year with new features and improvements.
When you break it down though, the real question you should be asking is which app is best for me. Both apps have all the features and capabilities to feel right at home in the cockpit of a student pilot learning to fly, while simultaneously meeting the needs of professional pilots flying turbine airplanes.  Our goal here is to provide some insight into what makes each app unique and identify 3 key differentiators from each app to pay attention to when making a decision.
ForeFlight
ForeFlight first got its start as a weather app on iPhone and quickly grew into a full-featured EFB app as the iPad gained popularity among pilots. Today ForeFlight is the most widely used aviation app for iPhone and iPad, in part because it was the first to market and quickly gained a loyal following. The company was also very responsive in the early days adding new pilot-requested features at a rapid pace, making the transition from paper charts to digital an easy one.
The latest version of the app is extremely versatile, providing all the digital resources a student pilot needs when learning to fly a Cessna 172, while simultaneously offering a Gulfstream pilot advanced flight planning and international resources needed to fly from New York to London.
While ForeFlight and Garmin Pilot are more similar than different, here are three key differentiators that set ForeFlight apart:
1. Intuitive interface and design
ForeFlight's design incorporates many of Apple's standard iOS interface conventions, menus and controls, which eases the learning curve. It takes just a few taps to get to any location in the app which you'll appreciate when you need to access information quickly, like finding an instrument approach chart or airspace information.
ForeFlight uses the familiar iOS tab bar menu at the bottom of the screen to quickly switch between screens with one tap. Alternatively, the universal search function, accessible at the top of the Maps, Airports and Plates sections of the app, allows you to search for any type of data (airport info, chart, route, etc.) and jump to its location in the app. It also offers an online version accessible from a web browser, allowing you to plan your flight on your computer and continue it later on your iPhone or iPad.
2. Comprehensive preflight and inflight alerts
ForeFlight offers the widest variety of alerts of any aviation app, serving the role of a digital copilot to keep you out of trouble. These range from passive red badges on flight plan waypoints and approach charts to identify NOTAMs and closed runways, to on-screen pop-ups accompanied by an aural message to make sure the app gets your attention.
When taxiing on the ground, you'll be alerted when you approach and enter active runways, and include the runway distance remaining from your position. In the air, they'll notify when approaching Class, B, C or D airspace, a TFR or the Washington, D.C. SFRA. From a flight safety standpoint, the app will alert you to a high cabin altitude, nearby terrain/obstacles, high sink rates, descent through 500' AGL, and nearby traffic and carbon monoxide when coupled with a Sentry ADS-B receiver.
There are also convenience alerts like displaying the ATIS frequency for the destination airport during the arrival, or displaying the nearby altimeter setting when descending through FL180. And the performance planning feature will warn you if computed takeoff or landing distances exceed available runway lengths.
3. Professional pilot features
ForeFlight seamlessly offers a subset of features designed for the turbine and professional pilot segment, offering an additional level of capability designed for the needs of high-performance operations. It includes custom aircraft performance profiles for hundreds of airplanes, ranging from piston-engine trainers to Citations and Boeing 737s, which makes long-range flight planning nearly effortless. They even offer full runway analysis and engine-out procedures for most of the modern business jets in production today.
These profiles were created using data collected directly the manufacturer's performance tables, providing highly accurate ETE and fuel calculations when planning a flight. The app will monitor your structural weight limits for each phase of flight, and offers various fuel policy options to assist with fuel planning. And since JetFuelX is a ForeFlight company, this free fuel card management program is nicely integrated into the app, allowing you to view contract fuel prices and submit fuel releases directly from app.
For larger operators, ForeFlight's optional Dispatch service allows pilots, dispatchers, management and other flight personnel to manage multiple flight plans for a fleet of aircraft. This collaborative flight planning feature makes flight planning much easier for corporate flight departments, and all the relevant details for each flight are sent right to the ForeFlight app on the assigned flight crew's iPad or iPhone.
Garmin Pilot
Compared to ForeFlight's start as a weather app, Garmin's roots have always been in GPS navigation, and that's where this app really excels. Pilots familiar with other Garmin navigation products, including the GTN 650/750 navigators, Aera portables and G1000 integrated flight deck, will feel right at home using Garmin's data-driven moving map.
The app has a custom feel to it and doesn't rely much on Apple's standard iOS conventions and design. The icon-based main menu looks very similar to the home screen of the GTN 750 and FMS controllers used in Garmin's OEM installations, again bringing an additional level of familiarity to those with previous Garmin experience. Similar to what you'd find on other Garmin navigation systems, there are nearly endless customization options for the moving map display, providing a high degree of control. The downside of this design is that it can lead you to overlook some key features and settings when first using the app, but nothing that can't be sorted out with a little extra armchair flying.
Here are the 3 main features that differentiate Garmin Pilot from ForeFlight:
1. In-flight navigation and emergency action features
Similar to their panel-mount navigation systems, Garmin Pilot offers dedicated Direct-To and Nearest functions, which are always in view in the top menu bar. Pilots have learned to love the dedicated Direct-To button on just about every other aviation GPS device, so it only makes sense that it should be front and center in the app too.
The Nearest function highlights the nearby airports on the moving map that meet your preset criteria for runway surface type and length. It will also display a list of the nearest airports across the top of the screen – tap one of the symbols, press the Direct-To key and follow the magenta line to that airport.
Then there's Garmin Pilot's Emergency Mode, which is arguably the most useful in-flight feature when things go south. When you need to take action quickly (engine failure, instrument failure, medical issue), tapping this button will activate a modified version of the Nearest function, highlighting all the airports on the map within gliding distance of your current position. It also activates the split-screen view and displays the emergency checklist for your airplane.
2. Map customization and split-screen view
While the VFR Sectional remains the gold-standard visual navigation chart for pilots, Garmin was one of the first to introduce a data-driven alternative in its handheld GPS receivers in the late 90s and early 2000s. This type of map automatically scales up and down in detail as you adjust zoom levels, allowing it to provide a lot more information compared to the static sectional chart. Garmin Pilot's interactive map takes advantage of the company's decades of experience in map design and provides users with nearly infinite customization options.
Garmin Pilot also includes the unique ability to launch a split-screen view with 13 different options to display alongside the map. Garmin's implementation of the split-screen design is very well done and allows you to keep an eye on your position on the chart graphically while simultaneously showing important items like taxiway diagrams, instrument approach charts, a flight plan screen, dedicated traffic display or terrain.
3. External device and avionics compatibility
Garmin Pilot excels at offering the best external device compatibility among all aviation apps on the market. To start, here's a look at the Devices section of the app, which outlines all the options and data services provided by each:
Here's a quick overview of compatibility by device type:
Garmin Flight Stream 110/210/510

– this installed hardware wirelessly links the Garmin avionics (e.g. GTN, G1000 NXi, etc) in your panel with your iPad, allowing you to view traffic and weather in the Garmin Pilot app.

Portable and installed datalink receivers

– Garmin Pilot is compatible with nearly every ADS-B receiver on the market, including the Garmin line of portable GDL receivers, installed GTX receivers, Stratus and Statux in the U.S., and SkyEcho and Golze in Europe.

Garmin portables

– Garmin Pilot connects to most of the company's aviation portables, including the D2 line of smartwatches, inReach Mini 2 and VIRB cameras.

Avionics displays

– this last group includes Garmin's standalone avionics systems, including the GNX 375, GNC 355, GPS 175, GI 275 and G3X Touch, allowing the app to pull AHRS, GPS and ADS-B data from the panel.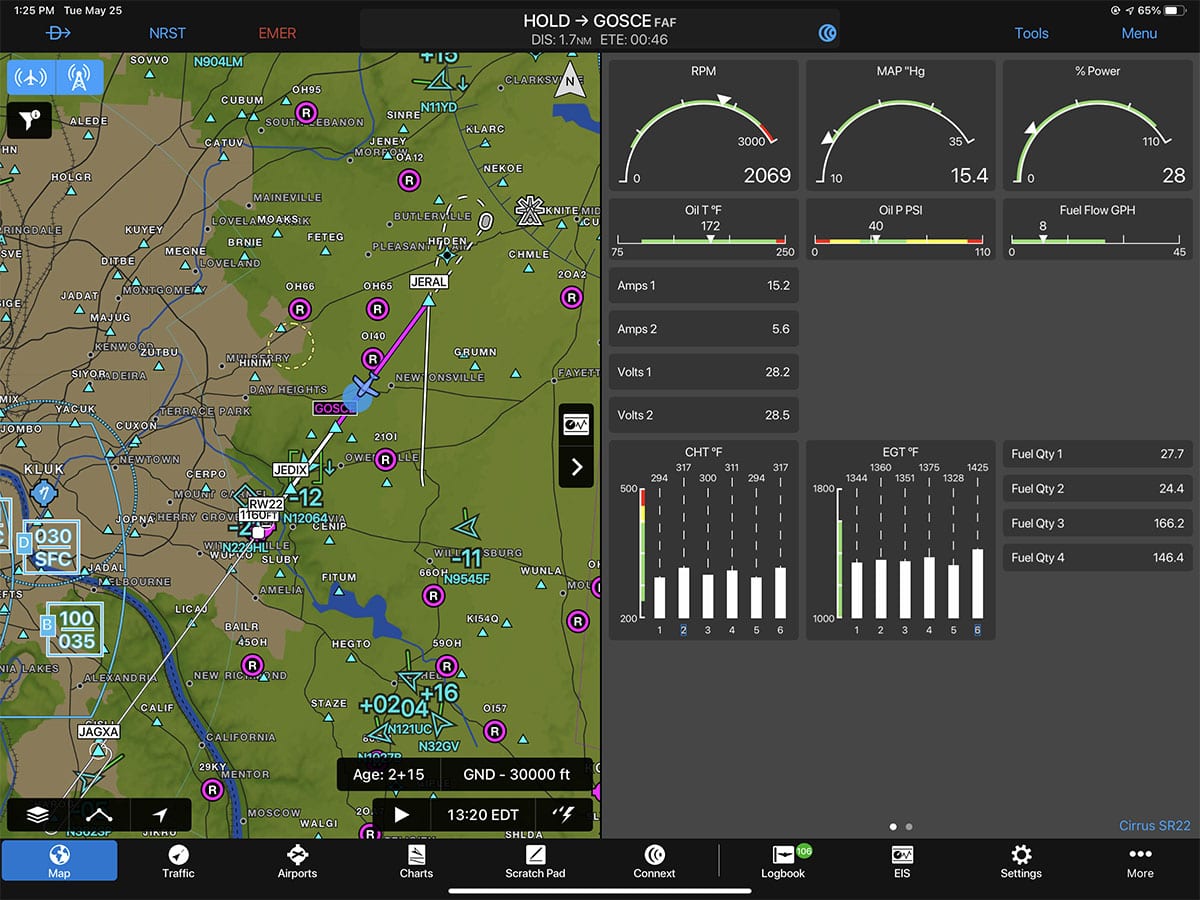 Garmin Pilot is unique in that it's the only aviation app that offers 2-way satellite communication support over the Iridium network. This service is affordable too (compared to other aviation satellite communication options) when used with the portable Garmin inReach Mini 2 or inReach Messenger. These devices allow you to send in-flight messages to recipients on the ground from the app. Garmin Pilot can also link up to Garmin's panel mount GSR56 Iridium receiver, opening up the ability for voice calls from the app in-flight.
If your airplane is equipped with a Garmin Flight display with the Engine Indication System (EIS) and a Flight Stream 510, you can view data from all your engine sensors (CHT, EGT, oil pressure, etc.) in the app as well. This provides both in-flight monitoring and post-flight review capabilities and can be set up to display alerts in the app when limits are exceeded. This engine information can even be presented in split-screen view.
Making a decision
When choosing an app there's more to consider than just how it looks and works on your iPad. Both apps include access to a version specifically designed for the iPhone's smaller screen, which often serves a completely different purpose than the iPad. Many pilots prefer to use the iPhone version when away from the airport to look up airport and FBO info, weather maps, and for route planning, so spend time with this version while evaluating. It's a great backup for charts in the cockpit too.
You may prefer an Android phone, but use an iPad in the airplane – Garmin has you covered since it works on Android and a subscription provides access to three separate devices. An additional consideration is whether you prefer to use a web browser on a computer for preflight planning. ForeFlight is unique in that it offers a full-featured web interface to view charts, weather, and plan a flight. This information syncs with the app on your iPhone and iPad.
You can't go wrong with either app since both provide the core functionality to say goodbye to paper charts, but there are enough differences that it's worth personally evaluating both applications to see which is a better fit for your preferences and type of flying. There is no risk in making the wrong choice, since you can try out both apps free for 30 days. Annual subscriptions start at less than $100 – which is the same amount you'd spend on paper charts for a 200 mile IFR cross-country flight.
Try both apps and you'll likely find that one will ultimately feel right to you. Yes, you need to compare features, connectivity and pricing for premium features, but also spend some time thinking about which app you'll feel comfortable with on your lap while flying a low-ILS approach in turbulence and driving rain. That's what really matters.
Pricing
ForeFlight offers several levels of performance, based on features and your type of flying:
Basic Plus: Flight planning, weather, VFR/IFR charts, weight and balance, logbook. $120/yr
Pro Plus: Everything in Basic Plus, plus geo-referenced approach charts, hazard advisor, synthetic vision, icing/turbulence/surface analysis weather layers. $240/yr
Performance Plus: Everything in Pro Plus, plus aircraft performance profiles, advanced planning engine, AviationCloud routes, fuel policies/safety checks, JetFuelX prices. $360/yr
Click here for a complete comparison of ForeFlight subscription options.
Purchase a ForeFlight subscription here.
Garmin Pilot offers two packages:
U.S Standard: Flight planning, weather, VFR/IFR charts and terrain. $109.99/yr
U.S Premium: Everything in the standard package, plus geo-referenced approach charts, icing forecasts, Garmin FliteCharts, terrain/obstacle alerts, synthetic vision and SafeTaxi airport diagrams. $209.99/yr
https://ds2q22dwzczts.cloudfront.net/wp-content/uploads/2020/07/07123442/garmin-tab-feature.jpg
900
1200
Bret Koebbe
https://ipadpilotnews-images.s3.us-east-2.amazonaws.com/wp-content/uploads/2021/04/07120009/logo.png
Bret Koebbe
2023-03-09 16:24:51
2023-03-09 16:33:17
ForeFlight vs. Garmin Pilot: 3 key differences to help you decide