Sporty's Pilot Training app adds support for Apple CarPlay
4

min read
Sporty's Pilot Training platform started with just a few online courses over a decade ago and today has grown into an extensive library of over twenty-five HD/4K video and test prep courses. Sporty's mission is to make their high-quality training courses accessible to pilots on any screen they own, from iPhone/iPad to Android and all the popular smart TVs, including AppleTV, Roku, FireTV and Android TV.
The latest update brings support for vehicles that support Apple's CarPlay system, allowing pilots to seamlessly continue their training while on the road. Here's a look at how CarPlay works and how to use Sporty's Pilot Training app with this system.
What is CarPlay?
Apple quietly released the CarPlay concept in 2013 to allow iPhone users to access a few select iOS communication and media apps on touch-capable infotainment screens in compatible cars. After connecting an iPhone via a Lightning cable to a USB port in a CarPlay-supported car, you'll see the familiar rows of Apple apps, like Phone, Messages, Maps and Music. This allows you to access and interact with commonly-used apps while driving without the distraction of looking down at the small screen on a mobile device.
The clever thing about CarPlay is that the brains of the system all reside on your iPhone, so once you connect your device to your car, the interface and experience are nearly universal, regardless of manufacturer or infotainment system design. At first, there were only a handful of vehicles that supported this feature, but it didn't take long for the concept to catch on and today nearly every automobile manufacturer supports CarPlay. The latest advance is wireless CarPlay, which allows you to connect your iPhone wirelessly to your car's infotainment system and eliminates the need to plug it in.
In addition to the standard selection of Apple apps, third-party developers can also develop apps for CarPlay. While the majority of the apps are designed for audio playback, like Spotify, Pandora and Overcast, you'll also find full-featured navigation apps like Google Maps, Waze and TomTom. Apple sets strict rules on what types of apps it will approve for CarPlay and how the interface is to be designed, so you won't find apps that could distract a driver on the road, like Angry Birds or Netflix on here. Just about every iPhone released over the past decade works with CarPlay, starting with the iPhone 5.
Using Sporty's Pilot Training CarPlay app
Sporty's Pilot Training app is a natural fit for CarPlay, allowing pilots to listen to the audio training segments from just about every course Sporty's offers. This is great for reviewing a segment after you've watched the video or for brushing up on today's flight lesson topic while you drive to the airport. After installing the Pilot Training app on your iPhone, connect it to your CarPlay-compatible vehicle, select the CarPlay view and you'll see the familiar Pilot Training propeller icon on the home screen:
Like all CarPlay apps, navigating the interface is simple and requires just a few taps get going. All of the Pilot Training courses are listed on the home screen menu and you can tap any of them to start playing a segment:
The app is also fully compatible with the CarPlay Dashboard view, allowing you to view the current segment playback status right next to your favorite navigation app:
Sporty's CarPlay app includes free demos from each course, so it's a fun way to test out the system in your car even if you don't own any courses yet: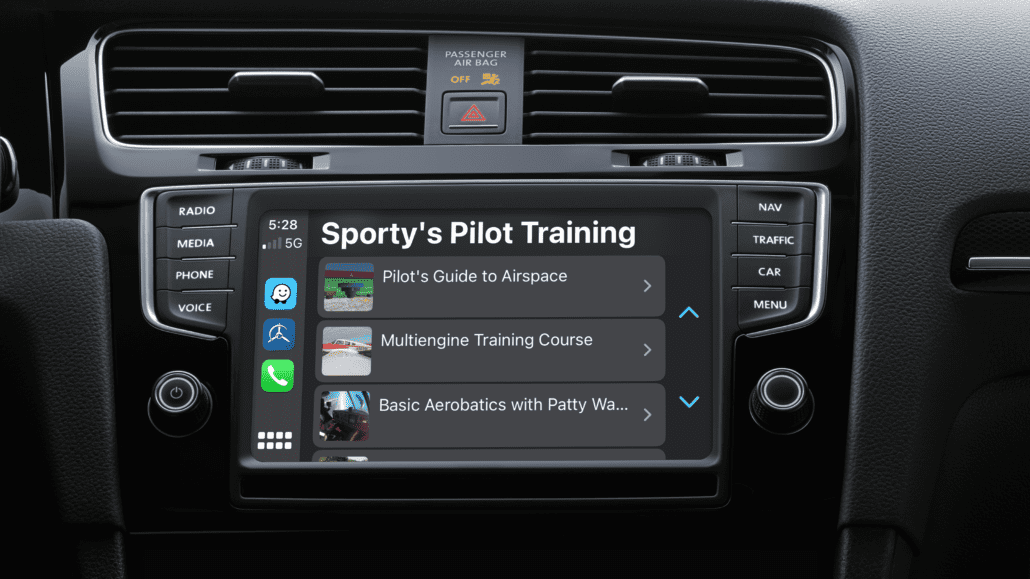 You can purchase access to any of the 25 aviation training courses right from Sporty's website. Each course purchase includes lifetime updates and unlimited access to all platforms, including mobile, online, TV and CarPlay. Check out all the platforms here:
iPhone/iPad (includes CarPlay app) – download the free app here
Android – download the free app here
AppleTV – go to the App Store on AppleTV (4th Gen or newer) and search for Pilot Training
FireTV – search for Sporty's Pilot Training to download the app (preview the app here)
AndroidTV – search for Sporty's Pilot Training to download the app (preview the app here)
RokuTV App – search for the Sporty's Pilot Training Channel on your Roku device
Online – visit Sporty's Course Catalog and purchase direct access to any course
https://ds2q22dwzczts.cloudfront.net/wp-content/uploads/2021/12/07114213/Carplay-aerobatics-segments.png
1152
2048
Bret Koebbe
https://ipadpilotnews-images.s3.us-east-2.amazonaws.com/wp-content/uploads/2021/04/07120009/logo.png
Bret Koebbe
2021-12-07 18:07:32
2021-12-07 18:41:47
Sporty's Pilot Training app adds support for Apple CarPlay