Garmin Pilot adds Microsoft Flight Simulator integration
3

min read
Garmin continues its rapid pace of updates in 2021, and the release of version 10.4 of its Pilot app is the latest evidence. This adds some nice updates to NOTAM map layers and preflight weather briefings, but the biggest news is full support for Microsoft Flight Simulator. Now you can fly an approach on your home sim and learn to use Garmin Pilot at the same time. Here's how it works.
Flight simulator support
Microsoft's introduction of a brand new (and visually impressive) Flight Simulator last year has energized the home simulator market. Thousands of pilots are building their own setup to practice instrument approaches or cross-country navigation from the comfort of their living room. One use that is often overlooked by simulator pilots is the ability to fly with your favorite electronic flight bag app. This is a great way to learn all the features and practice emergency scenarios with the same tools you use in the airplane.
While Garmin Pilot has supported X-Plane for a while, version 10.4 adds support for Microsoft Flight Simulator. This is not automatic, though. Like ForeFlight, Garmin Pilot requires an extra app in the middle to connect simulator and EFB app. This is fairly straightforward using the Flight Events Client (you can read the details here). Once you have completed these steps, and have both Microsoft Flight Simulator and Flight Events running, open Garmin Pilot and navigate to the Settings -> Flight Simulation page. Here, you'll see the option to "Use Flight Simulator Data." Make sure this is on.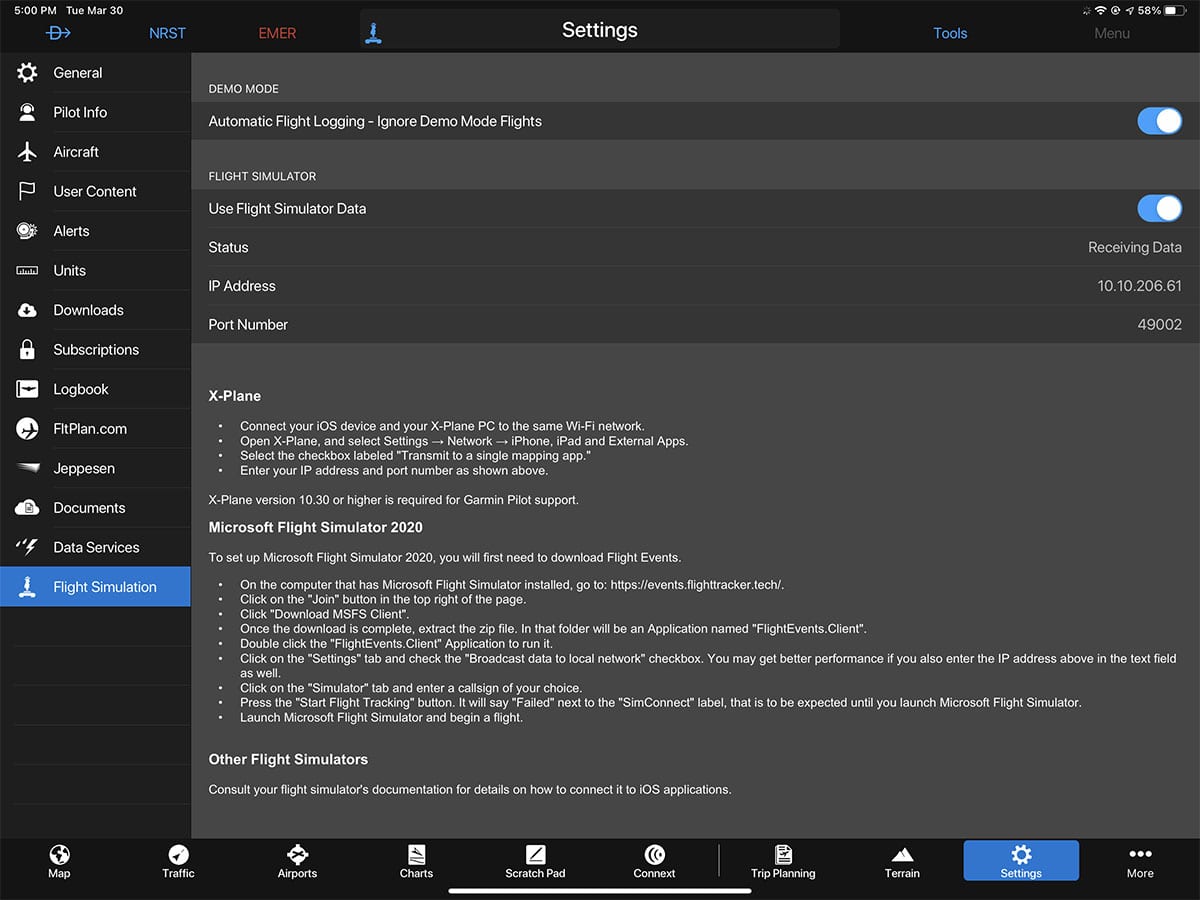 From there, Microsoft Flight Simulator will automatically broadcast your "real" position to Garmin Pilot. Now you can monitor your progress from anywhere in the app, just like you would on a real flight. In this case, we're practicing an RNAV approach to the Clermont County Airport and tracking our precision with a split-scree Map/Plates view. This is ideal for instrument proficiency flights.
You'll notice a joystick icon in the top menu bar—tap on this to see a quick-access simulator menu. From here you can verify that the app is set to use flight simulator data, check the current status, or tap on the arrow to see complete settings and instructions.
New NOTAM options
In previous versions, Garmin has added a number of graphical NOTAM options that make it easy to track airspace or drone updates. That has been expanded in version 10.4 to add navaid NOTAMs, an increasingly common occurrence in our experience. Turn on the NOTAM map layer from the overlay menu in the bottom left corner of the Map page, and tap on a NOTAM icon for more details (an NDB outage in the example below).
This can be a little overwhelming, so Garmin has introduced expanded filter options. You can hide drone (UAS), navaid, or obstacle NOTAMs, plus filter based on your active flight plan or time. This is a good way to declutter the screen.
Another handy option to consider is the split-screen view with widgets on the right side. These are a series of data blocks that can be set to show en route weather and NOTAMs. This is perfect for tracking complicated stadium TFRs or airspace NOTAMs—just tap on the individual NOTAM for more information.
Leidos graphical briefing
Another nice upgrade can be found on the Trip Planning page. This is the place to enter upcoming flights, get route suggestions, and file flight plans. After adding a trip (under the Form) tab, you can then tap the Brief tab at the top to get a full preflight weather briefing. The change in this version is that Garmin Pilot will return a full Leidos graphical briefing, in PDF format. This is a much more modern and easy-to-read format, and is the same information the briefer on the phone has access to.
https://ds2q22dwzczts.cloudfront.net/wp-content/uploads/2021/03/07120046/GP-sim-split-screen.jpg
900
1200
John Zimmerman
https://ipadpilotnews-images.s3.us-east-2.amazonaws.com/wp-content/uploads/2021/04/07120009/logo.png
John Zimmerman
2021-04-01 11:23:09
2021-04-01 11:52:21
Garmin Pilot adds Microsoft Flight Simulator integration