ForeFlight 12.10 adds forecast cloud layer and 3D internet traffic
5

min read
ForeFlight's 11th major release of 2020 continues the trend from previous updates: sophisticated new weather features for Pro Plus and Performance Plus subscribers, but some helpful tweaks for Basic subscribers too. Here's a look at the latest additions.
Cloud Forecast
The most noticeable (and most useful) new feature is the graphical cloud forecast, which essentially shows a simulated satellite picture on the Maps page at three-hour increments, up to to 24 hours in the future. Is it going to be overcast at 7am tomorrow in Cincinnati? This layer gives you a good at-a-glance indication. Since it's a global layer, pilots from Australia to Austria can view it, but it does require a Pro Plus subscription or higher.
This new layer is based on the GFS Cloud Coverage product, a complicated forecast model that is used daily by forecasters to turn numerical predictions into graphical forecast products. As NOAA explains, "The view is somewhat similar to what a weather satellite visible light image would show, if we could project this into the future. Bright clouds are thicker and often associated with stormy weather."
From the Maps page, tap the layer menu at the top left and select Clouds. Then use the slider bar at the bottom to see forecast cloud coverage at various times in the future. There's also a slider bar on the right side of the screen to view predicted cloud cover at different altitudes, from the surface up to Flight Level 630. Using these two sliders in combination allows pilots to evaluate various scenarios, from ETD to cruising altitude. This weather layer is not available via ADS-B or SiriusXM in flight, but it is included in ForeFlight's Pack feature, so you can save it for offline access.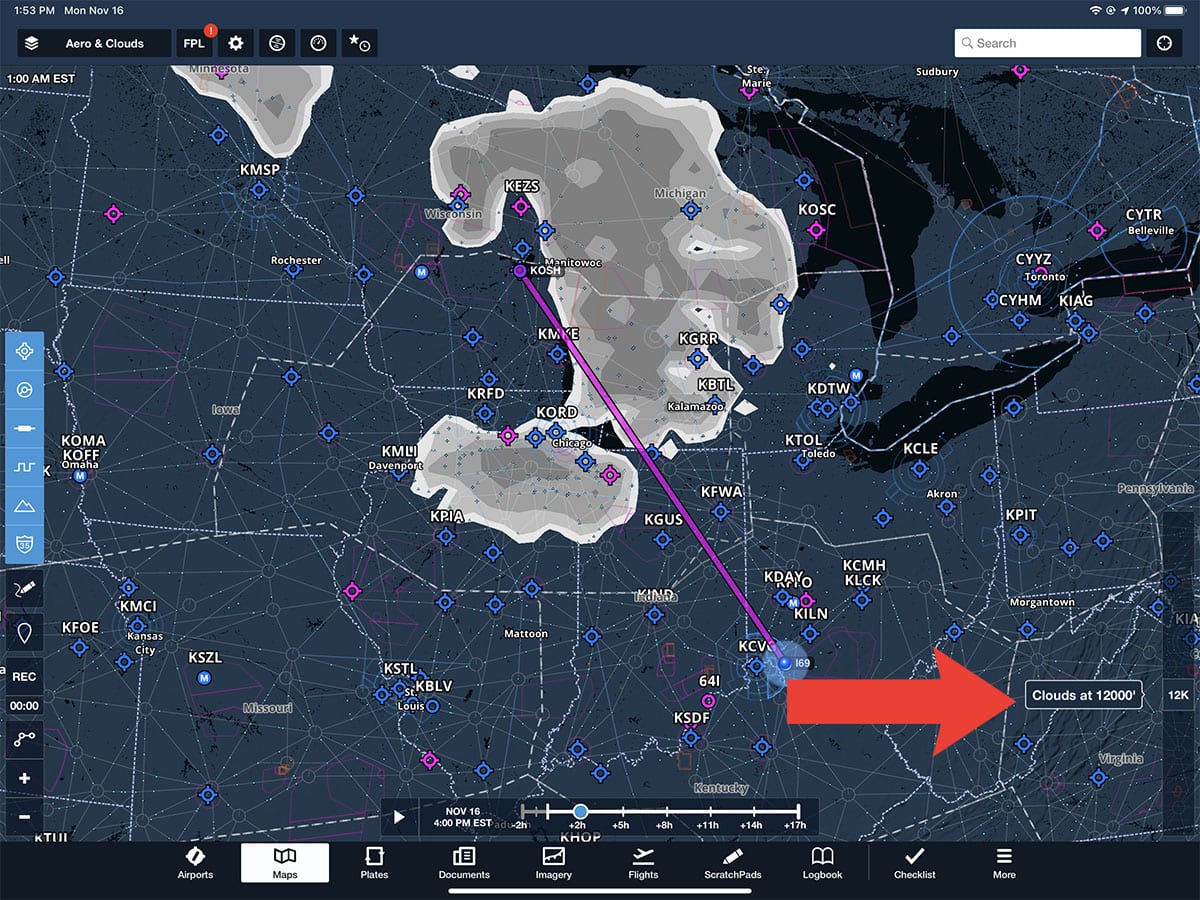 Like all forecast products, the Clouds layer is not a guarantee. We wouldn't depend on it exclusively to make the go/no-go decision, but it's an important piece of the puzzle. If you're trying to find the best time, route, or altitude to fly while remaining in VMC conditions, this is a good place to start. Use this along with the surface analysis and METARs/TAFs.
The only thing that's missing now is the forecast radar product that's available on some websites. Hint, hint, ForeFlight…
3D Clouds
If you're a Performance Plus subscriber (the highest level for ForeFlight), there's another way to use this new forecast cloud tool. Tap on the FPL button at the top to display the drop-down Flight Plan window, then tap Profile. From here you can select Clouds as one of the profile view weather layers. ForeFlight will display your planned cruise altitude and display forecast clouds based on your departure and arrival times.
This is really the ultimate planning tool for altitudes, since the app does most of the work for you. You can tell right away if your proposed cruise altitude will be in clouds or not, and you can slide the altitude box on the left of the screen to compare different altitudes. This is helpful for avoiding IMC if you're VFR; it's also invaluable for avoiding in-flight icing if you're IFR. In fact, you can overlay the forecast icing and cloud layers at the same time—a fantastic tool for winter flying.
Finally, Performance Plus subscribers can visualize all this weather using the 3D preview tool. From the FPL window, tap Edit and then tap the globe symbol. This will launch the preview tool, which allows you to virtually fly the flight at your proposed altitude, and see if there are clouds forecast. We find the Profile view a little more intuitive, but this 3D option is fun to look at.
Other additions
Internet traffic also gets an upgrade in this version, if you're a Performance Plus subscriber. Now you can tap on an airport on the map page, tap 3D View, and you'll see nearby aircraft in that simulated view. You can also tap on any traffic target to show its recent movement.
ForeFlight has added more terrain information, both on the Maps page and the Airports page. From the Maps page, select the Aeronautical layer and turn on terrain contours from the left side icon menu. You'll notice as you zoom in that many more mountain peaks are visible. This is driven from the High Resolution Basemap that's available in the Downloads section of the More page. It's a real aid for situational awareness if you fly in the mountains. See below for a comparison of the previous level of detail (top) compared to the new level of detail (bottom).
The app will also gently remind you of high terrain near mountainous airports. On the Airports page, you'll notice a mountain icon next to the taxiway diagram. This appears if there is high terrain near the airport; tapping it will show the minimum and maximum elevation within 10 miles of the airport.
The Street and Aerial Map layers received small but noticeable improvements in version 12.10 as well. The street map in particular has better contrast and more useful terrain contours. You can see a comparison of the previous style in the screenshot below (old on top, new on bottom).
Two important notes about this update. First, as we mentioned above, many of these features require a Pro Plus or Performance Plus subscription, so if you don't see one of the buttons referenced here, check your subscription level. You can compare features and prices here.
Secondly, starting with this version ForeFlight requires iOS 13 or later (a change from previous versions). That shouldn't be an issue for most pilots, but note that some older iPads cannot run iOS 13, including the iPad mini 2-3 and the original iPad Air. If you're using one of those it's definitely time to think about an upgrade.
https://ds2q22dwzczts.cloudfront.net/wp-content/uploads/2020/11/07121256/FF-cloud-and-ice-layers-3D.jpg
900
1200
John Zimmerman
https://ipadpilotnews-images.s3.us-east-2.amazonaws.com/wp-content/uploads/2021/04/07120009/logo.png
John Zimmerman
2020-11-16 16:55:02
2020-11-16 17:08:55
ForeFlight 12.10 adds forecast cloud layer and 3D internet traffic