AOPA app adds new leaderboards to Pilot Passport feature
2

min read
AOPA released a new app for pilots several years ago which showcases their wide collection of articles, videos, podcasts, events and other offerings. Simply named "AOPA" (not to be confused with their AOPA GO Airport Directory app), the AOPA app is free to download from the app store and allows you to keep up with all of AOPA's media productions.
The app also includes a unique feature called Pilot Passport, which is designed to encourage and motivate pilots to visit new airports and check out aviation events around the country. It use a game-like system which allows pilots to earn points and badges along the way, and a leaderboard for those that looking for a little competition. Each time you visit a new airport, open the app and it'll recognize your location and offer the ability to check in at that airport.
The latest update to the app adds new leaderboard categories to further encourage friendly competition across several categories. When viewing the leaderboard screen, you'll now see the option to view rankings for visits to each class of airspace, regions and states in the U.S., runway type (grass, helipad, paved runways and waterways) and social media shares.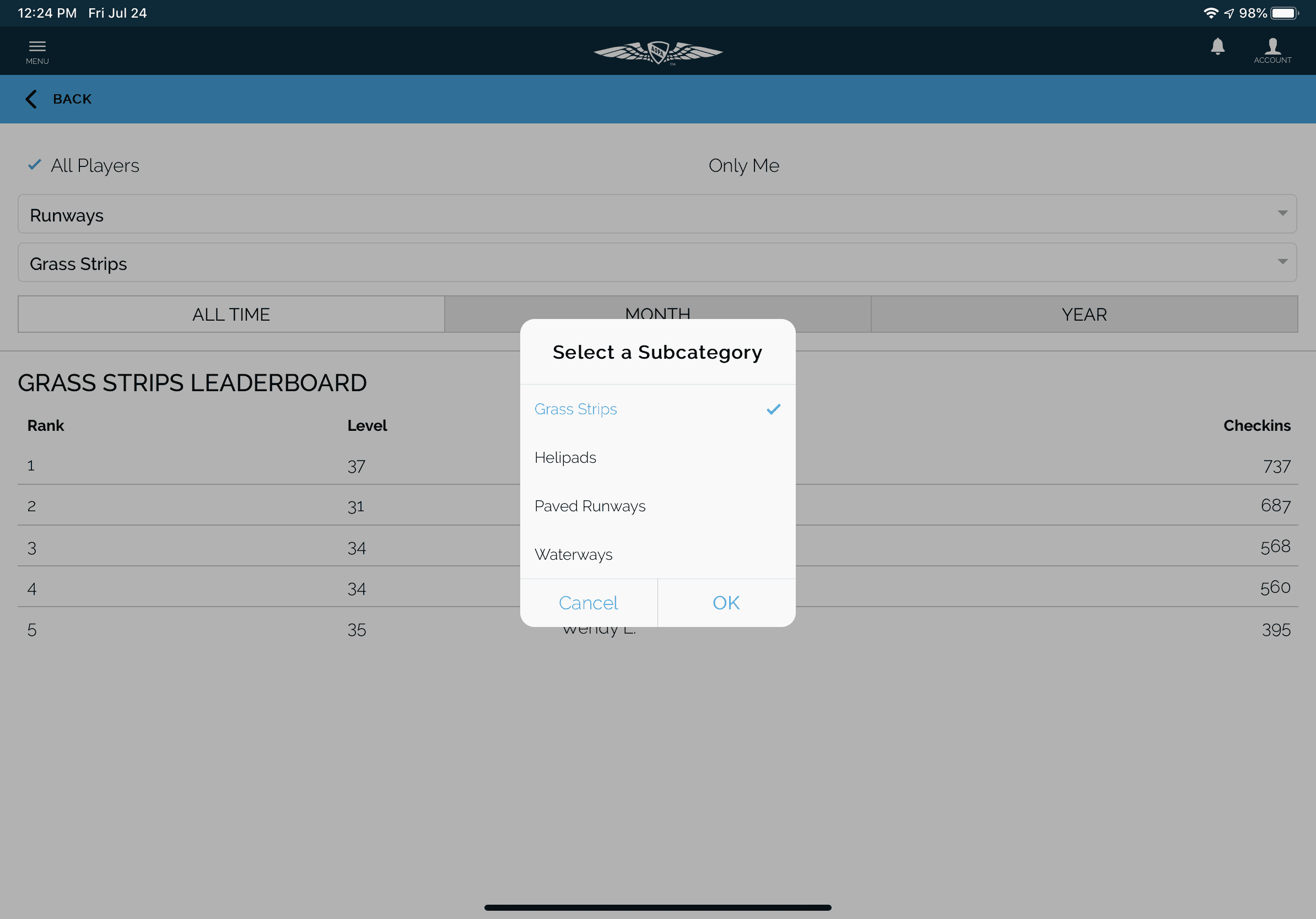 The update also allows you to filter the leaderboard by month, year and all-time, to see how you stack up against other pilots in different time periods.
In addition gaining points on the leaderboard, you can also earn badges in the app as you visit new airports:
Airspace: Earn badges for landing at airports within Class B, C, D, and E/G airspace.
Event: While not much value for this year, check back next year to earn badges for attending Sun 'n Fun, EAA AirVenture, AOPA Fly-ins, Burning Man, the STOL Drag Race, and general aviation events (think open houses and pancake breakfasts).
Membership: As a current AOPA member, you will receive this badge the first time you check in at any airport.
State: Track the airports where you have landed by state. To earn the highest level of the state badge, land at all the airports in the state.
Region: Earn badges for landing at states within your region.
Runway: Grass runways, paved runways, heliports, and waterways all have different badges.
Social: Get badges for posting on social media through the app when you check in.
AOPA Foundation: Earn badges for donating to the AOPA Foundation or becoming a donor at different levels.
Island: Head to the Caribbean and earn badges for visiting specific island airports, like Saint Martin, Bahamas and more.
Landmark: Unique badges are available for visiting nearly 100 unique aviation destinations across the US, like Boeing field, Spruce Creek or the First Flight airport.
Airport Amenities: Earn the coveted $100 hamburger badge here.
https://ds2q22dwzczts.cloudfront.net/wp-content/uploads/2020/07/07123305/AOPA.png
858
643
Bret Koebbe
https://ipadpilotnews-images.s3.us-east-2.amazonaws.com/wp-content/uploads/2021/04/07120009/logo.png
Bret Koebbe
2020-07-24 14:03:56
2020-07-24 14:08:42
AOPA app adds new leaderboards to Pilot Passport feature