iPad kneeboard buyer's guide
6

min read
Every pilot should secure their iPad in the cockpit, for both convenience and safety. The most popular ways to do this involve either a mount or a kneeboard, and it usually ends up being a bit of a "Coke or Pepsi" debate. Some pilots just love iPad mounts, while others hate them and prefer kneeboards. There's not really a right answer for everyone; it depends on the pilot and the airplane.
There are several popular mounting solutions available that will work with just about any airplane, from basic RAM Mounts to the versatile PIVOT case and deluxe options from MyGoFlight. In this article, we'll review some of the most popular iPad kneeboard options, so you can make an informed decision if you're not a mount person. There are more options than ever, and most of them are quite good.
iPad Rotating Kneeboard. These kneeboards win hands down for simplicity and value. The basic version offers nothing more than a way to secure the iPad to the pilot's leg. It's not fancy, but it works well and allows you to switch between portrait and landscape orientations quickly. The elastic leg strap is comfortable and adjustable.
This kneeboard works best with the iPad 9.7″, iPad 10.2″, iPad Pro 10.5″, iPad Air 1/2/3, and iPad Mini. It'll also work with the iPad Pro 11″, with the caveat that the straps will partially cover the corners of the screen. At just $19, it's an unbeatable value – probably worth owning for backup if nothing else.

Flight Gear HP iPad Kneeboard. This popular bi-fold design opens up to reveal an iPad mount on the left side and storage pockets on the right. In typical use, the right flap will hang down on the side of your leg, with two pockets accessible. These are a great place to store your cell phone, screen cleaners or charging cables. There's also an elastic strap for a stylus or pen, plus a zippered pocket. The iPad is securely held by elastic corner straps and can be elevated at an angle for the optimal viewing angle or to avoid sun glare. Plus, the iPad can be mounted portrait or landscape on the kneeboard.
The Flight Gear HP iPad kneeboard is available for iPad 9.7″, iPad 10.2″, iPad Pro 10.5″, iPad Air 1/2/3, and iPad Mini. Again, at only $35, it's by far the best value in bi-fold iPad kneeboards you can buy.
Flight Outfitters iPad Kneeboard. The kneeboard has a simple but well thought out design, with the iPad sitting in the middle, held steady by four plastic clips. These clips are attached to elastic arms, so they accommodate iPads with and without cases – although very thick cases like the Otterbox won't fit. The iPad section can swivel, so it rotates from landscape to portrait with one hand. It's firm enough to stay in place, but it doesn't require latches or buttons. There are two mesh pockets for storing essential iPad accessories like a charging cord or a cigarette lighter charger. But the feature we like the most is the flip-down area on the right side of the iPad. It can function as a storage pocket, but we think it's even better as a shelf.
A recent update incorporates plastic sleeves to reduce the size of the elastic bands in the corners, minimizing screen interference. The Flight Outfitters iPad kneeboard is compatible with iPad 9.7″, iPad 10.2″, iPad Pro 10.5″, iPad Air 1/2/3 and iPad Mini.
MyClip. This simple but elegant kneeboard has been around for a while, and we still like it. It's the smallest kneeboard we've seen, so if you're flying in a tight cockpit, it's an excellent choice. It's also very adaptable, fitting all iPad sizes, from iPad Mini to iPad Pro 12.9″, with or without a case. If you like to leave your protective case on, this is easily the best option. Just pull the rubber gripping surfaces apart, position the iPad and release – the elastic straps hold the kneeboard in place and prevent your iPad from moving around. It's well-made and durable, and it takes up virtually zero space in your flight bag. The only downside is that it offers no storage or protection for your iPad. The MyClip is available for $33.95.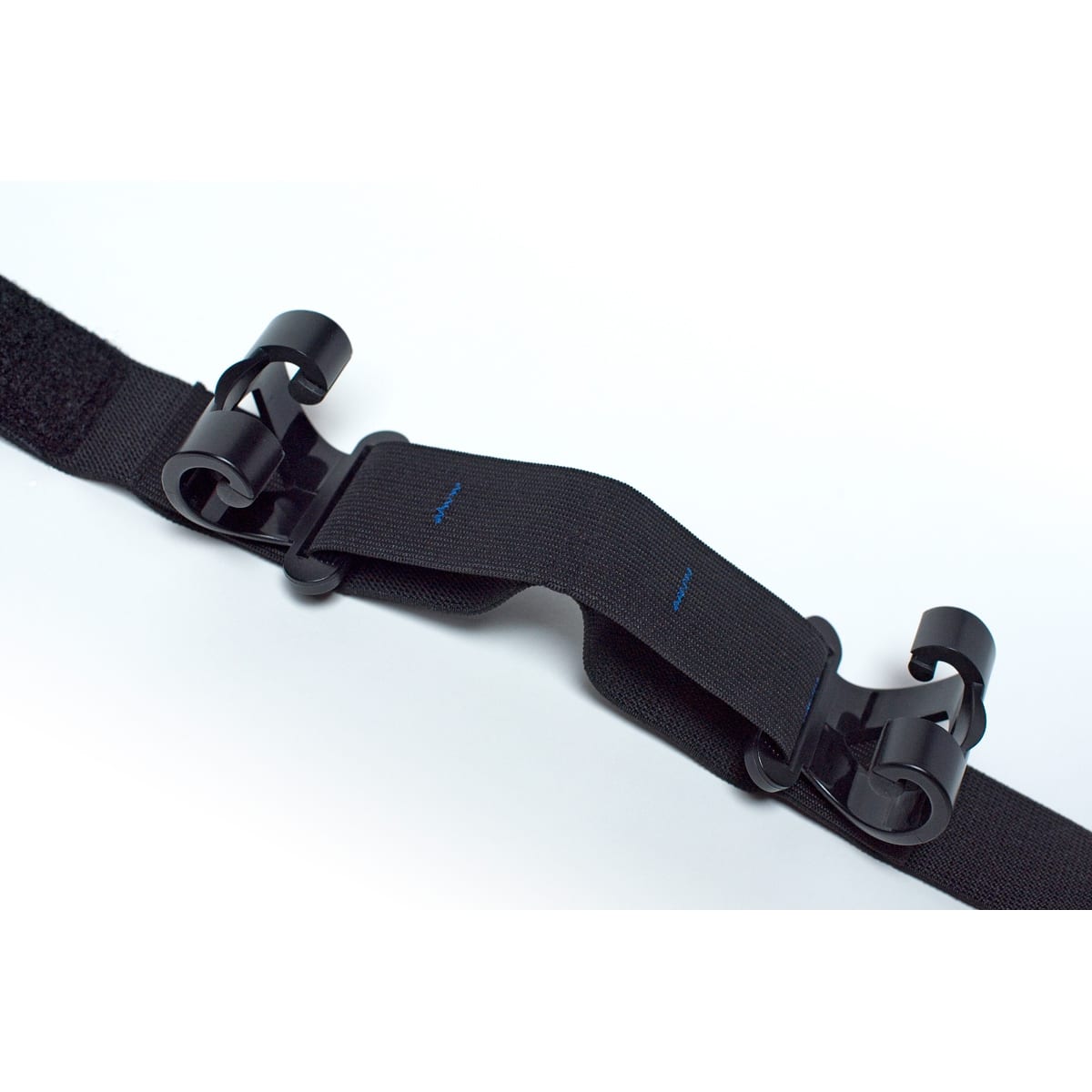 MyGoFlight. For a premium option, MyGoFlight offers two styles of kneeboards for iPad pilots. First, the Folio C includes both a custom iPad mount and a metal writing surface. The writing desk attaches with magnets, so it's easy to attach it to the front or it can be attached to the left panel of the bi-fold kneeboard when open. The Folio C includes a leg strap and closes up neatly for a professional look outside the cockpit.
The MyGoFlight Folio C Kneeboard range in price from $154 to $174. MyGoFlight has options for all kinds of devices including the iPad Air 1/2/3, iPad 9.7″, iPad 10.2″, iPad Pro 10.5″, iPad Pro 12.9″, iPad Mini 1-5, and even for your smartphone. These kneeboards aren't cheap, but they are well made, good-looking and highly-functional.
The second option from MyGoFlight, called the iPad Sport kneeboard, is more of a minimalist design. Constructed of black, smooth polycarbonate, the Sport adds protection and great feel to the iPad. Ideal for aircraft where space is tight or where there is a cyclic or control stick being used between the legs. This kneeboard is also designed to work with the Sport Adapter found on MyGoFlight's yoke and suction cup mounts, making it great for pilots wanting both a kneeboard and mounting solution.
The iPad Sport kneeboard for iPad mini and the slightly larger model for iPad Air 1/2/3, iPad 9.7″, iPad 10.2″ and iPad Pro 10.5″ Pro sells for $124. When using this as a kneeboard, you'll want to grab the optional Sport Case Strap too.
ASA Kneeboards This high-quality iPad Rotating Kneeboard is covered with soft, leather-like material and features a wide hook-and-loop leg strap to hold the kneeboard in place during flight. Inside, the rotating iPad frame holds the device securely and allows for 360-degree rotation of the iPad. An easel is built into the kneeboard for adjustable tilted viewing, in and out of the cockpit. The power port is accessible with the cover closed, a window exposes the camera lens for easy picture taking, and a small elastic loop securely holds a pencil, pen or stylus. ASA's iPad kneeboard is a good value starting at $49.95.
X-Naut Cooling Kneeboard. This ingenious mounting system features built-in fans to circulate cool air, specifically targeted at the iPad's main hot spots to prevent it from overheating. The mount can be powered off of typical alkaline batteries or USB with a power bank or backup battery. In addition to working the RAM mount system, you can also turn it into a kneeboard with this accessory kit – perfect for cockpits with a bubble canopy where the iPad is exposed to direct sunlight. The X-Naut is available for the iPad Mini 1-5 or the iPad Air 1, 2, 9.7″ Pro and iPad Pro 10.5″ / 10.2″ / iPad Air 3 (2019).
You can shop the complete iPad Kneeboard selection here. Do you have a favorite?
https://ds2q22dwzczts.cloudfront.net/wp-content/uploads/2019/11/07132204/IMG_9477-Edit__82853.1497381053.600.600__88655.1540956109.jpg
1280
1280
Bret Koebbe
https://ipadpilotnews-images.s3.us-east-2.amazonaws.com/wp-content/uploads/2021/04/07120009/logo.png
Bret Koebbe
2019-11-20 18:09:16
2020-10-09 16:53:45
iPad kneeboard buyer's guide