ForeFlight introduces Sentry Mini ADS-B Receiver
5

min read
Portable weather receivers, especially those that pick up the free ADS-B broadcasts, have exploded in popularity over the past five years and we think that's great news. In fact, we believe that every pilot who flies beyond the traffic pattern should have datalink weather in the cockpit. That's not just a matter of convenience or having the latest technology – a recent study by the Aircraft Owners and Pilots Association showed that pilots flying with ADS-B In had a 50% lower accident rate and a 90% lower fatal accident rate.
Now there's an affordable and easy-to-use option for flying with this safety-enhancing technology. Sentry Mini, introduced this week at EAA AirVenture Oshkosh, is an incredibly small, lightweight ADS-B receiver that's specifically made for ForeFlight. It delivers subscription-free datalink weather, including radar, lightning, METARs, TAFs, and TFRs, plus dual band ADS-B traffic and WAAS GPS position. All these features are packed into a case that weighs less than two ounces and is smaller than a deck of cards. Trust us – it's tiny! Perhaps best of all, it's priced at just $299 – a good investment for almost any pilot.
Flight test
We've had the chance to go flying with Sentry Mini flying on numerous flights recently, and it has performed flawlessly. Just mount it on the side window (using the included RAM suction cup mount) and plug it in to a power source. There's no power button so as soon as it's plugged in it will start up.
Reception was solid, as we picked up an ADS-B tower just 200 feet off the ground at Sporty's airport and had continuous coverage throughout two cross countries. The full suite of weather products came in, from NEXRAD to cloud tops, and two green lights on the front confirm you are receiving both ADS-B and GPS. That GPS receiver is a nice addition here – the Scout, also from ForeFlight, is just $199 but the lack of a GPS is a significant limitation for us. The Sentry Mini is a more complete product.
Another easily overlooked feature is weather replay. This means you can turn off your iPad screen to save battery life, then turn it back on and get an update from the Sentry Mini with all the weather information you missed. This can extend your iPad's battery life by hours, and it all works automatically. Once you've flown with this feature, it's hard to live without.
On a recent trip in a Cirrus, Sentry Mini was invaluable for finding a path around some summertime storms. We used radar (especially animated radar) plus METARs and PIREPs to stay safe.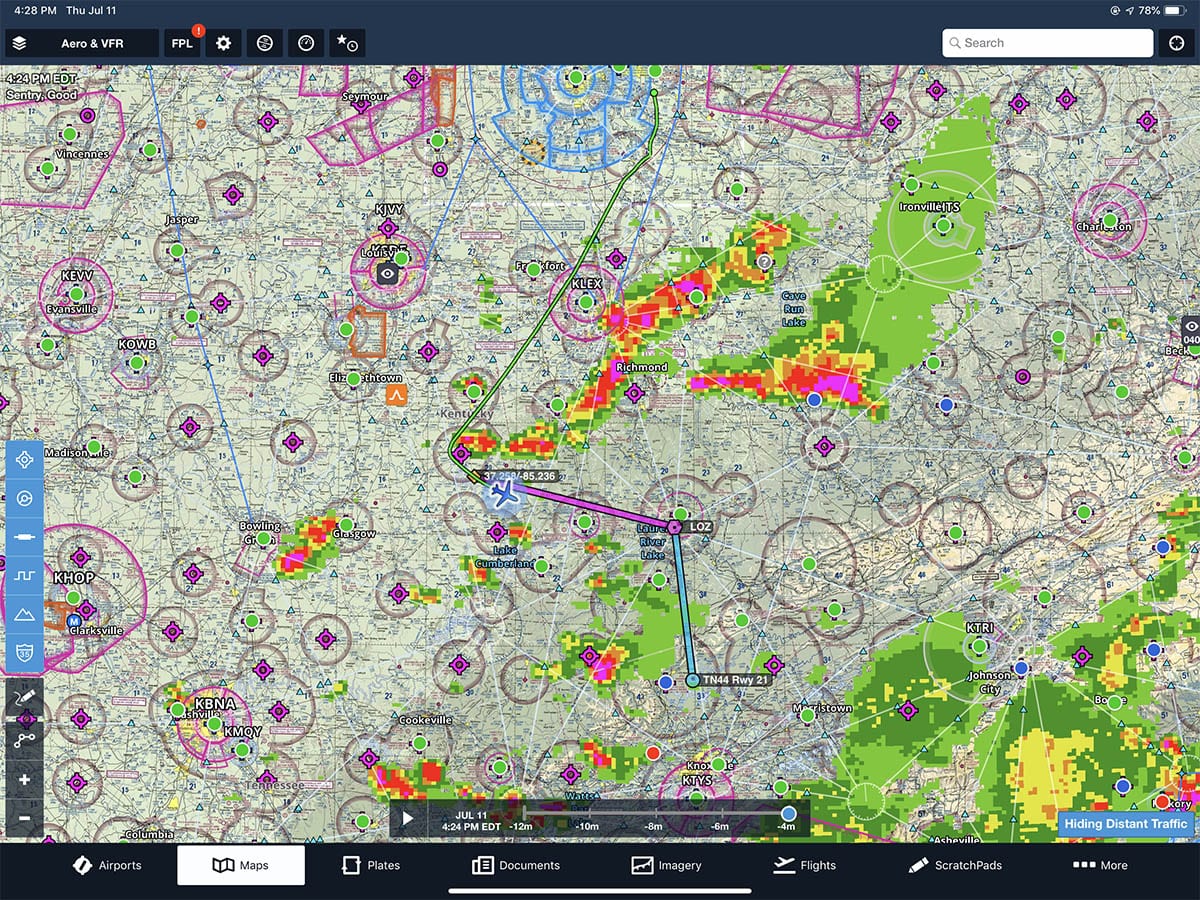 Power and mount options
Sentry Mini does not have a battery (one reason it's so small), so you'll need either a cigarette lighter plug, a panel-installed USB plug, or a portable battery pack. We've used all three options and they work just fine – a sturdy, braided USB-C charging cable is included with Sentry Mini and it's long enough to reach across the cockpit in most airplanes.
The Flight Gear Backup Battery Pack in particular is a great combination – it ran Sentry Mini for four long flights without recharging. The original 20,000 mAh size should power Sentry Mini for over 75 hours, good enough for months of flying in most airplanes. The new 10,000 mAh size is a more convenient size but should still provide enough juice for multiple flights.
The included suction cup mount is the same as the one included with the full size Sentry, and it works well. Just twist the Sentry Mini onto the RAM suction cup and mount it on a side window. Sentry Mini is so small and lightweight, though, that there are plenty of other options for mounting it. We used the new Pilot Pocket XL on a few flights and liked it a lot – the Sentry Mini and the Flight Gear Battery Pack both fit, complete with charging cable, but left room for storing sunglasses or a stylus.
Because there is no AHRS in Sentry Mini, it's less particular about where in the airplane it's mounted. A side window is best for ADS-B reception, but we also got it to work in the center console of a Cirrus and even in a side pocket in a Cessna.
A family of Sentry receivers
Of course if you're looking for top-of-the-line features, the Sentry Mini's big brother is a great option and it's not going anywhere. It adds a 12-hour battery for completely wireless operation, plus an AHRS to drive a backup attitude display and synthetic vision. There's even a built-in carbon monoxide monitor to alert you of dangerous cockpit conditions from an exhaust leak. This makes Sentry a complete in-cockpit safety tool, but it's still quite small and totally portable. It would be at home in almost any type of aircraft, from taildraggers to helicopters to jets.
Sentry Mini is available for $299, and includes the suction cup mount, charging cable, and quick start guide. Sentry is available for $499, and includes the same accessories. Either one is a good value and an important safety tool for any pilot.
https://ds2q22dwzczts.cloudfront.net/wp-content/uploads/2019/07/07134337/Sentry-Mini-in-hand.jpg
955
900
John Zimmerman
https://ipadpilotnews-images.s3.us-east-2.amazonaws.com/wp-content/uploads/2021/04/07120009/logo.png
John Zimmerman
2019-07-22 10:28:59
2019-07-22 10:36:34
ForeFlight introduces Sentry Mini ADS-B Receiver