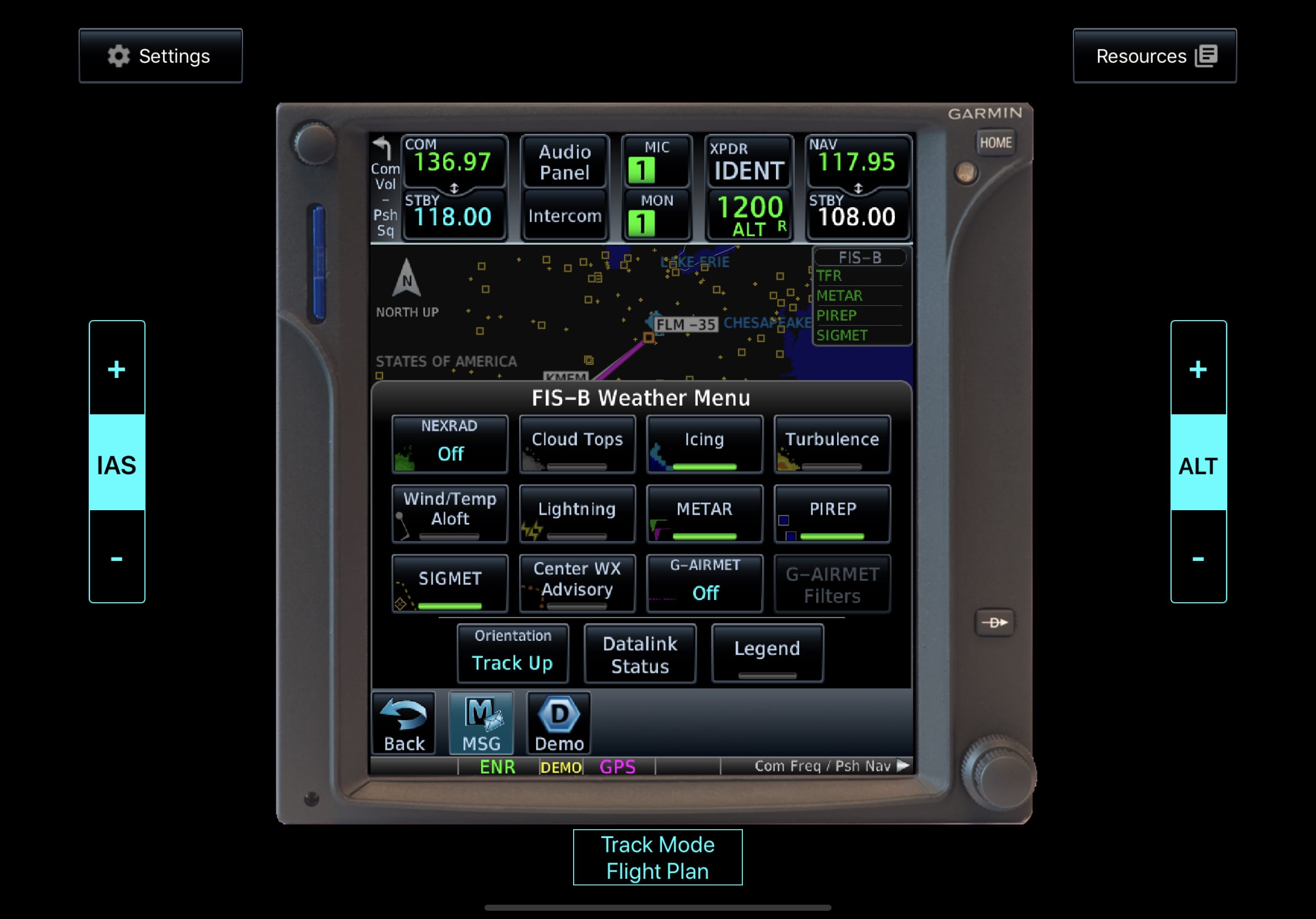 Garmin GTN Trainer updated with new navigation and weather features
2

min read
Garmin's GTN series of panel avionics, the replacement for the legendary GNS 430/530,  has set the standard for panel-mount GPS navigators in aviation. Most notably the system features a touchscreen interface that is powerful, yet easy to learn in a matter of minutes.
To help pilots better understand the system, Garmin released a GTN training app for iPad several years ago that allows you to fully interact with either the GTN 650 or 750 using the iPad's touchscreen interface. The latest update adds a series of new features to match recent updates to the GTN avionics, providing an excellent opportunity for pilots to learn the new features before hopping back in the airplane.
Vertical Navigation
To assist in descent planning and energy management, pilots can take advantage of VNAV profiles throughout the enroute and terminal phases of flight within the GTN 650/750 touchscreen navigators. These altitudes will show in a new altitude column on the flight plan screen, and top of descent (TOD) and bottom of descent (BOD) values are also calculated and displayed on the moving map.
Along-track offsets in the flight plan
This feature is great for those times when ATC says "Cross thirty-five miles southwest of the Falmouth VOR at 6,000′". The system allows you to tap a waypoint on the flight plan, select the Along Track button, enter the distance offset (either before or after the waypoint), and it will be entered as a new waypoint in the flight plan. You can then enter the assigned crossing altitude, and use the GTN's VNAV features to coordinate the descent.
QWERTY and ABC keyboard formats
When the GTN first launched, the keyboard was organized in alphabetical order, which can be tougher on the brain to locate letters compared to the traditional QWERTY layout. You can now display the keys in the traditional computer keyboard organization, which many prefer when entering waypoints. You can change your preference on this by going to Home > System > Setup.
New FIS-B (ADS-B) weather products
When paired with a compatible ADS-B In product such as the GTX 345 or GDL 88, pilots can now access the latest FIS-B weather products on the moving map alongside flight plan information and dedicated weather pages within the GTN 650/750. These new weather products include lightning, cloud tops, turbulence, icing (current and forecasted), graphical AIRMETs and center weather advisories (CWA). The NEXRAD "No Coverage" overlay was also updated to be semi-transparent, allowing you to view map features under the display.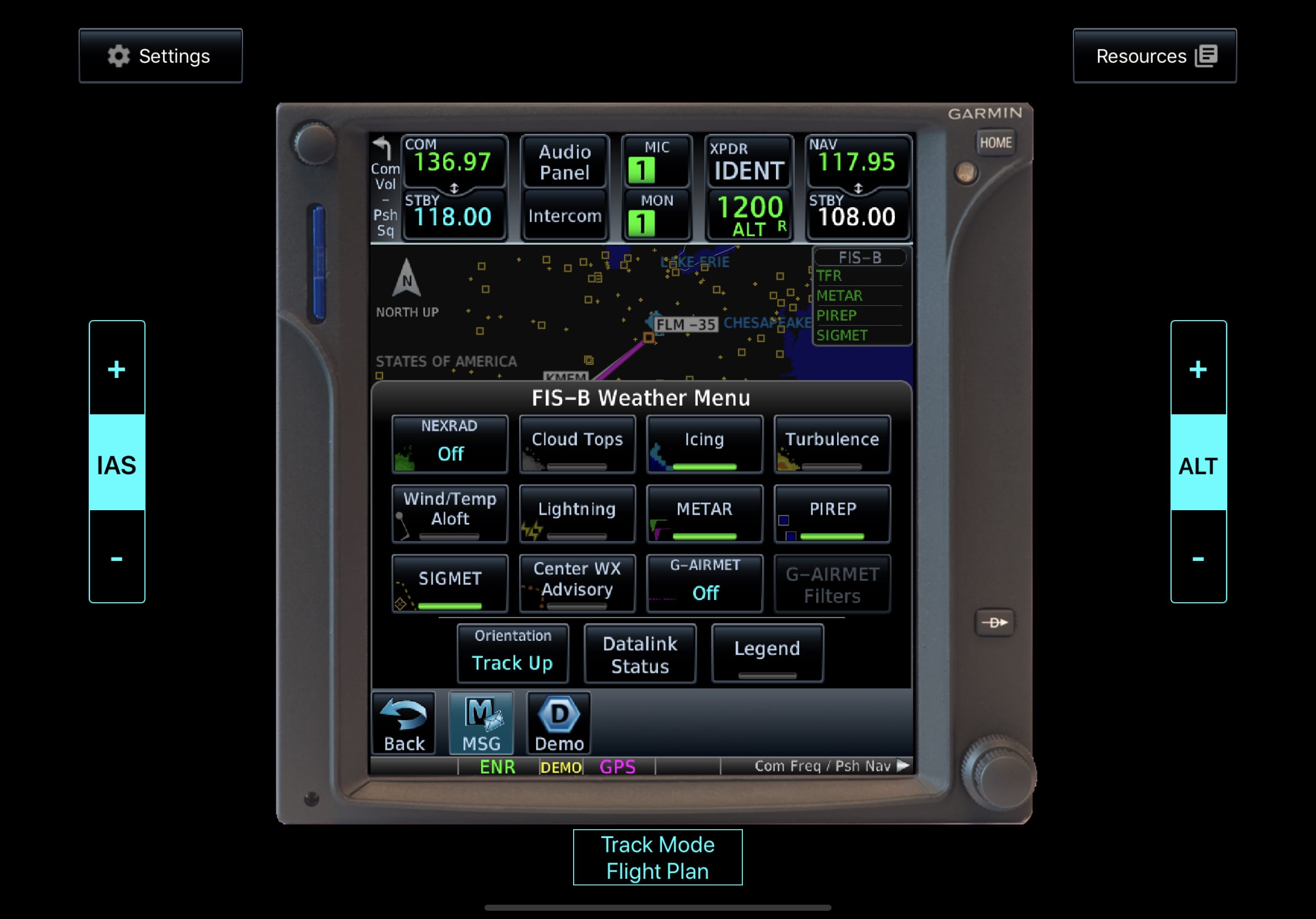 https://ds2q22dwzczts.cloudfront.net/wp-content/uploads/2019/06/07134632/IMG_F69AA2133446-1.jpeg
1668
2388
Bret Koebbe
https://ipadpilotnews-images.s3.us-east-2.amazonaws.com/wp-content/uploads/2021/04/07120009/logo.png
Bret Koebbe
2019-06-21 12:32:03
2019-06-21 12:35:20
Garmin GTN Trainer updated with new navigation and weather features