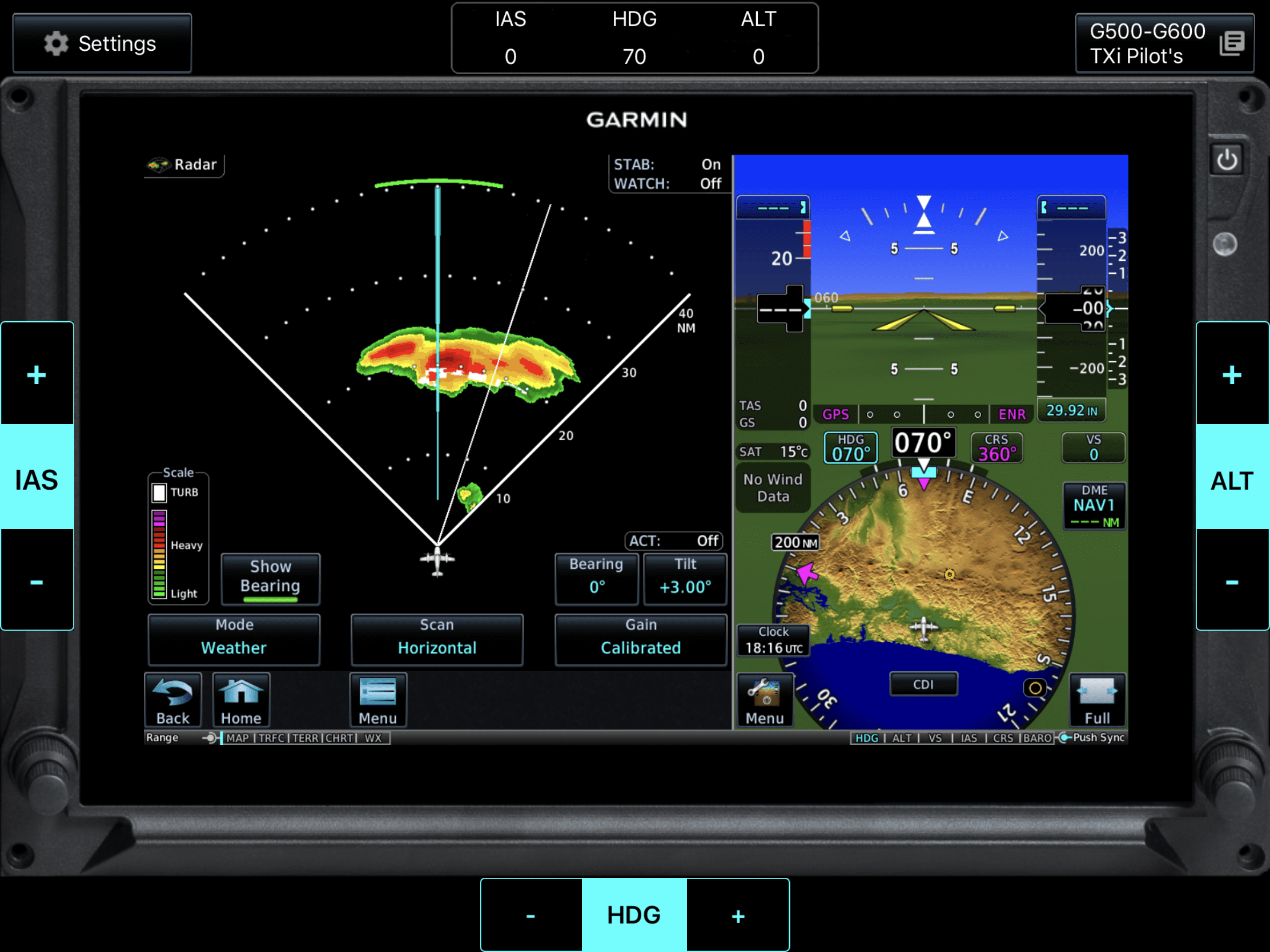 Garmin TXi trainer app updated with new rotorcraft and weather radar options
2

min read
Last year Garmin announced the G500 and G600 TXi retrofit glass-cockpit system GA for airplanes and helicopters. This all-new new avionics system is available in a variety of configurations and can function as a Primary Flight Display (PFD), Multifunction Flight Display (MFD), engine-monitoring system, or all of the above. The system only has a few buttons and knobs on the bezel, and is controlled primarily using the large touchscreen display.
There are lots of new capabilities for pilots to learn, and to help with this Garmin released a TXi trainer app for iPad to make for a seamless transition process. Best of all, the app is free, making it a great way for prospective buyers to get a good feel for all that the system can do.
Garmin recently released a big update to the TXi app that adds several new simulation features and more customization options, allowing you to configure the trainer to match your installation. Here's a quick rundown of what to look for in the update.
New Display Layouts and Controls
Garmin added several new display options that allow you to set up the trainer to better match what's in your panel:
10" Display now supports a 60% / 40% split between PFD and MFD
7" Portrait Display now features PFD, MFD, EIS (engine instruments), and MFD / EIS layouts
7" Landscape Display now features PFD, EIS, and MFD / EIS layouts
There's also an option to hide the TXi bezel, which allows you to view the display in a larger fullscreen presentation on iPad. When the app first starts up, tap the More… button, and uncheck the option for "Show Bezel".
You also have the option to customize the on-screen flight controls. When they are selected to "On", the app will display the selected IAS, HDG, and ALT values in a small box at the top of the screen. The "On with Fly Out" options shows the same IAS, HDG, and ALT controls, but also displays the target values right next to the respective control as you change it.
Support for Rotorcraft
In addition to offering support for single and multi-engine airplanes, the app now offers a rotorcraft option:
Weather Radar
Garmin recently introduced a new digital onboard weather radar system, the GWX 75. To help you master the controls of the radar, the TXi trainer added an option to display the radar from the weather page on the MFD. This includes options to view both horizontal and vertical scans, along with controls for WATCH shading and turbulence detection while approaching a simulated convective weather system: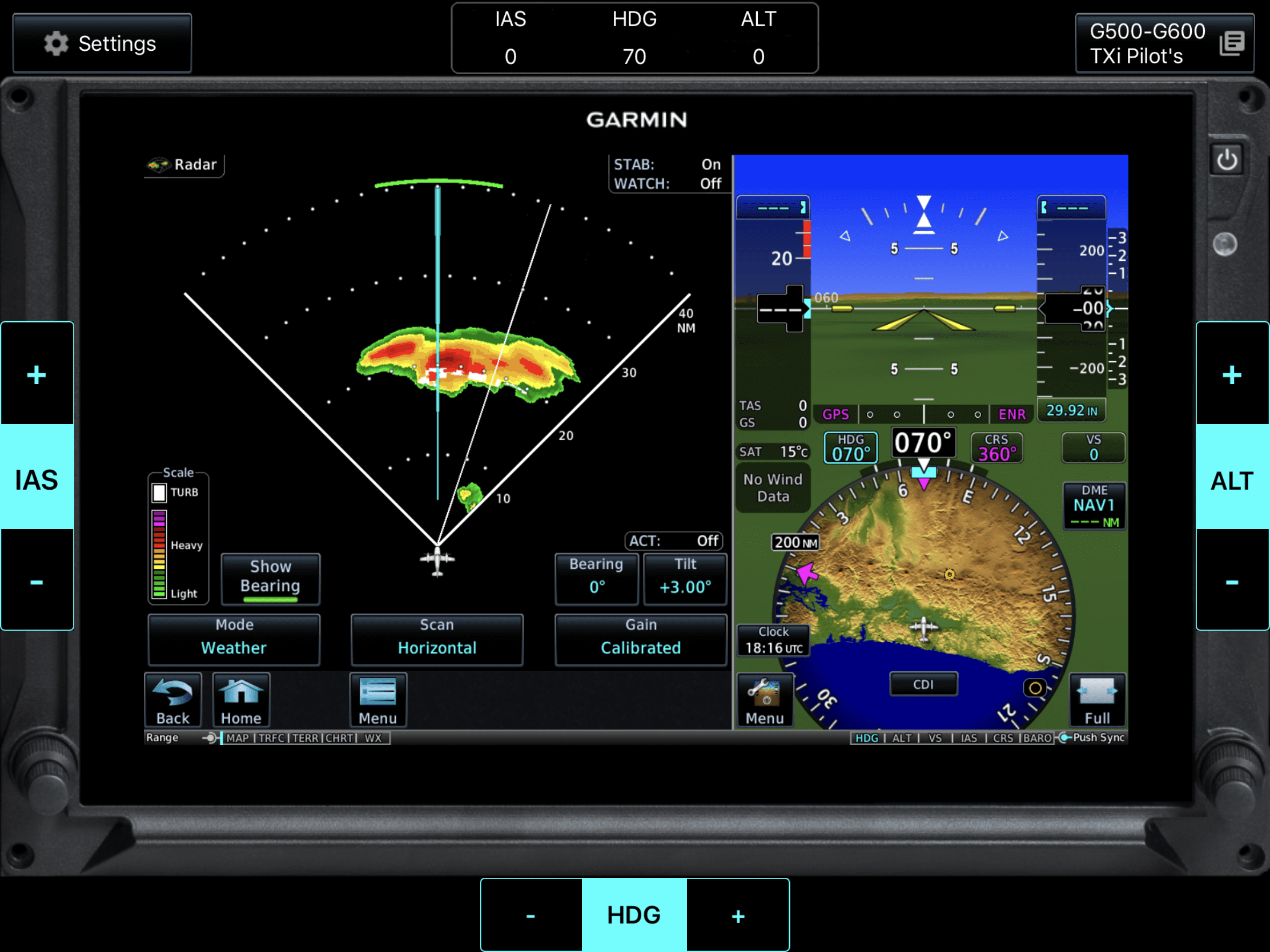 Training Resources
To help answer TXi operational questions that might arise while using the trainer, Garmin added the TXi Pilot's Guide to the app, accessible from the top right corner of the screen. This resources section also includes shortcuts to Garmin's training courses on the TXi and new weather radar system.
https://ds2q22dwzczts.cloudfront.net/wp-content/uploads/2018/08/07160448/IMG_2120.png
1668
2224
Bret Koebbe
https://ipadpilotnews-images.s3.us-east-2.amazonaws.com/wp-content/uploads/2021/04/07120009/logo.png
Bret Koebbe
2018-08-24 14:50:05
2018-08-24 14:53:28
Garmin TXi trainer app updated with new rotorcraft and weather radar options