Flying with Garmin's Flight Stream 510
7

min read
Garmin is continuing its relentless push for a connected cockpit, with avionics and apps that allow a wide variety of portable and panel-mount products to sync up. The latest (and greatest) offering is the Flight Stream 510, a tiny card that unlocks an impressive number of features. We recently flew with it and the latest version of the Garmin Pilot app and came away very impressed. Here's a detailed review.
The options
Flight Stream 510 is part of the Connext family of products, which is Garmin's name for its connected panel products. It looks like a small SD card because it basically is an advanced version of that. The benefit is that it requires essentially no installation – just pop it in and turn on the GTN (although you'll need to have an avionics shop do the actual installation).
We flew a Flight Stream 510 in a Pilatus PC-12, connected to a variety of Garmin avionics:
Garmin GTX 345 – ADS-B In and Out transponder
GDL 69A – SiriusXM weather and radio receiver
GTN 750 – GPS/nav/com
G600 TXi – primary flight display and AHRS
This allowed us to try a number of features on Garmin Pilot, from weather and traffic to music and flight plan transfers. One feature we couldn't test was satellite messaging. With a GSR 56 Iridium satellite communicator installed, you can also use Garmin Pilot to compose text messages or initiate phone calls.
Pairing
Flight Stream 510 includes both Bluetooth and WiFi, with Bluetooth being used for weather, traffic, and position data; WiFi is used for database updates (see below). The Bluetooth can connect to two devices at once (iOS, Android, or Garmin aera 660/796), and initial pairing is about what you would expect. Go to the Connext page on the GTN 750 (if you have more than one, as we did in this case, it's important to do this on the #1 GTN or it won't work). Once you're in the Manage Devices page on the 750, you can go to the Settings app on your iPad to connect to the Flight Stream Bluetooth.
Once that's done, future connections should be automatic so there's nothing to do after this initial setup. You can always check the status of paired devices by going to the Connext page from the Garmin Pilot menu, then tapping the Flight Stream 510 page, then choosing "Manage Paired Devices." This will show all previously paired devices, and offers the option for Auto Reconnect, which should be on by default.
Weather and traffic
Once you've connected your iPad to a Flight Stream 510, the information you can display really depends on what avionics you have in the panel. If you have an ADS-B receiver or a SiriusXM receiver, weather data can be displayed on your iPad in addition to the panel. Below is an example of SiriusXM weather on the Map page in Garmin Pilot. This is received by the panel-mount GDL 69A, then sent wirelessly to the iPad via Flight Stream. It's seamless, and offers a wide variety of information, including storm cell tops and movement.
Flight Stream also sends traffic information from the panel, in this case the GTX 345 transponder. This can be viewed on the Map page or on the dedicated Traffic page in Garmin Pilot. We think this is the best traffic display in the industry, with clear symbols and lots of pilot-friendly information. For example, the motion vector can be set to TargetTrend, which shows a more realistic view of where the traffic is going relative to your aircraft. You can also tap on a target (see below) for more details.
Attitude
In addition to weather and traffic, Flight Stream 510 can also be used as an attitude source. In this airplane, it uses the AHRS for the G600 TXi (the primary flight display) as an attitude source, which means it is rock solid and reliable. If you're keeping track, that's three different devices the Flight Stream is supporting (GDL 69A, GTX 345, G600 Txi). You can see the result below, with a split screen view: attitude and GPS information on top, moving map and weather on the bottom.
Flight plan transfer
So far the features are nice, but nothing you can't do with a portable ADS-B receiver like a Stratus or GDL 50. The real magic happens when you start transferring flight plans from your tablet to the panel, or vice versa. Once you're paired, go to the Map page and tap the Connext symbol at the top of the screen.
This is a quick-access Flight Stream menu, where you can monitor reception quality and control SiriusXM Audio volume. However, you can also tap Send To or Load From to share a flight plan. This is a great way to keep your iPad and GTN in sync. If you get a complicated re-route, just type it into Garmin Pilot, then tap Send To. It's fast and easy. You can also set the Flight Stream to automatically push flight plan updates to your iPad, which is a big time-saver in our opinion.
Database updates
One of the most interesting features of Flight Stream 510 is the ability to do wireless database updates of your panel-mount avionics, what Garmin calls Database Concierge. We've done it and can confirm that it works – you can use Garmin Pilot to download new databases, then send those new databases to the GTN 750 via the Flight Stream 510. From there, it distributes all the information to other devices, including the G600s. That means you download one time, then update four devices.
This is clearly the future, but our only complaint is that it takes a long time – over 40 minutes in our first test. That means you'll want to hook up a ground power unit and plan well ahead. We'll have more details on this process in a future article.
Status pages
One thing Garmin has worked really hard at lately is the status page for remote devices. This isn't exciting, but the latest version of Garmin Pilot offers a number of detailed pages for checking on the status of GPS receivers, ADS-B receivers, flight plan transfer, and much more. With a variety of external devices and possible features, this is essential to keep track of and we found ourselves checking the pages frequently.
First is the general Flight Stream 510 status page, which shows firmware version and the connected LRUs (line-replaceable units, essentially the panel avionics). This is also where you can manage the paired devices.
Tap Situational Data at the top to view the status of the GPS receiver and the AHRS.
Tap ADS-B to check the quality of your weather and traffic, including ground station locations and the age of individual weather products.
The SiriusXM page shows weather reception quality, which should almost always be excellent with a roof-mounted antenna. But it's also a good place to monitor the age of SXM weather and the radio ID (important for changing your subscription or trouble-shooting).
SiriusXM Audio offers a dedicated place to choose a channel or adjust volume. Again, there's a quick shortcut for this from the Connext menu on the Map page, but this is the best place to browse all stations and create favorites. It's also much easier to do on the iPad than on a GTN we think, so this quickly became our main control for audio.
Flight Plan Transfer is mostly a backup page, since the typical push/pull operations are done from the Map page. This page is where you can set the auto-sync feature (we like Prompt so you can verify the new route on your iPad first), and it's also the place to review stored flight plans.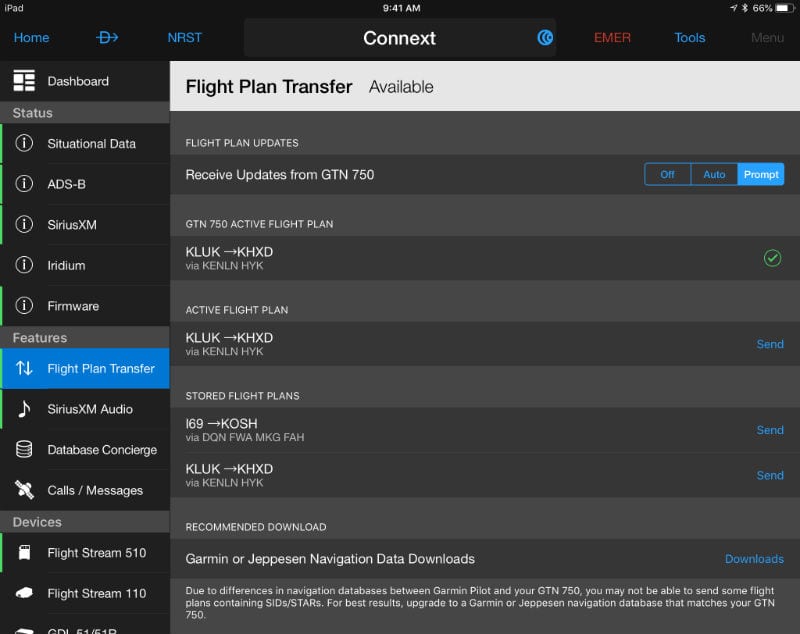 The details
The feature list is long and the acronyms are intimidating, but the actual process of flying with Flight Stream is remarkably easy. Just fly and your iPad will magically be in sync with the panel, showing updated weather and traffic as it changes flight plans automatically. If you have a full panel of Garmin avionics, we think it's a great addition.
The Garmin Flight Stream 510 has a list price of $1,495, and is available from Garmin dealer shops. Worth noting is that this is compatible with the GTN 650/750 series of navigators, but not the older GNS 430/530 line.
For this review, we flew with the Garmin Pilot app on iOS, which works with all the features. Many of these features are also available with ForeFlight and Fltplan Go, but not SiriusXM weather/radio, Iridium messaging, and database updates.
https://ds2q22dwzczts.cloudfront.net/wp-content/uploads/2018/08/07160622/FS510-connext-menu.jpg
1067
800
John Zimmerman
https://ipadpilotnews-images.s3.us-east-2.amazonaws.com/wp-content/uploads/2021/04/07120009/logo.png
John Zimmerman
2018-08-17 16:07:28
2018-08-17 16:08:13
Flying with Garmin's Flight Stream 510