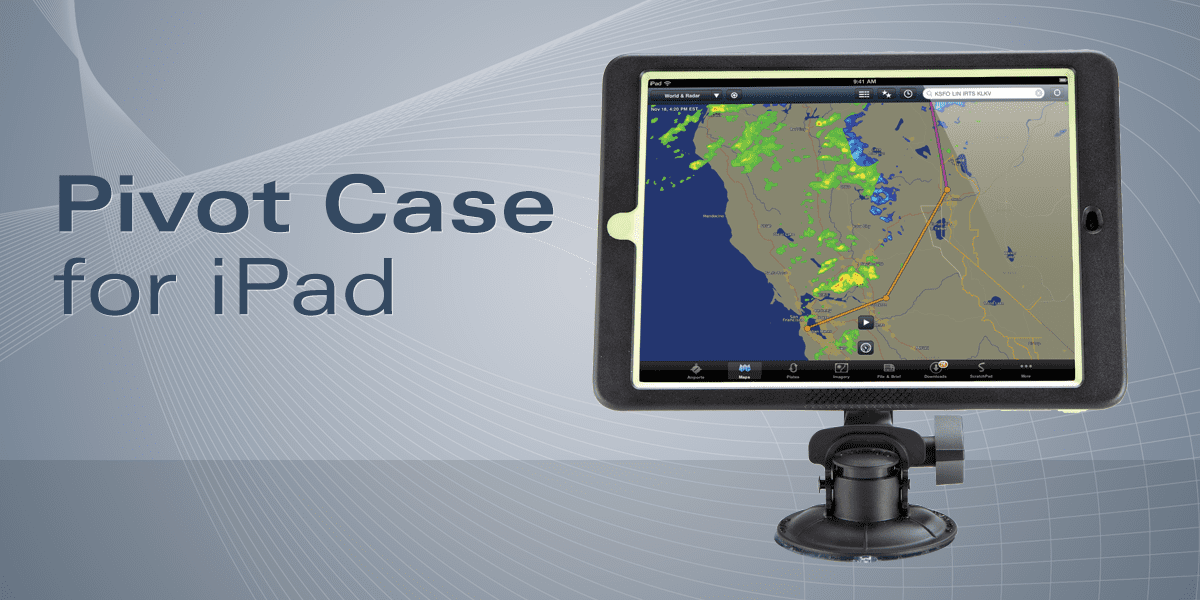 The perfect iPad case and mount for pilots?
3

min read
While not everyone likes them, a case is a good investment for an iPad – dropping your tablet on the ramp can put an end to your EFB in an instant. If you've ever been in that situation, you know you would pay anything for a little protection. The problem with most cases (and the reason many pilots don't use one) is that they are so big and bulky that they either don't work with mounting systems or they require an even bulkier mount. Either way, it's not ideal.
But we've recently been flying with an iPad case that may solve the dilemma. The Pivot Case has been around for a while now, and has found a loyal following among airline pilots (over 8,000 Southwest Airlines pilots use it as standard equipment). It hasn't caught on among general aviation pilots as quickly, but we found a lot to like about it.
The beauty of Pivot is that it works as a system: it's a protective case, a smart cover and a suction cup mount. And because it was created to work together, there are few compromises as Pivot goes from case to mount. It's also built for aviation use, so it has a number of features that make sense for pilots.
The case itself is robust, with a thick, hard plastic shell that offers lots of protection on the corners. The buttons are also covered by protective rubber sections that keep the more delicate parts of the iPad from breaking off. They're in bright green, which makes them easy to see on those early morning departures. After a few weeks of carrying it around we weren't able to do much more than scratch the exterior. There's also a handy business card slot in the back of the case, so you can easily identify your iPad in a crowd. This is particularly helpful for corporate flight departments or airlines.
The case is nice, but Pivot really becomes useful with the addition of the suction cup mount. The case features a tapered channel in the back that makes it fast and easy to attach it to the mount – just slide until you hear it click. After trying this once or twice, this movement became automatic. It's well thought out.
Once installed, the case can be tilted and twisted on an infinitely adjustable ball. We put it on the side window in flight and could orient the iPad exactly where we wanted to. The suction cup is a high quality locking style that held firm in our testing. If you already have another suction cup mount (like a RAM mount), Pivot offers an adapter arm.
The Pivot name comes from the case's ability to pivot from cockpit to coffee shop – this is truly a 24/7 solution. Just slide the case out of the mounting plate and slide in the Smart cover. The padded, leather cover includes magnets to keep the cover in place when closed, and it also acts as a smart cover to wake up or sleep your iPad. The case is thick, but we found it to be perfectly suitable for everyday use.
There is no screen protector in this kit, but one can be added quickly if desired. The complete Pivot kit, available for $174.95, includes everything you would want: case, smart cover, suction cup mount and all required parts. Models are available for the iPad Air 1 (an iPad Air 2 version is coming soon) and iPad Mini 1-3.
We were very impressed with the Pivot system. Yes, it costs more than a standard RAM Mount, but we found it to be an excellent cockpit solution.
https://ds2q22dwzczts.cloudfront.net/wp-content/uploads/2015/03/07182955/Pivot-case.png
600
1200
John Zimmerman
https://ipadpilotnews-images.s3.us-east-2.amazonaws.com/wp-content/uploads/2021/04/07120009/logo.png
John Zimmerman
2015-03-23 11:01:26
2015-03-23 11:01:26
The perfect iPad case and mount for pilots?