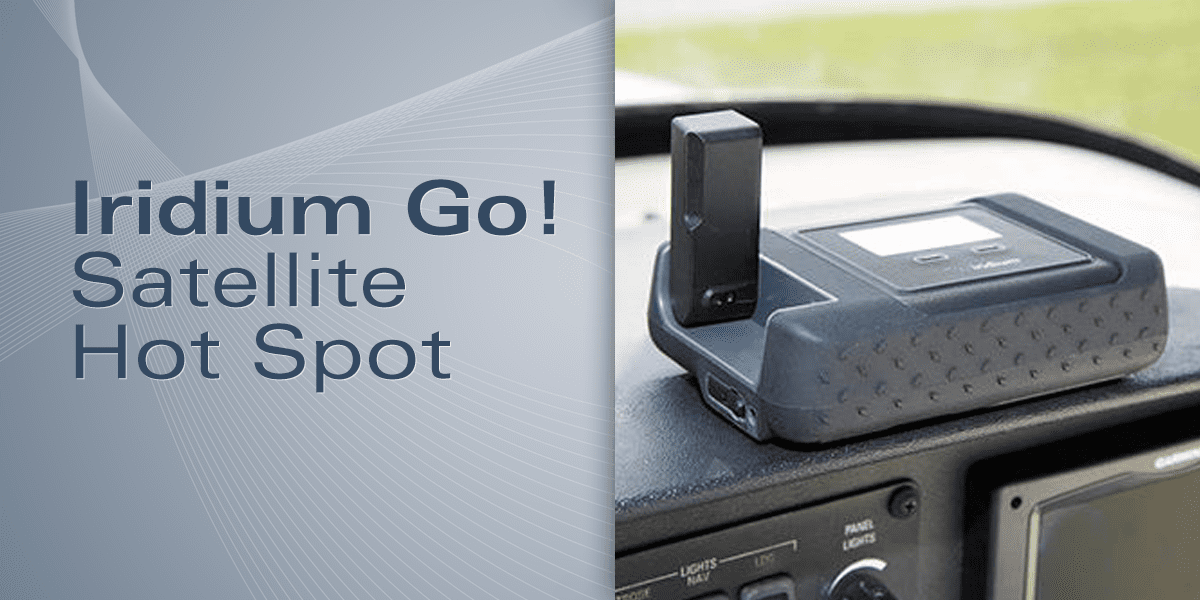 Pilot report: flying the new Iridium Go satellite hotspot
12

min read
In-flight connectivity, whether it's sending a text message or browsing the web, has become an increasingly sought-after feature for pilots and passengers. Some jet charter operators even complain that airplanes without in-flight WiFi are worthless–customers don't want to schedule them. But for pilots of light turbine and piston airplanes, there simply hasn't been an affordable way to get this feature.
That's why we were interested to learn more about Iridium's new Go! product, a portable satellite hotspot that claims to offer at least some in-flight connectivity–and for less than $1000. We've been flying with it now for a few months in everything from jets to taildraggers, and we've learned a lot about this unique product. It's no broadband in the cockpit, but it does give a taste of what it's like to stay connected in flight and it offers some very useful functions that aren't available anywhere else.
The satellite network
The real enabling technology behind Go is the Iridium satellite infrastructure. The company has been around for a long time, and operates the most complete satellite constellation in the world. With 66 low-Earth orbit (LEO), cross-linked satellites, their products offer connectivity literally anywhere on Earth and at any altitude. There is no such thing as a coverage map because the answer is always "yes." This is a nice benefit for pilots, especially those who fly in remote regions. Iridium products work in flight, on the ground or even on a boat.
The only downside to the Iridium network is its speed. Originally conceived for voice, the system simply can't support high speed datalink like many of us are used to at home. That may change as Iridium launches their next generation system, but for now the data speed is like using a dial-up modem of 15 years ago, so don't expect to stream Netflix in flight.
The hardware
Iridium Go itself is a well made device. It comes in a compact, rugged case that measures just over 4″ x 3″ so it fits nicely in a flight bag or even a jacket pocket. It's also waterproof and shock proof for use almost anywhere, and we never experienced any overheating issues. In our testing, Go offered good battery performance, meeting the specs from Iridium: 7 hours of active use or 15 hours of standby.
In most of our flying, we simply placed the device on the glare shield since it requires a clear view of the sky (an optional suction cup mount and external antennas are also available). Flip up the small antenna on the left side of Go and the unit turns on automatically. A built-in screen shows the device initializing, then displays satellite connection strength and battery life. There's also a dedicated SOS button so the device can be used in an emergency without having to connect a phone.
When turned on, Iridium Go essentially creates a WiFi hotspot in the cockpit, allowing up to five devices to connect to it simultaneously. There are actually two free apps (available for both iPhone/iPad and Android devices) from Iridium: Iridium Go and Iridium Mail. It's through these apps that pilots and passengers can use most of the features.
Phone calls
For many people, the name Iridium brings to mind satellite phones so it's not a surprise to find this feature enabled with Go. Open the Iridium Go app on your phone, tap Call and you'll see a familiar screen with options: dial a number with a keypad, dial recently called numbers or select a contact (the app accesses your phone's built-in contacts list). This worked well in our testing, from 3500 ft. in a Piper Aztec and 27,000 ft. in a Pilatus PC-12. We even used it to call Customs on an international flight in order to update our arrival time. Call clarity was good, and while there was a short delay that's present in almost all sat phone systems, it was not a major problem. Our only issue was remembering to dial a +1 and full area code before calling. Without that prefix, calls would not go through.
Pilots can also receive inbound calls, a potentially handy feature but also a tricky one to manage for a pilot. Our best advice is to simply turn Go off when not in cruise–there's no need to mess with it on final approach, and the unit has a voicemail feature for any calls you miss. There are other options for managing inbound calls, including some administrative settings to limit them. The best defense against unwanted calls is built-in: each Go device has its own Iridium phone number, so a person would have to know this and dial it. Your regular cell phone number will not work.
One other tip on inbound calling. If a friend calls your Iridium number (8816 is how most of them start), he will rack up a pretty hefty phone bill. However, Iridium offers a "two step" calling process where that friend can first call a regular US phone number, then enter the Iridium phone number they're trying to reach. In this case, the call is charged to the Iridium user, and at a more friendly rate. It's a good option to share with anyone who might need to call you.
We were also successful at making phone calls through our headset. We paired our phone with the Go via WiFi, then paired the phone with our Bose A20 and Lightspeed Zulu headset via Bluetooth. This way, the call could be made with the benefit of ANR and a noise canceling microphone. While it sounds a little complicated, it took just a few seconds to set up and it worked great.
A final feature that we found pretty interesting was the ability to transfer a call from one phone to another. So if you called a family member but then wanted to pass them to another person in the airplane, they can pick up the call on their phone (as long as they're connected to the Go). Maybe not an everyday event, but nice to have as an option.
Text messaging
The ability to send and receive text messages was probably the most useful feature during our testing with Go. Sending a quick text to a spouse with an updated ETA was fast, easy and reliable. Open the Iridium Go app and tap Messages. Again, the screen will look familiar, with each conversation shown the same way they usually are in your phone's built-in messaging app. Messages can be up to 1000 characters long, so there are none of the limitations that early Iridium devices suffered from. Also, two of the three subscription plans offer unlimited text messages, so there's no need to count how many you're sending.
Note that since text messages are sent to the Iridium phone number and not each individual phone, everyone who is connected to the Iridium Go device will see the same text messages. For most of our flights we only had one user connected to the device, so this wasn't a problem, but it's something to be aware of.
GPS tracking and SOS
Iridium Go also has a built-in GPS receiver that's always on. While this can't be used to drive a moving map app like ForeFlight, it does enable two helpful features. First, pilots can send an update to friends or family with their location. These updates can be sent to a phone as a text message or to an email address. Recipients can click through to view a map of the airplane's location. Pilots can manually send these updates whenever they choose to, or these can be set up to send out tracking messages at regular intervals. This is a fun way to track a long flight. Our only complaint here is that the maps are pretty basic–it shows only the most recent position, not a breadcrumb style like we've seen in other applications.
The second feature that uses GPS is SOS. While Iridium Go is not a full-fledged Personal Locator Beacon (PLB), it would certainly be a valuable tool in an emergency. An SOS message can be initiated with the dedicated button on the side of the device, or through the Iridium Go app. It's important to note that this SOS feature needs to be set up before using Go for the first time–it requires emergency contact information. SOS messages are sent to the GEOS Alliance, a private organization that offers 24/7 monitoring of satellite devices. They will then coordinate with local law enforcement to send help. There is no charge for this service (Iridium pays for it on your behalf).
Email
One of the most sought-after features, especially for passengers, is in-flight email. Iridium Go does offer this feature, via the separate Iridium Mail app, but there are some important limitations. First, it uses a unique Iridium email address–not your regular GMail or AOL address. That means you will have to create an account before you use it, then either pass out the email address to friends and family or set up some type of auto-forwarding system from your main email address. This isn't very hard, but don't expect to just turn on your Go and start reading all your emails.
A benefit here is that each user has their own email address, so even if multiple users are connected to Go at the same time, only you will see your emails. This is a benefit of email compared to text messages.
The other limitation is bandwidth. Since Iridium's network is so slow, you won't be reading large, graphic-intensive emails. It's simply not fast enough. We found it useful for sending text emails or attaching a photo and sending it, but those photos are heavily compressed. Again, don't expect to read all your emails–just important ones that you choose to receive at your MyIridium address.
In the end, we found text messaging to be faster and easier than email, so we used that most often. But for those who want to use email, Iridium Go offers by far the least expensive way to do this in flight. After some setup it does work, just slowly.
Web browsing
This may be the killer feature for in-flight connectivity. Passengers want to read news or check sports scores, pilots want to look at weather images and everyone has dozens of other uses for a web browser. The good news is that Iridium Go does offer web browsing, a feature that almost no other portable satellite device ever has. The bad news is that, like email, the bandwidth is so limited that it's hardly a traditional browsing experience.
To begin browsing, pilots will first start an Iridium Go "Direct Internet" session from the Mail app, which basically creates an open connection to the internet. To actually look at websites, pilots will switch to the Opera Mini app–a separate mobile web browser. This is kind of an odd experience, but it does work. The reason for using Opera Mini is that it features some powerful data compression technology, allowing large websites to load over the slow Iridium connection. This isn't intuitive the first time you use it, and even with the data savings turned on, websites still load very slowly. You won't be loading high resolution Nexrad images–not even close.
In the end, we thought the web browsing experience was simply too slow to be very useful. It does work, but patience is required. Pilots probably shouldn't be browsing the web anyway, so it's not a big miss for us. Passengers may disagree.
Other features
There are other features that come with Iridium Go, including social media integration for those who simply can't be away from Twitter or Facebook for very long. These worked well in our testing, although again you'll be using Iridium's apps, not the traditional Facebook/Twitter apps you may be used to. There is also a weather feature that pulls down text weather for any city you choose, including temperature, wind speed, direction and a 7-day forecast.
Third party app integration?
At this time, Iridium Go only works with the company's own two apps. But that may be changing as time goes on. Iridium is very aggressive about recruiting app developers to support their new device, and we expect to see a number of announcements in the months ahead. We're not aware of any plans for aviation apps to support Iridium Go, although that is a possibility. Stay tuned for more on this front.
Subscription options
Like all satellite systems, Iridium Go requires a data plan. While these aren't necessarily cheap, they are far less expensive than any previous plans that Iridium has offered. Notably, data is priced by the minute of airtime instead of by the megabyte, so it's much easier to keep track of your usage. Iridium even offers unlimited text and web/email plans–the first time that's been available.
Pilots can choose from one prepaid plan or two monthly subscription plans. The prepaid plan is valid for up to six months, and unused minutes are rolled over if the plan is renewed. Monthly plans cost either $99.95/month or $149.95/month, both of which offer unlimited SOS and text messaging. Full subscription details are available here.
Final call
So is Iridium Go worth the money? Our conclusion after months of flying with it is yes, as long as you understand the limitations that are inherent to satellite systems. The Go hardware is great, its satellite coverage is unbeatable and the subscription options are significantly less expensive than anything Iridium has ever offered before. It also adds significant features (email, web, phone) over existing Iridium devices like the DeLorme inReach. True, the Go does cost more money than these more basic devices and the apps are still a little rough, but we see great potential for this device as time goes on.
It's not broadband in the sky, that's for sure. But Iridium Go just might represent the on ramp to in-flight internet.
For more information, or to order, visit Sporty's.
https://ds2q22dwzczts.cloudfront.net/wp-content/uploads/2014/09/07183849/Iridium-Go-hotspot.png
600
1200
John Zimmerman
https://ipadpilotnews-images.s3.us-east-2.amazonaws.com/wp-content/uploads/2021/04/07120009/logo.png
John Zimmerman
2014-09-29 18:11:28
2014-09-29 18:11:28
Pilot report: flying the new Iridium Go satellite hotspot