ForeFlight adds IFR airway details and 3D airport markers
2

min read
ForeFlight's moving map navigation screen has come a long way since it was first introduced over ten years ago. What started as a seamless way to view Sectional Charts for the entire U.S. has evolved into a highly-configurable data-driven map, with the option to overlay just about any weather, hazard or navigation data point imaginable.
ForeFlight added two additional features to the Aeronautical Map layer and 3D route preview in recent updates:
v13.9 – includes enhanced IFR airway details on the Aeronautical Map
V13.10 – adds Airport Markers in the 3D view (requires ForeFlight Performance subscription plan)
Enhanced Airway Details
Many pilots prefer to use ForeFlight's Aeronautical Map layer as their primary chart for both VFR and IFR flying instead of the traditional Sectional and IFR En Route charts. ForeFlight's custom-designed map includes the same data points as their rasterized FAA counterparts, but display data much more efficiently since they automatically scale up or down based on zoom level. The features on this map layer are interactive too, allowing you to tap on just about any data point to display additional information about it.
The latest update adds additional information to IFR Airways when the Aeronautical Map layer is enabled. Previously, ForeFlight displayed only the airway name and the MEA/MOCA altitudes directly on the line for any airways that were a part of the active flight plan. Now, you can tap on the airway name to view additional details in the map sidebar including direction-specific MEA, MOCA, and MAA altitudes, bearing, and more depending on which details are available:
You can tap any airway displayed on the map, regardless of whether it is included in your flight plan:
Airport Markers in 3D
ForeFlight's 3D Route Preview feature is a supplemental planning tool designed to give pilots an overview of the current route with satellite imagery and includes 3D terrain, icing, turbulence and cloud weather layers. This feature is accessed from the 3D preview button in the route editor window:
The latest update in this view adds virtual markers to show the locations of airports along the route. Tap one to view airport information in the sidebar: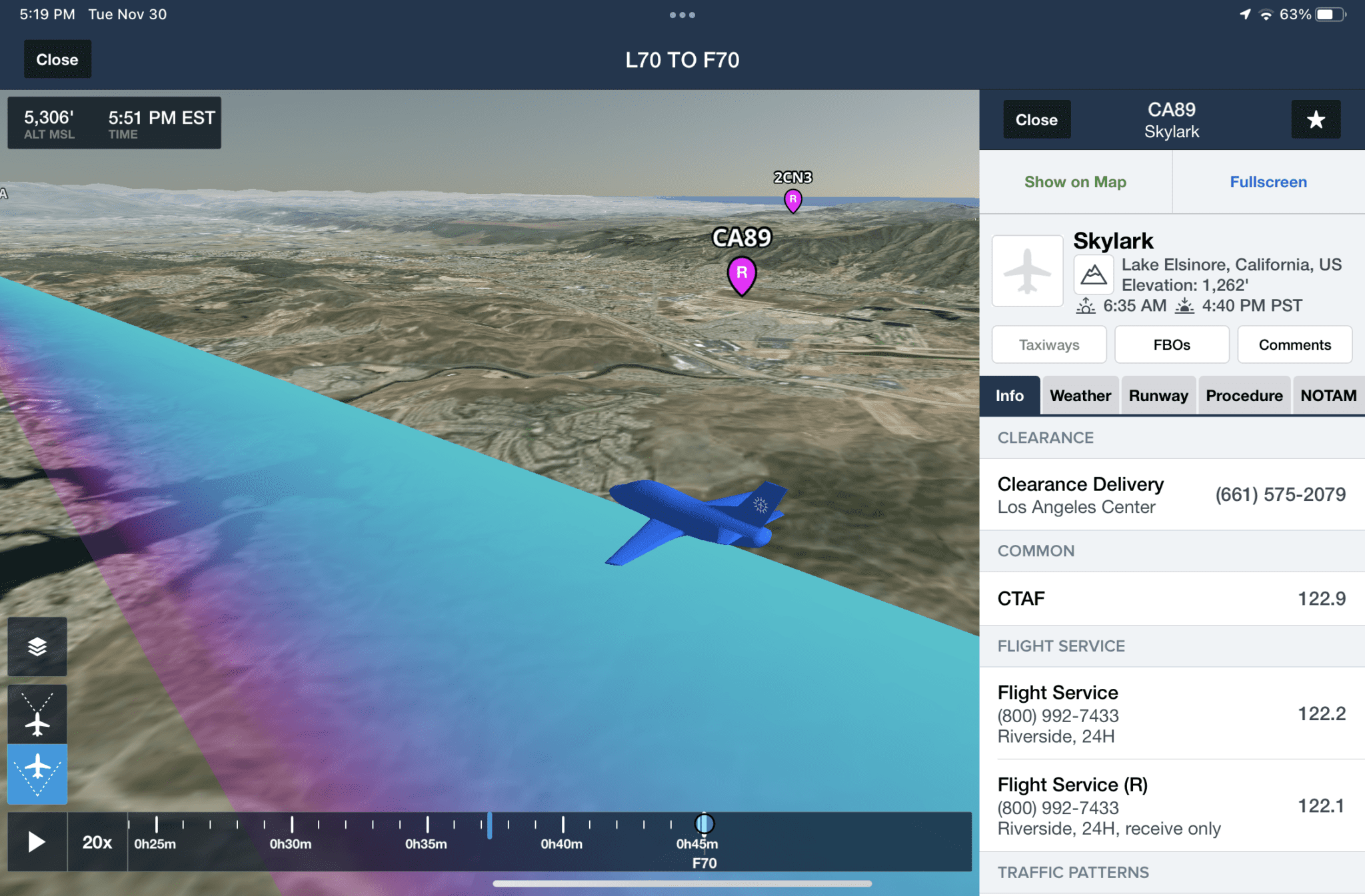 Airport markers can be disabled from the Layer Selector at the bottom left of the screen:
Airport markers are also displayed in the 3D Review feature when looking at previously recorded tracklogs. 3D Route Preview and Review require a ForeFlight Performance Plus subscription.
https://ds2q22dwzczts.cloudfront.net/wp-content/uploads/2021/11/07114240/IMG_4381.png
1345
2048
Bret Koebbe
https://ipadpilotnews-images.s3.us-east-2.amazonaws.com/wp-content/uploads/2021/04/07120009/logo.png
Bret Koebbe
2021-11-30 17:36:17
2021-12-08 12:09:41
ForeFlight adds IFR airway details and 3D airport markers