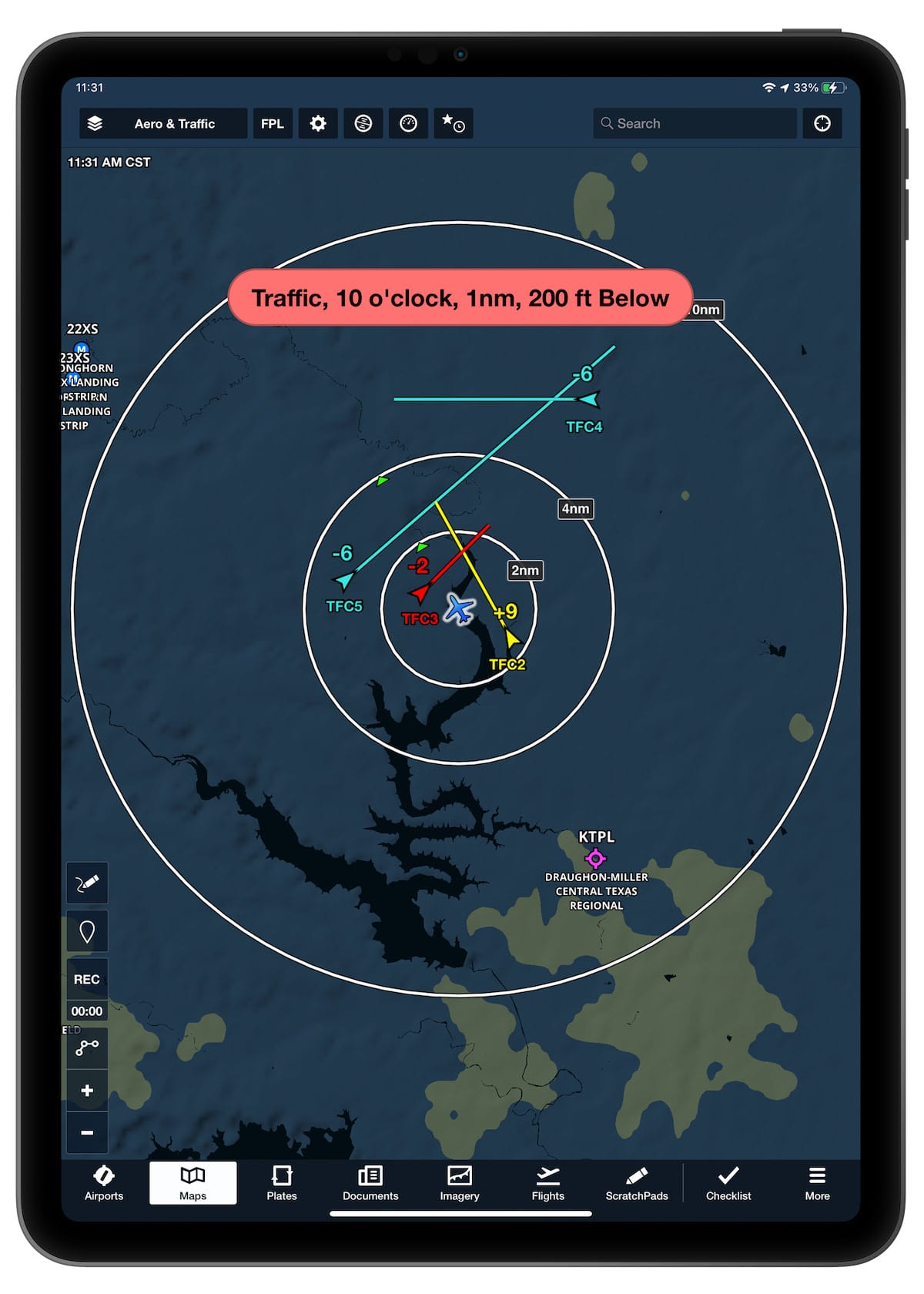 ForeFlight upgrades traffic alerts in version 13
5

min read
ADS-B Out has gone from a nuisance to a reality. A year after the FAA's January 1, 2020, deadline came and went (contrary to some predictions, life did indeed go on), over 100,000 general aviation airplanes are equipped with tailBeacons, GTX 345s, Stratus ESGs, and other transmitters. In addition to complying with the mandate, pilots also get the benefit of improved ADS-B In performance, specifically more reliable traffic alerts.
Capitalizing on this new avionics environment, ForeFlight released new traffic features in version 13 of their popular app, making in-flight alerts more helpful. Here's the recipe for more useful traffic alerts:
ADS-B In: whether it's part of your panel avionics (like a Garmin GTX 345) or from a portable (like a Sentry or Stratus), this is what receives traffic information
ADS-B Out: this is what satisfies the FAA mandate, but it's also what triggers more complete traffic reports (here's why)
ForeFlight on an iPad: so far you have an accurate data stream, but you need somewhere to display that information – that's what ForeFlight does
While ForeFlight has always shown traffic on the Maps page and issued pop-up alerts, the latest version of the app is much smarter. Previously, ForeFlight only issued an alert based on proximity; if an airplane got too close, it would warn you. Now the app uses all available data to make predictions, based on closure rate and the closest point of approach (both horizontal and vertical). So while an airplane may be three miles away, if it's converging quickly the app will warn you before it gets too close to react. This is the way many panel mount active traffic systems work, and provides more actionable information.
The other upgrade is a second level of alert for urgent threats. You can see all three colors in the screenshot below:
Red targets are within 1.2nm and 1200 ft, or will be within 25 seconds. These demand your immediate attention.
Yellow targets are within 2nm and 1200 ft, or will be within 45 seconds. These don't represent an imminent collision, but you should have your eyes outside.
Blue targets are not a current threat.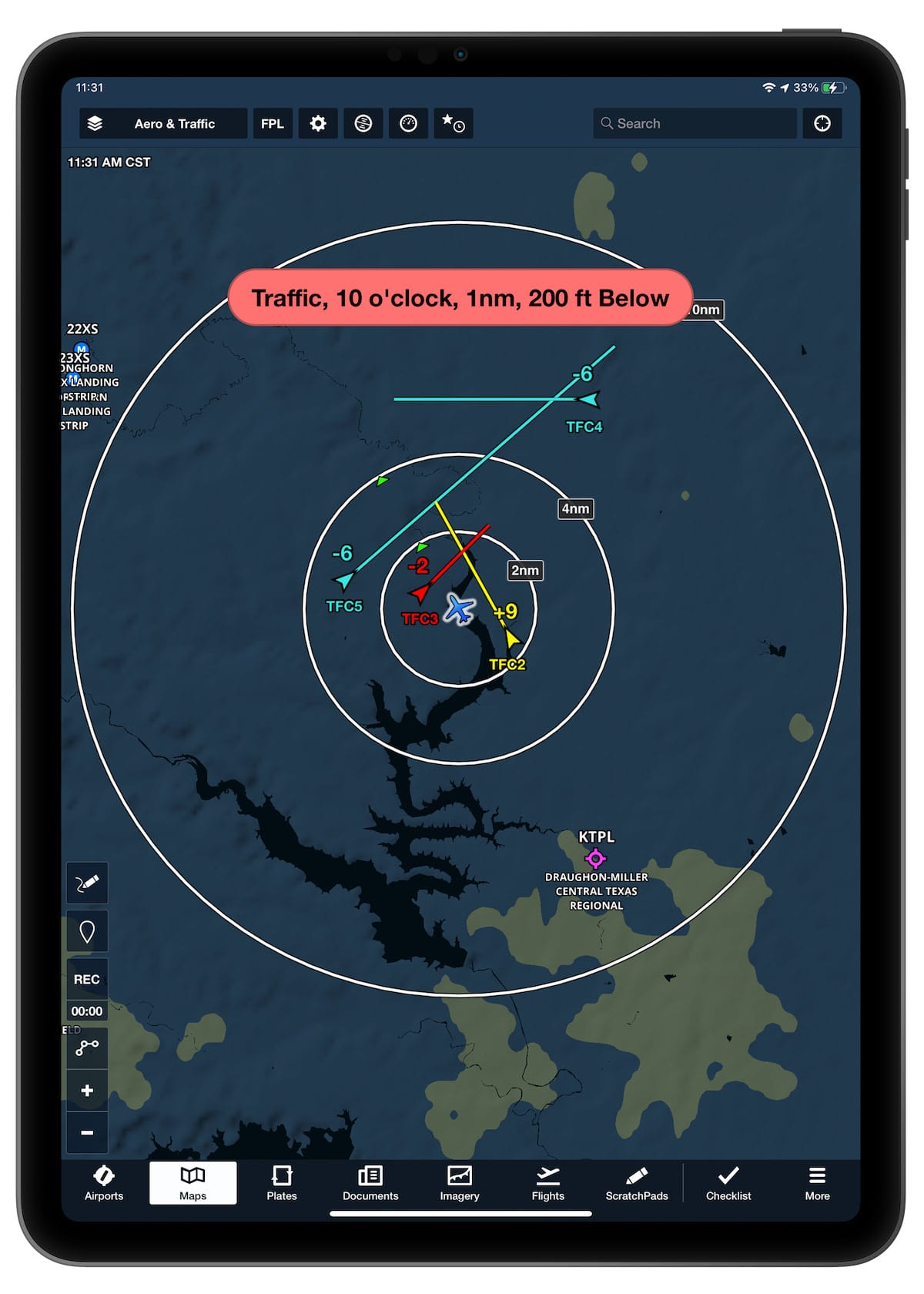 Two notes on traffic alerts. First, while these should be on by default, you can double check by going to More -> Settings -> Alerts -> Traffic Alerts. Secondly, remember that you will only receive traffic alerts when ForeFlight detects ownship, which essentially means you need to have ADS-B Out in the airplane. You can check this by tapping the gear symbol on the Maps page, tapping your ADS-B receiver, then Ownship. You should see your current speed, altitude, squawk code, and more.
For even better traffic awareness, you can connect your iPad to your headset for audio alerts.
Here's what it looks like in action:
Local forecast
Hourly weather forecasts were introduced late last year, and this has quickly become one of our favorite features. You can find the forecast from the Airports page, by tapping anywhere on the Maps page, or even by tapping and holding on the app icon (it's one of the quick access menu options). The layout is easy to understand, the data is detailed, and the forecasts go out to 10 days. While a forecast for a 400 foot ceiling and 2 miles visibility nine days in the future definitely isn't a guarantee, such model-based forecasts are quite useful for long range scenario planning. We find ourselves using this tool more and more every week.
A nice upgrade in version 13 is the ability to see at a glance when sunset and sunrise are, as well as total rainfall. From the Airports page, tap the Weather tab, then Daily. You'll see an overview, but you can tap on a day for detailed data, including wind, altimeter, and rainfall. Note the new sunrise/sunset icons in the middle section, and the precipitation total at the top.
Auto-center on internet traffic
Another recent addition that we've found ourselves using a lot is internet traffic. Admit it: when an airplane flies over, you usually look up. ForeFlight now makes it easy to identify exactly what airplane it is and where it's headed, by turning on the traffic layer on the Maps page. It works almost exactly the same as in the air – zoom in to find an airplane, then tap on an airplane symbol for complete details.
Now you can follow an airplane as it flies along, by tapping the crosshair symbol at the top right corner of the airplane's pop-up information box. This is helpful for keeping an eye on a fast-moving jet. Tap anywhere on the map to stop this follow mode.
Approach Minimum Altitude
For Performance subscribers, there's another addition to try out. You can now enter the minimum altitude on an approach, which is a great reminder of MDA/DH, especially at a busy time. After you've entered your destination airport, go to the FPL window on the Maps page and tap Procedure. Select an approach, then enter an altitude on under the MINIMUM line. The app is smart enough to tell you roughly how many feet above ground level that is – a good last minute check.
Tap Add to Route and the approach will be added to your map, complete with altitude restrictions at each fix along the approach. This makes it easy to brief the approach without having to scribble on the approach plate.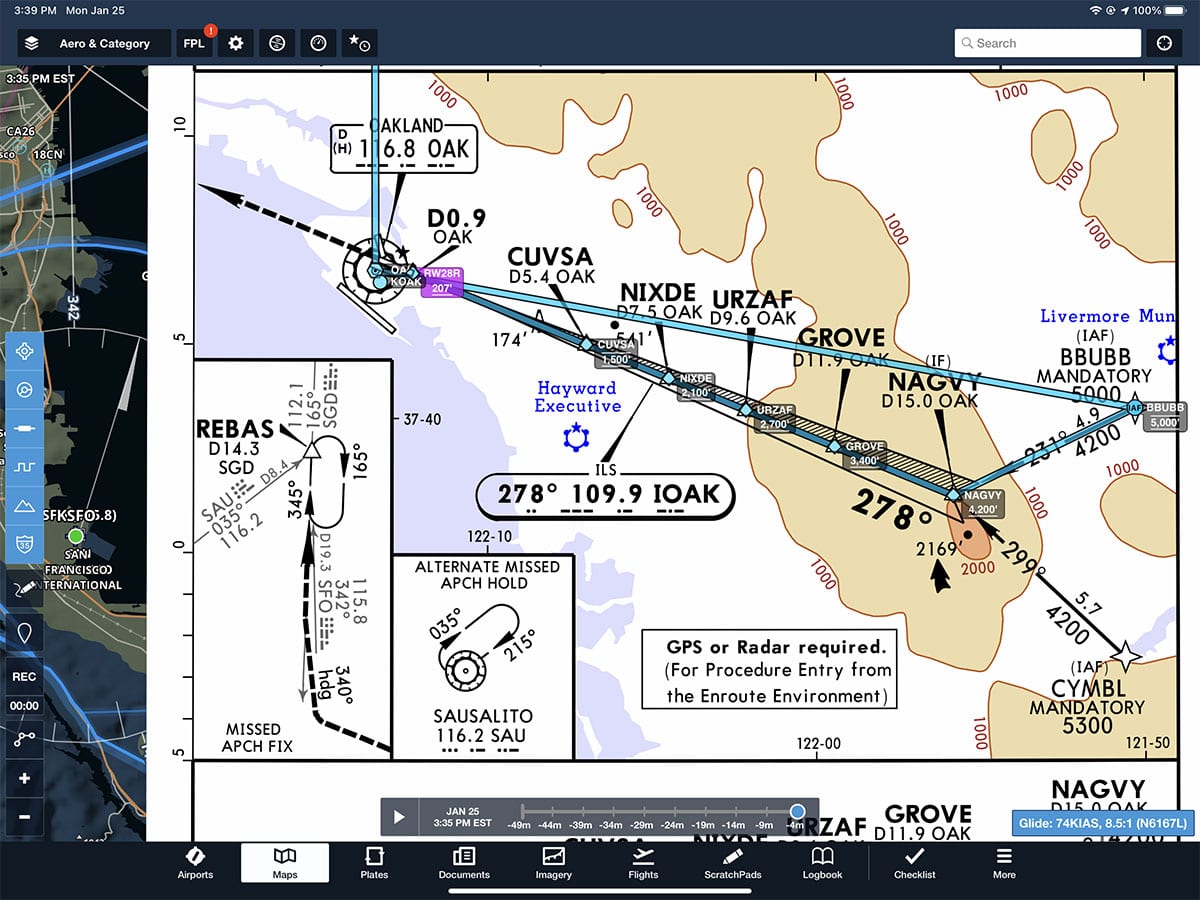 Performance subscribers can also see these altitudes on the 3D Procedure Preview.
If you need to change the minimum altitude, you can tap on the approach in the FPL box, then tap Change Minimum…
As usual, there are other small updates in the latest update. This includes bug fixes and a change to Jeppesen for NOTAM data. The display pilots see doesn't change, but the quality of NOTAM information should be improved, especially for international airports.
https://ds2q22dwzczts.cloudfront.net/wp-content/uploads/2021/01/07120610/ForeFlight-traffic-alerts.jpg
1680
1200
John Zimmerman
https://ipadpilotnews-images.s3.us-east-2.amazonaws.com/wp-content/uploads/2021/04/07120009/logo.png
John Zimmerman
2021-01-25 16:37:17
2021-01-28 12:19:46
ForeFlight upgrades traffic alerts in version 13