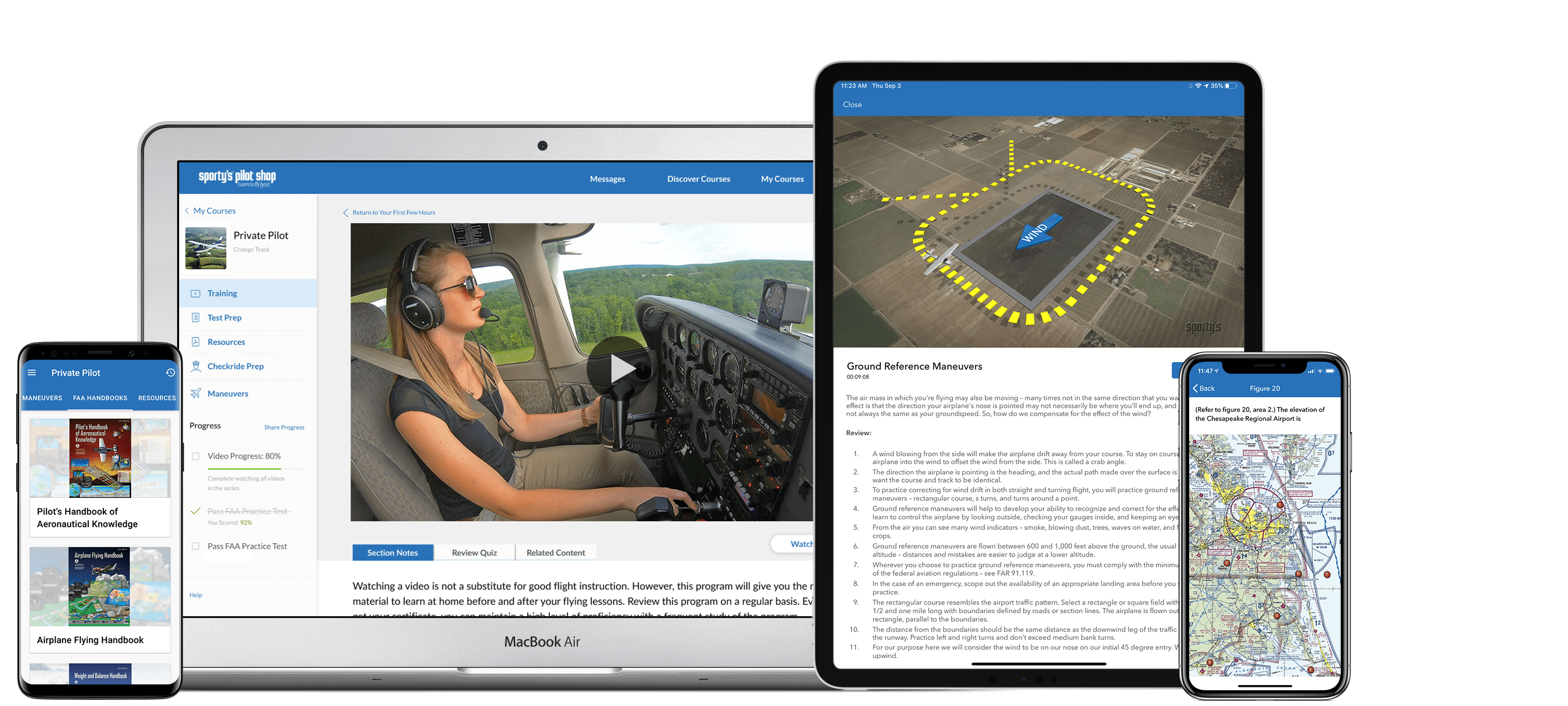 Sporty's 2021 Courses now available in the Pilot Training app
5

min read
Sporty's Pilot Training app has helped tens of thousands of pilots earn their pilot certificate, add new ratings, learn how to use a wide variety of advanced avionics systems and get checked out in new aircraft types. The platform is famous for its relentless pace of innovation, bringing new content, new training tools, and technological enhancements every year.
Pilot Training offers pilots the ultimate flexibility in training, providing access to all of Sporty's aviation courses on dedicated iPhone and iPad apps, an Android app, online and on the TV, using the included AppleTV app, RokuTV channel and Chromecast support.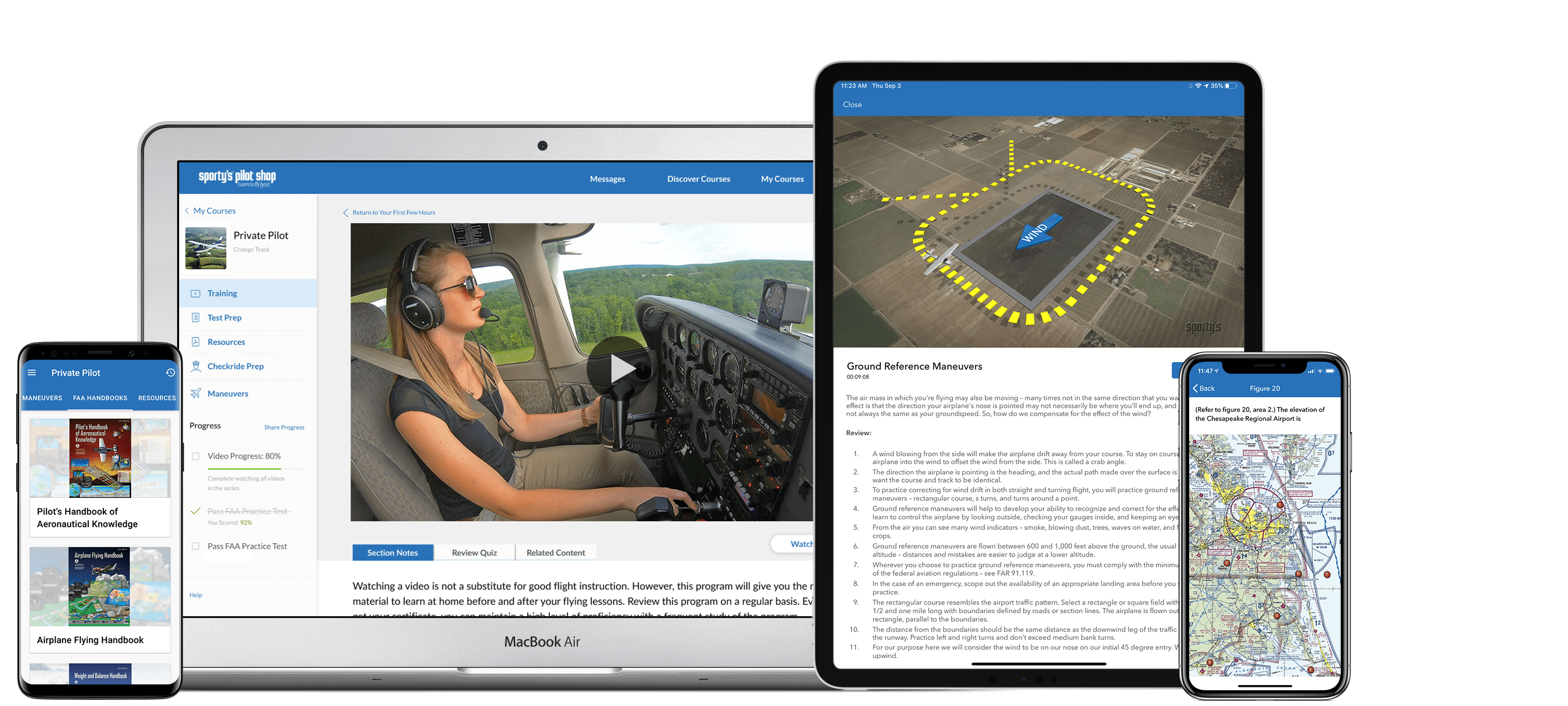 The iOS apps received another big update last week, adding some exciting new features and the inclusion of Sporty's 2021 Learn to Fly, Instrument Rating and Commerical Pilot Test Prep courses. In addition to new HD video content and updated FAA test prep questions, the apps were updated with new Checkride Prep features, document annotations, a flight simulator guide and new dark mode display options.
New video segments
The heart of Sporty's courses is over 15 hours of dynamic HD video that puts the viewer in the airplane, supplemented by sophisticated 3D animations. No boring lectures or slideshows here—it's all about real-world flying. The 2021 edition continues this focus with plenty of new video, including segments on how to use flight following with air traffic control, how to plan a cross-country flight with an iPad, and how to use ForeFlight's Imagery tab. Plus, dozens of smaller updates include the latest technology and FAA regulation changes, so you're always up-to-date.
Checkride Prep
Pilots will find a new section in the Learn to Fly, Instrument Rating and Commerical Pilot courses focused on the final stages of training in preparation for the oral and flight test.
First, interactive Checkride Prep Flashcards provide a convenient way to test your knowledge of key subjects, ensuring you'll be ready to talk about regulations, airspace, and systems. Next, a complete practical test checklist explains everything you need for the big day, from certificates to logbook entries. Finally, a special video segment shows you what to expect on the checkride, with tips from an active pilot examiner.
Test Prep Flashcards
In addition to offering FAA practice tests and custom study sessions based on question categories, random questions, marked questions and smart study modes, the app now features a new Flashcard Mode option which provides an alternate way to study. The flashcards display only the question and associated figure and allow you to flip it to see the answer. It's a great way to study only the correct answer without being distracted by incorrect answer selections.
Document Annotations
Sporty's Pilot Training app includes access to digital versions of all the FAA handbooks and reference guides pertinent to each training course, like the Airplane Flying Handbook, Instrument Procedures Handbook and Aeronautical Information Manual. The latest update allows pilots to make notes, add bookmarks or highlight important concepts in these documents for quick access and review at a later time. Just tap the pen tool at the top right of the screen after opening one of the books, and you'll see a new annotations toolbar appear on the left side of the screen.
Microsoft Flight Simulator lessons
This new simulator is taking the aviation world by storm, but it's much more than just a game if used properly. This detailed lesson guide, developed by the flight instructors at Sporty's Academy, is the bridge between Sporty's Learn to Fly Course and Microsoft's latest home flight simulator. Includes tips for getting started, plus 14 suggested simulator training flights, complete with objectives, scenarios, tasks to accomplish, and performance goals.
Dark Mode
Sporty's Pilot Training app added a dedicated dark mode option, which changes the appearance of the app to show white text on a dark background. This is great when studying in dark environments or at night to help reduce eye strain and extend battery life. Dark mode can be enabled in the Display & Brightness section of your device's main Settings app.
How to get the courses
You can purchases access to any of the 25 aviation training courses right from Sporty's website, including the 2021 Learn to Fly, Instrument Rating Course and Commercial Pilot Course. You'll gain instant access to all the course platforms for one price. If you've already purchased one of these courses (both courses include lifetime updates), you just need to download the mobile app and sign in with your username/password or log in to Sporty's Online Course Portal.
Each course purchase includes lifetime updates, allowing customers who previously purchased any of these courses to automatically receive the new features after updating to the latest version of the Pilot Training app.
Sporty's also offers access to ALL its courses through the Flight Crew Membership program. After purchasing a monthly or annual subscription, you'll have unlimited access to all the aviation courses Sporty's offers, in addition to other benefits like free shipping and a free flight lesson at Sporty's flight school.
iPhone/iPad – download the free app here
Android – download the free app here
AppleTV – go to the App Store on AppleTV (4th Gen or newer) and search for Pilot Training
RokuTV App – search for the Sporty's Pilot Training Channel on your Roku device
Online – visit Sporty's Course Catalog and purchase direct access to any course
https://ds2q22dwzczts.cloudfront.net/wp-content/uploads/2020/11/07121405/2021-Learn-to-Fly-Feature.png
1400
3108
Bret Koebbe
https://ipadpilotnews-images.s3.us-east-2.amazonaws.com/wp-content/uploads/2021/04/07120009/logo.png
Bret Koebbe
2020-11-03 11:26:52
2020-11-03 11:31:29
Sporty's 2021 Courses now available in the Pilot Training app