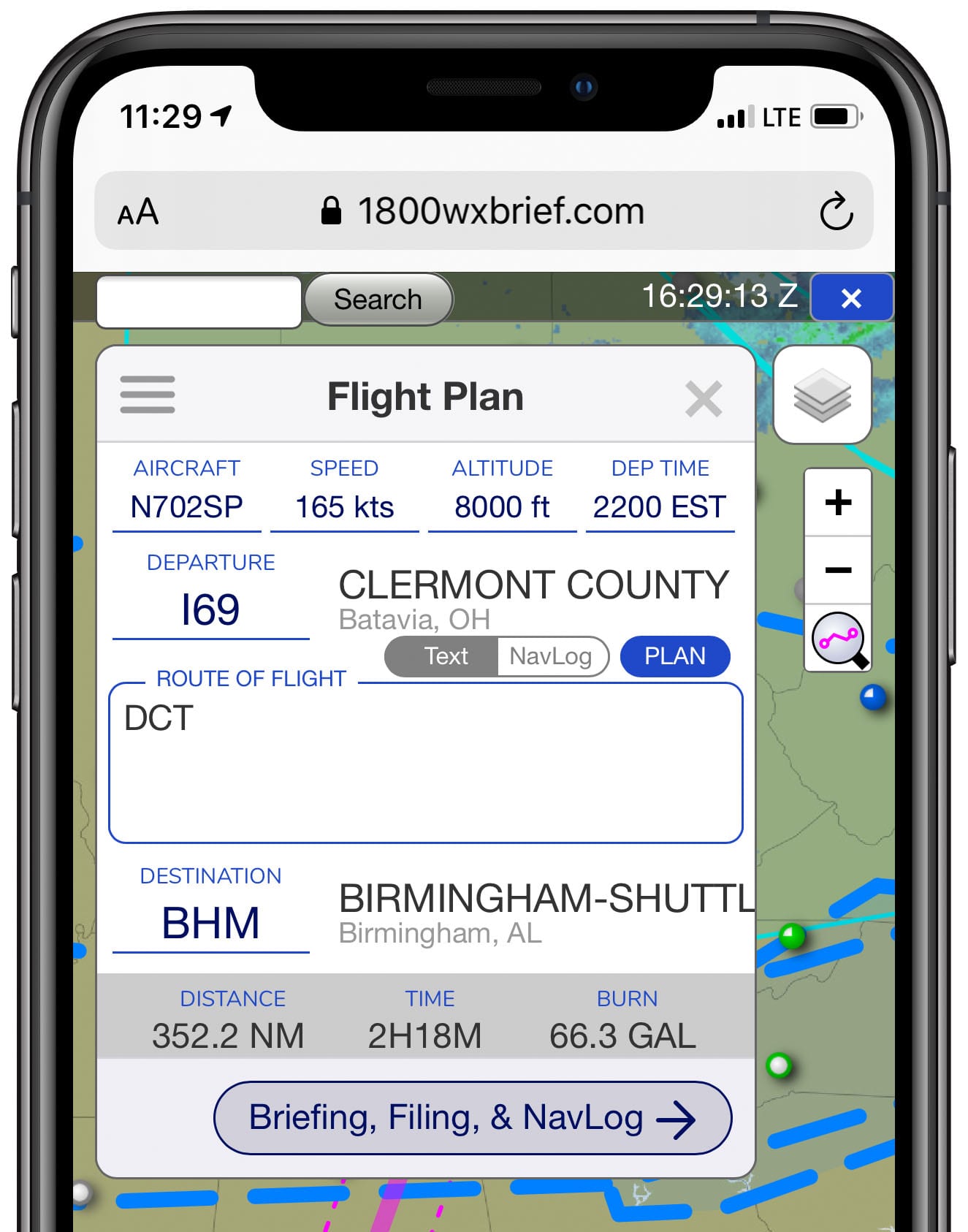 Flight Service debuts new mobile-friendly site for iPhone and Android
3

min read
You've likely seen the headlines that HIWAS broadcasts are shutting down in January, in part because pilots now have free access to near real-time text and graphical weather updates over the ADS-B system. HIWAS is an antiquated service and its termination will have a greater effect on student pilots studying for the Private Pilot knowledge test compared to how it impacts our everyday flying, but it is good to see FAA removing unused services in addition to adding new ones as part of the NextGen transition.
What has been overlooked though are recent improvements coming from Leidos, the FAA contractor responsible for running Flight Service. They recently released a new mobile-friendly version of the 1800wxbrief website making it much easier to use on iPhone and Android devices. The site loads remarkably fast and is very easy to use.
Grab your phone and head over to 1800wxbrief.com. You can access some of the basic features right away from the menu at the top left of the screen without needing to log infirst. To get the most out of the site though, you'll want to sign in with your Flight Service account (registration is completely free if you don't have one).
It then takes just one tap of the Map button from the redesigned dashboard and you'll be looking at an interactive display depicting text weather reports, radar imagery and PIREPs. Just like with aviation mobile apps, a layers menu accessible from the top right of the screen allows you to customize the map and view additional overlays like AIRMETs, satellite imagery, TFRs, icing probability/severity forecasts and much more.
You can enter a basic flight plan by tapping the airplane button at the top left of the screen for additional context on the map. This function is intuitive to use and includes the ability to send the preliminary flight plan data right over to the ICAO flight plan filing feature to continue that process.
The Weather Charts section provides a comprehensive listing of just about every basic and advanced weather graphic available, including surface analysis, low and high-level progs, cloud top/bases and thunderstorm forecasts. Weather geeks will also appreciate the quick access to the Lifted/K Index, 500MB, Jet Stream and Skew-T/Log P charts.
There's a full airport directory here too, with more information than you ever wanted to know about every airport in the U.S. It includes quick access to all the airport charts, diagrams and instrument approach charts, with the caveat that it's designed to be used on the ground when an internet connection is available.
There are several other features on the mobile site too, including quick access to METARs/TAFs/NOTAMs for favorite airports, standard and area weather briefings and flight planning. After first launching the site, we'd recommend saving a shortcut to your home screen, which will place a unique app icon for quick access. To do this, tap the center arrow at the bottom of the Safari menu bar, scroll down the list of options and select "Add to Home Screen." You'll then see the Mobile Flight Service icon right on your home screen, as if it were an app.
https://ds2q22dwzczts.cloudfront.net/wp-content/uploads/2019/12/07131406/FSS-iPhoneX-1.jpg
1686
1325
Bret Koebbe
https://ipadpilotnews-images.s3.us-east-2.amazonaws.com/wp-content/uploads/2021/04/07120009/logo.png
Bret Koebbe
2019-12-31 12:22:28
2019-12-31 12:31:49
Flight Service debuts new mobile-friendly site for iPhone and Android