CloudAhoy version 6 adds new CFI Assistant
2

min read
We've long considered CloudAhoy to be a hidden gem in the world of aviation apps. While it has a vibrant community of users, we think more pilots would benefit from its data-driven approach to flight training and proficiency. Instead of going on gut feel or fuzzy memories, the app can show you exactly how well you flew that S-turn, instrument approach, or traffic pattern. Pair it with a Stratus or G1000 to log data beyond just GPS location, and you have a truly powerful proficiency tool. This week the company released a major update, with version 6.0 and a new Pro level subscription hitting the market.
The biggest news is the addition of CFI Assistant, a tool that automatically scores your flights based on objective standards. One of CloudAhoy's best features is its ability to automatically segment each flight (for example, takeoff, climb, S-turn, landing). CFI Assistant will score each segment, in addition to the overall flight. Beyond the overall score, there are graphs and track overlays that make it easy to determine at a glance how precisely you flew.
This makes it much easier and faster to review a flight; in previous versions of the app, it took some time and more than a few taps to figure out whether your maneuver was good or not. Now you know right away, and there are easy options for drilling down into each segment.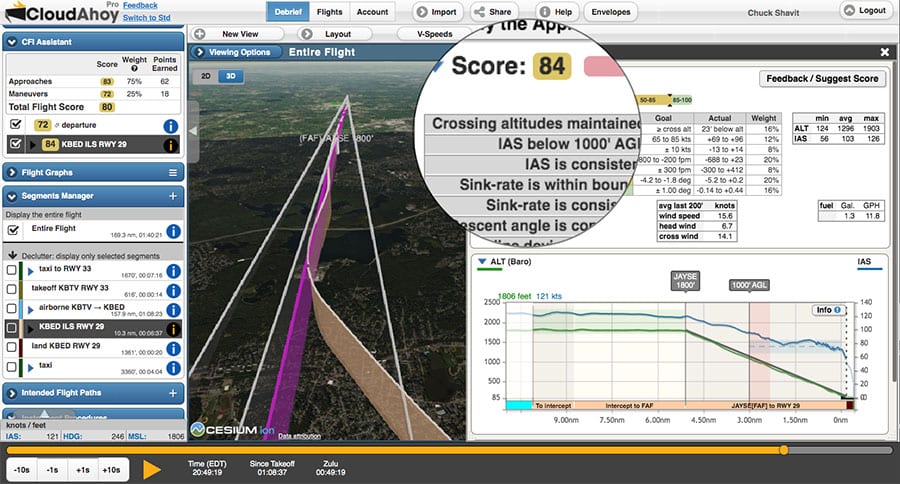 CloudAhoy Pro also adds some powerful capabilities for reviewing instrument approaches, one of the best uses of the app in our opinion. There's also a new display of gauges for power settings, G force, flaps, and gear (when data is available – this often requires using a Garmin G1000 data logger).
Version 6.0 has plenty of smaller enhancements beyond just Pro, including a simpler iPhone layout and some predefined layouts to help new users get started faster. CloudAhoy also added hundreds of aircraft models to their database, for more accurate review and analysis.  Fleet operators can also take advantage of a new organization manager tool, which includes  subscription management, company-specific aircraft parameters, and customizable scoring envelopes.
In addition to the app update, CloudAhoy rolled out a new Pro subscription level. This includes CFI Assistant, IPA Profile View, and Rich Gauges, and costs $150/year. The company is offering a special until October 23rd that gives one month of Pro free to every CloudAhoy user and an extra month of Pro for every purchase. The Standard subscription remains unchanged at $65/year, and the app is free to download and use for basic flight logging and review. You can download it in the iOS App Store or the Google Play Store.
Watch the video below for more details:
https://ds2q22dwzczts.cloudfront.net/wp-content/uploads/2019/09/07133504/CloudAhoy3.jpg
480
900
John Zimmerman
https://ipadpilotnews-images.s3.us-east-2.amazonaws.com/wp-content/uploads/2021/04/07120009/logo.png
John Zimmerman
2019-09-27 11:38:08
2019-09-27 11:38:56
CloudAhoy version 6 adds new CFI Assistant