New RAM Perfect Fit Cradles released for iPad Pro 11″ and 12.9″ models
2

min read
The iPad Pro 11″ is hands down the best full-size iPad for pilots. We've been flying with it for nearly a year now and we love it. The combination of a bright, edge-to-edge, low-glare screen and a lightning-fast processor makes it our top choice for pilots who don't mind paying a premium for Apple's top-of-the-line model.
Mounting options can be somewhat limited when new iPad models are released, and that has definitely been the case with the latest iPad Pro. Updated kneeboards for the iPad Pro 11″ hit the market just a few months ago and take advantage of improved securing mechanisms that don't block the screen. And now the long-awaited Perfect Fit Cradles were just released from RAM and allow you to secure the iPad Pro 11″ and 12.9″ models using their custom, form-fitting EZ-Roll'r cradles.
RAM Cradles for iPad Pro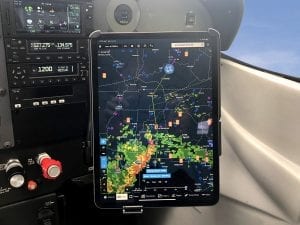 The RAM cradle for the latest iPad Pro models secures your device in a form-fit holder without covering any area of the screen. Like with RAM's other EZ-Roll'r cradles, simply slide your iPad into the cradle and roll the top clip over the device to secure into place. The side buttons, camera, and charging port are conveniently exposed and accessible.
The new RAM cradle also features three separate attachment points on the back to provide flexibility when attaching a RAM round ball base. An attachment point on the side of the cradle allows for the placement and removal of the Apple Pencil.
If you just want to upgrade your existing RAM Mount, the 11″ cradle and 12.9″ cradle are available as standalone products and include the 1″ ball attachment. If you're looking for a complete kit, check out the Custom RAM Mount Builder to create a custom option using the new Pro cradle
If your iPad Pro 11″ has a case, consider the large X-Grip mount from RAM, which utilizes a spring-loaded cradle. This is an easy, one-handed mechanism that grabs the iPad (with or without a case) using four rubber fingers. This is the best choice for really thick cases, like the Otterbox. It's pretty handy, but the mount ends up being fairly large and heavy. Again, there are suction cup and yoke mount kits, or you can buy the cradle by itself for $78.95.
https://ds2q22dwzczts.cloudfront.net/wp-content/uploads/2019/08/07133842/iPad-Pro-1122-cradle-2.jpg
2757
3675
Bret Koebbe
https://ipadpilotnews-images.s3.us-east-2.amazonaws.com/wp-content/uploads/2021/04/07120009/logo.png
Bret Koebbe
2019-08-21 12:25:18
2019-08-21 12:32:34
New RAM Perfect Fit Cradles released for iPad Pro 11″ and 12.9″ models