New Aviation Weather course available in Sporty's Pilot Training app
3

min read
Sporty's Pilot Training app platform has become the go-to app for mobile aviation training, offering a growing collection of courses from Private Pilot prep to advanced avionics and aircraft transitions. In addition to high-quality HD video and animation content, the courses offer unparalleled flexibility by allowing you to access your courses on a wide-range of devices, including iPhone, iPad, Android, web browser, AppleTV, RokuTV and Chromecast – all of which keep your progress seamlessly in sync.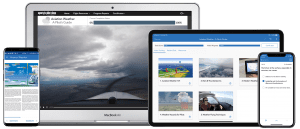 In the last two years, Sporty's Pilot Training app has grown from its initial offering of 6 aviation courses to 14 now. The newest addition to the collection is Sporty's Aviation Weather – A Pilot's Guide, an all-new course designed to give you the confidence to fly in and around weather.
It includes over four and half hours of video with practical tips for both VFR and IFR pilots, presented by aviation expert Rob Reider, meteorologist Scott Dimmich and round-the-world pilot and YouTube contributor Matt Guthmiller. It covers topics ranging from the origins of weather patterns and precipitation and shows how to use the latest weather planning resources like the Graphical Forecast for Aviation (GFA), cloud tops forecast, convective weather planning charts and ForeFlight's comprehensive weather imagery collection.
It then moves into exploring weather hazards and how to navigate around them, including real-world use of ADS-B and SiriusXM datalink weather. The final section of the course focuses on weather flying techniques, taking you on several flights to explore IFR considerations, flying in the middle altitudes, avoiding turbulence and how to deal with weather dynamics when flying around mountainous terrain.
The Aviation Weather course includes review quizzes to reinforce important concepts, reference documents for additional study and a completion certificate available for download after completing the course.
Check out a demo of the new weather course online, in the Pilot Training app for iPhone/iPad and in the Pilot Training app for Android.
You can purchase access to Aviation Weather – A Pilot's Guide directly from Sporty's here.
New features in Pilot Training app for Android
The Android version of Sporty's Pilot Training app added several new features in today's release, in addition to the new Aviation Weather course. Here's what you'll find in the Learn to Fly and Instrument Rating Courses for Android:
new review quiz option allows you to take a quiz comprised of all the video-based questions in each chapter
adds Video Study Guides for each video lesson, allowing you to review the important takeaways from each segment
The Airman Certification Standards (ACS) now include video links with each task and sub-task, allowing you to quickly jump to the respective video training segment to learn more about each flight maneuver and ground training topic
Adds an "Ask a CFI" resource, allowing students to get in touch with one of Sporty's flight instructors when stumped on a training topic or test prep question
Finally, the Android Pilot Training app now offers Chromecast support, which provides the ability to send video playing on your mobile device or tablet to the big screen in your living room when connected to a Chromecast receiver.
https://ds2q22dwzczts.cloudfront.net/wp-content/uploads/2019/05/07134957/wxdatalinkweather-copy.jpg
720
1280
Bret Koebbe
https://ipadpilotnews-images.s3.us-east-2.amazonaws.com/wp-content/uploads/2021/04/07120009/logo.png
Bret Koebbe
2019-05-22 17:35:11
2019-05-22 17:42:18
New Aviation Weather course available in Sporty's Pilot Training app