7

min read
Apple released the next major software update for iPad and iPhone this week, called iOS 12. While the update primarily focuses on improving speed and performance on both older and new devices, you'll find hundreds of other new features and improvements for both iPhone and iPad.
There are several things pilots should take into consideration when deciding when to update, and we'll cover them here. We'll also take a look at several new iOS 12 features that pilots should pay attention to after updating.
Should I update to iOS 12?
Pilots should always be cautious about updating to a brand new version of iOS right when it is released, due to the importance of the iPad and aviation apps to our flying. While Apple and app developers test the software extensively months in advance, all new operating systems have undiscovered bugs that need fixing and may cause unexpected device or app issues.
So it's important to check for guidance from your aviation app developer and GPS/ADS-B receiver manufacturer to see what they have to say on the topic. To help with this task we offer the iOS Green Light Program, which serves as your one-stop shop to determine if your favorite EFB app or accessory is compatible with the latest iOS release from Apple. We keep in touch with all the major app and accessory manufacturers to get their recommendations on whether or not to update, based on their extensive testing with each iOS release. The iOS Green Light page is updated regularly, so make sure to check back often to see when you're safe to update.
Compatible devices
This time around Apple did not drop compatibility for older devices with iOS 12, so any device running iOS 11 is eligible for the upgrade:
The iPhone 5S, 6, 6 Plus, 6S, 6S Plus, SE, 7, and 7 Plus, 8 and 8 Plus, iPhone X
The iPad Air and Air 2; the iPad Mini 2, 3, and 4; the fifth-generation iPad; and all iPad Pros
The sixth-generation iPod Touch
And unlike past iOS updates, this update will actually make your older devices feel snappier – more on this later.
How to update
When you decide you're ready to update, the first thing to do is back up your device using iTunes or iCloud, following these instructions. Next, make sure your device's battery is charged and you are connected to the internet via Wi-Fi, and go to Settings > General > Software update, and tap the Download and Install button.
You'll find that this update installs pretty quickly, thanks in part to the smaller file size of the download. The iOS 12 update size is between 1.5 and 2 GB (size depends on your device) thanks to advances from Apple in recent years. This is good news too for those that don't have much free space on their iPad, eliminating the need to temporarily delete apps or aviation chart databases to make room for the update.
New Features
As with iOS 11, you won't notice too much of a difference in the look and feel of iOS 12, but there are definitely some new features you'll want to check out. Beyond Memojis and screen time analysis, here's what to look for after you update.
Everything is faster
Apple made a real effort with iOS 12 to improve the performance across all compatible devices, and it really shows. We started our testing with an iPad Air, the oldest full-size iPad that can install iOS 12, and it's much snappier. Apps open more quickly and are more responsive, the screen realigns quickly when changing orientations, and the keyboard and camera take less time to come up. We've also been testing on Apple's newer devices, like the iPhone X and iPad Pro 10.5″, and there's a noticeable performance bump with these too, especially in apps that are that are continuously retrieving online content.
New Gestures
There are new methods to access commonly used shortcuts on the iPad on iOS 12 that now follow the same conventions as iPhone X. To access the Control Center, swipe down from the top right side of the screen.
To access the panel of recently opened apps (app switcher), swipe up from the bottom of the screen to the center of the screen.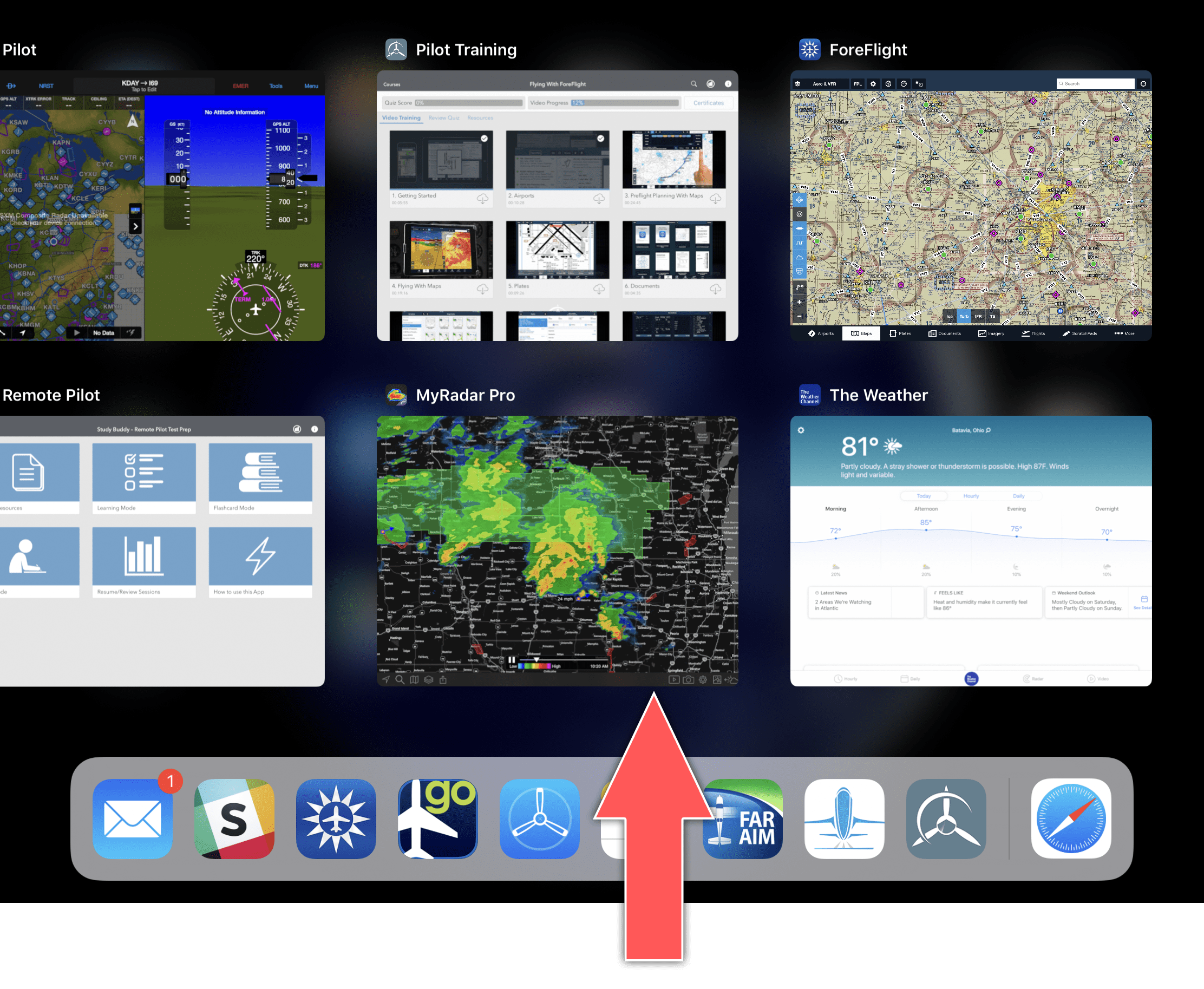 And when in an app, or on a 2nd or 3rd page of apps on the home screen, swipe up from the bottom quickly to return to the home app screen.
Revamped battery analysis
Apple expanded the Battery usage information in the Settings to show battery level and activity trends. You can see how long the screen was on vs. off, and the proportion of battery usage by app.
Use the spacebar to activate a trackpad
On devices without 3D Touch, which includes all iPad models, tap and hold on the spacebar with the keyboard displayed, and you'll be able to drag and move the text cursor around on the screen to quickly reposition it.
Grouped notifications
Notifications are an important part of the iOS experience, but can often lead to frustration when you return to your device to see 15 or 20 messages on the lock screen. To help organize these better notifications are now grouped by app. For example if there are 13 notifications from a single app, they'll all be displayed in one grouping:
Tap the grouping to view all the notifications from that app:
You can also manage the source of the notifications from this screen. Simply swipe across the notification group from right to left, and select Manage for shortcuts to modify the notification behavior for that particular app.
Siri Shortcuts
In iOS 12, Apple included the ability to record phrases unique to you that will accomplish common tasks on your device. For example, if you frequently use a particular item in the Notes app, you can record a phrase in the Siri section of the Settings app that will allow you to quickly launch the Notes app and display that particular note.
This can be used with Apple's new Shortcuts app (available as a free download here) to string together multiple actions, based on a single Siri command. The Shortcuts app includes a gallery of shortcuts you can use right away, like the command "Heading to Work", which will deliver an ETA using maps, announce your first calendar event, start an Apple Music playlist and get directions – all with just one command.
App developers can also incorporate custom Siri shortcuts right into their app. It might not be long until you can open your favorite EFB app and say "Direct nearest airport", which would set up direct-to navigation to the airport closest to your current location in the air.
Siri Flashlight
Siri can be used in iOS 12 to activate the iPhone or iPad flashlight, eliminating the need to fumble around with onscreen controls. When you have Siri's attention, just say "turn on flashlight", and the flashlight will come alive. This is great when in a dark cockpit at night or in a hangar to make things a little easier.
Measure app
You'll see several new apps on iPad, including a new Measure app. This uses your device's camera and augmented reality capability to measure items around you. The app also includes the same level feature that has been a part of the Compass app for the past few years. Here are detailed instructions on how to use the app.
Automatic software updates
Apple had previously included the option to automatically update the apps installed on your device, and you can now enable a similar option to automatically update your iOS as new versions are released. We recommend disabling the automatic updates and manually updating your iOS after confirming your aviation EFB apps are fully compatible with each release. This setting can be found in Settings > General > Software Update.
There were no new iPads announced at Apple's event last week, but several of the changes noted above in iOS 12 likely indicates that new models aren't too far away. These tweaks allow the iPad to be operated without using the home button, similar to the changes made in iOS 11 for the iPhone X: swipe down to reveal the control center, swipe up to show recent apps and when on a 2nd or 3rd page of apps on the home screen, swipe up to return to the first page of apps. The physical home button may be on its way out.
Also, the date/time was moved to the top left of the screen, and battery/wireless connection status was moved to the top right, which is a likely indication that Face ID sensors could be coming to a notch at the top center of the screen of the next generation iPad.
https://ds2q22dwzczts.cloudfront.net/wp-content/uploads/2018/09/07160153/IMG_2161-copy.jpg
1200
1600
Bret Koebbe
https://ipadpilotnews-images.s3.us-east-2.amazonaws.com/wp-content/uploads/2021/04/07120009/logo.png
Bret Koebbe
2018-09-19 14:54:13
2018-09-21 11:07:59
Pilot's guide to iOS 12