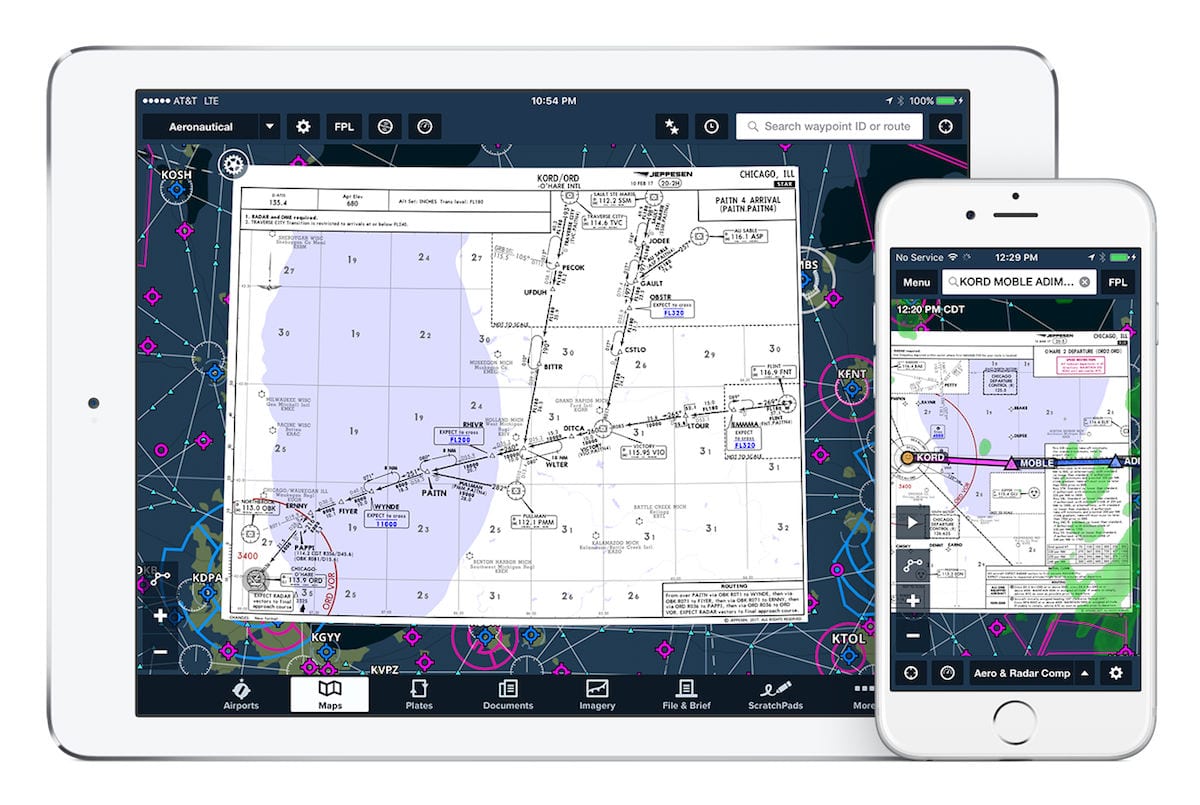 What the ForeFlight-Jeppesen partnership means for pilots
5

min read
It's not quite on the level of the AOL-Time Warner merger, but the announcement this week that ForeFlight and Jeppesen are partnering on app development is certainly big news. One company, a 10-year old startup, has come to define the new era of mobile aviation technology, with a popular app that continually pushes the envelope on features. The other company, part of aerospace giant Boeing, is most famous for its paper charts, but has recently made sizable investments in the world of electronic flight bags (EFBs).
Here we'll explain what the specifics of the partnership are, how pilots will be affected, and why it matters.
What was announced?
First, it's important to note that this is not a merger, as some pilots have speculated. Jeppesen and ForeFlight are both very clear that they have reached a contractual agreement to share data and partner on software development. The relationship works both ways: Jeppesen will add their worldwide database and charts to ForeFlight, while ForeFlight will work with Jeppesen to overhaul their FliteDeck Pro app. Essentially, ForeFlight gets what they want (high quality worldwide data and charts) and Jeppesen gets what they want (a vastly improved iOS app).
This doesn't necessarily enable major new features in ForeFlight, but increases the quality of the underlying data and expands the coverage significantly. Synthetic vision and obstacle maps will now be available worldwide, a major improvement for non-US pilots or US-based pilots who fly overseas (especially business jet operators). In addition, ForeFlight will use Jeppesen NavData to drive its airport information and moving map display. This database has been the standard in both portable and panel-mount GPSs for decades. As ForeFlight CEO Tyson Weihs said this week, "Nobody has better data [than Jeppesen]." NavData could enable some interesting features, like the ability to add instrument approaches to an active flight plan, but we'll have to wait and see.
For users of Jeppesen's FliteDeck Pro app, the most popular EFB option among airline pilots, the changes could be more dramatic. While neither company spelled out specifics, it looks like essentially ForeFlight will be driving the FliteDeck Pro app. As Jeppesen said, "The solution will respect the heritage of FliteDeck Pro, while also embracing capabilities from ForeFlight Mobile that many professional pilots already have experience using." Currently, Jeppesen's app focuses mostly on displaying charts, so adding ForeFlight features like touch planning and smart NOTAMs should be a welcome upgrade.
What does it mean?
The business side of this deal is also quite interesting for what it reveals about the market and some of the big players in it. While Jeppesen has long had a strong foothold in the commercial aviation segment, they have struggled mightily to stay relevant in general aviation. Glass cockpits and the iPad revolution effectively destroyed their paper chart business among the "Cessna and Cirrus crowd," and their initial steps into the app world were somewhat tentative. Lately, some OEMs have even begun competing with Jeppesen's traditional panel-mount database business by offering their own subscription options.
This announcement suggests that Jeppesen has recognized this new market reality, and is focused on becoming more of data supplier, and less of an app company. That certainly plays to their strength, since they have unique databases and international agreements that no other company can touch. Jeppesen says there's "a new mentality" among their team, and a desire to partner with others instead of trying to build everything in house. That should pay off in this case, as thousands of ForeFlight users will probably consider Jepp charts for the first time in years.
For ForeFlight, this is another milestone in their growth from two-man startup to market-leading software company. Instead of having to pursue a series of complicated and expensive deals with various data providers around the world, they can now offer truly worldwide coverage with the stroke of a pen. ForeFlight has been adding international coverage, starting with their launch of worldwide data-driven maps last year, and this clearly got Jeppesen's attention. Now that effort has accelerated dramatically, which should make ForeFlight a serious player among long range business jet operators, who need charts for New York and London in the same app. It should also open up a number of international markets that are currently served by fragmented local companies.
Longer term, the partnership on an updated FliteDeck Pro app may be even more significant. When that launches, ForeFlight will have a dominant position in all three main segments of the US aviation app market: general aviation, business aviation, and airline.
It also points to an evolving strategy on the part of ForeFlight. The Jeppesen deal comes almost a year after ForeFlight and UAS International Trip Support announced a partnership to develop a new flight planning platform. This didn't get a lot of attention, but it was the first time ForeFlight expanded from being just an app to a platform provider. They are clearly focused on their flagship app, but there may be other places where ForeFlight starts to appear.
When and how much?
All ForeFlight subscribers will get access to global NavData, terrain, and obstacle databases sometime this summer. Of note, this enhanced data will be standard with a $99 or $199/year ForeFlight subscription – the only additional charge is for Jeppesen approach plates. An add-on subscription for these is $199/year for the United States, and worldwide regions are also available for between $62 and $417 per year. For pilots who already subscribe to Jeppesen digital charts for an airplane (say, a Garmin G1000), an existing Jeppesen subscription can be linked to ForeFlight, making the charts essentially free.
The new Jeppesen FliteDeck Pro app will be available sometime in the first quarter of 2018.
For more information, visit ForeFlight's new Jeppesen web page, or watch the video below.
https://ds2q22dwzczts.cloudfront.net/wp-content/uploads/2017/05/07173308/ForeFlight_Jeppesen_iPadiPhone_KORD_SIDSTAR.jpg
805
1200
John Zimmerman
https://ipadpilotnews-images.s3.us-east-2.amazonaws.com/wp-content/uploads/2021/04/07120009/logo.png
John Zimmerman
2017-05-05 13:41:47
2017-05-05 13:42:06
What the ForeFlight-Jeppesen partnership means for pilots