Modular iPad kneeboards added to Flight Gear line
2

min read
While mounts are a popular way to secure the iPad in flight, about 50% of pilots prefer kneeboards. That's because in some airplanes, a mount simply isn't feasible (like many jets) or it blocks too much of the cockpit (a problem in many tandem seat airplanes). The good news is there have never been more options for iPad kneeboards, and a new one offers some unique features.
The Flight Gear HP iPad Kneeboard is a bi-fold design, which opens up to reveal an iPad mount on the left side and storage pockets on the right. In typical use, the right flap will hang down on the side of your leg, with two pockets accessible. These are a great place to store your cell phone, screen cleaners or charging cables. There's also an elastic strap for a stylus or pen, plus a zippered pocket.
Perhaps the most unique feature of this new kneeboard is its modular nature. In addition to the two pockets, the right side flap has a soft, felt-like material that makes it easy to attach accessories. Sporty's calls these Gear Mods, and one of our favorite uses is to add a Large Accessory Gear Mod to the right flap and store a backup battery pack. This is a convenient way to keep your iPad charged, with minimal wires in the cockpit. There are plenty of other potential uses for this too, so pilots can get creative.
For smaller cockpits, the right side flap can be folded under and the leg strap threaded through a special cut-out. The result is a slimmer, single panel kneeboard that stays out of the way.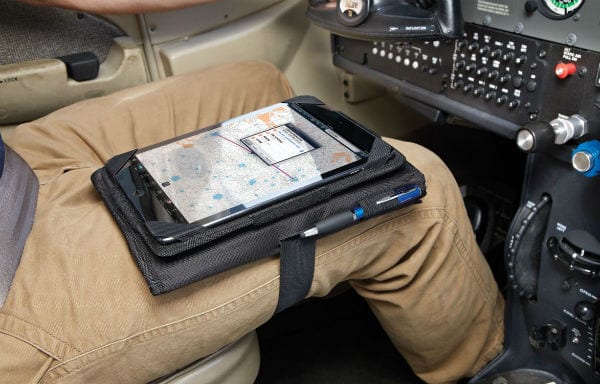 The left side iPad stand attaches to the kneeboard with Velcro, making it quick to move around. There's even a built-in kickstand to elevate the iPad slightly. This makes it easier to read for many pilots, and eliminates glare.
The velcro iPad mount also makes it easy to flip from portrait to landscape orientation.
This kneeboard is a great value – at $34.95, it compares favorably to other models from Flight Outfitters and MyGoFlight. The Flight Gear HP iPad Kneeboard is available for both iPad Air/Pro and iPad Mini.
It's also part of a new collection of four flight bags, called Flight Gear HP. All of these bags will accommodate a tablet, but the iPad bag (not surprisingly) is particularly well-suited to iPad pilots. There's a padded iPad pocket with a pass-through charging port for a battery pack (sold separately). The Flight Gear HP iPad Kneeboard will also fit in the bag.
You can see the complete Flight Gear collection here.
https://ds2q22dwzczts.cloudfront.net/wp-content/uploads/2016/11/07174759/Flight-Gear-HP-ipad-kneeboard-1.jpg
600
600
John Zimmerman
https://ipadpilotnews-images.s3.us-east-2.amazonaws.com/wp-content/uploads/2021/04/07120009/logo.png
John Zimmerman
2016-11-21 17:18:07
2016-11-21 17:18:07
Modular iPad kneeboards added to Flight Gear line