New weather app provides interactive forecast maps
3

min read
Think back for a minute to the to the dark ages before the iPad and what it was like to check the weather before a flight. Chances are good that you relied on a telephone, 56K dial-up modem connection to DUATS, of if you were lucky enough, an AOL web session that allowed you to view some basic weather graphics. We're not dogging these past technologies, as they were all great resources at the time, but it puts into perspective how good we have it now with the latest weather data always at our fingertips on an iPhone or iPad.
The combination of wireless internet, touchscreen interface and sophisticated mobile applications have allowed pilots to better keep up with the latest weather, and in turn make more-informed decisions before each flight. Each iPad pilot today has their favorite way to get a preflight weather briefing, whether using the Lockheed Martin Filght Service briefing utility directly in an app like Garmin Pilot or ForeFlight, or assembling a custom briefing by viewing the interactive maps, NOAA weather imagery and text weather in the apps.
Even with the all the weather tools available in today's EFB apps, there are still times you'll find it helpful to use a dedicated weather app that specializes in one particular weather product. For example our favorite app for a quick glance at radar imagery is MyRadar, thanks to its lighting-fast speed and instant radar animation feature.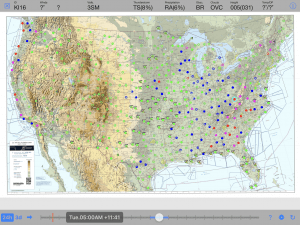 There's a relatively new weather app that hit the app store earlier this year that we really like that does something similar for 3-day terminal forecasts, called Weekend Flyer. This is designed for pilots who are heading out on a weekend trip, for example, and want to get a feel for how the weather will look on the return flight home a few days later.
Weekend Flyer displays color-coded symbols on a VFR planning chart across the U.S., and provides a slider at the bottom of the screen that allows you to extend the forecast out from 1 hour to nearly 3 days in the future. As you move the slider and adjust the forecast window, the forecast colors change on each airport based on the weather forecast for the selected time (green for VFR, red for IFR, etc.). This is great for viewing large-scale trends in the weather and to see where there is a potential for thunderstorm development.
You can tap any of the airport forecast symbols to see the details for the selected time, including winds, visibility, probability of thunderstorms and precipitation, sky coverage, ceiling and temperature. Weekend Flyer uses the GFS LAMP model for the 24-hour forecast, and then the NOAA GFS MOS (model output statistics) forecast product for the longer-range 3-day forecast.
While MOS does provide a large quantity of forecast points for the U.S., it's important to remember this is based on computer models and does not come from a human forecaster. While it can help you determine the best time of day to return home a few days out, don't count on the long-range forecast cloud forecast to nail the ceiling height 72 hours out. On the plus side these forecasts are available for nearly 3 times the amount of airports as TAFs, so they provide some additional data when flying in rural areas away from a major airport.
Weekend Flyer includes lots of customization options in the settings section of the app, allowing you to choose display and unit types that work best for you. The app also includes an in-depth help guide that provides useful guidance on how to use some of the advanced route planning features in the app. The app is free to try for 30 days, and then requires an in-app purchase to continue downloading new forecast data after the trial period.
You can download Weekend Flyer free from the app store here.
https://ds2q22dwzczts.cloudfront.net/wp-content/uploads/2016/08/07175608/2016-08-08-17.28.29.png
1536
2048
Bret Koebbe
https://ipadpilotnews-images.s3.us-east-2.amazonaws.com/wp-content/uploads/2021/04/07120009/logo.png
Bret Koebbe
2016-08-08 17:54:35
2016-08-09 11:30:24
New weather app provides interactive forecast maps