5 ForeFlight preflight weather tips
5

min read
ForeFlight got its start as an online weather service during the pre-iPad era, so it's no surprise today that their flagship app's weather features are just as powerful as its inflight navigation capabilities. ForeFlight has even hired a full-time weather scientist on staff, which has led to the development of some very useful weather features in the app.
While it's easy to get in the habit of routinely checking the radar overlay and METARs before each flight, you'll find that there are so many more weather products incorporated throughout the app. Here we'll take a look at some of these lesser-known weather tools to help you better prepare for your next flight.
TAF Forecast Discussions
The Terminal Aerodrome Forecast (TAF) is the place to go when you need a detailed forecast of winds, ceilings and surface visibility. They are still presented in the coded format that has (mostly) remained the same for decades, which has both pluses and minuses. Some criticize this forecast as old-fashioned and a bit limited, but once you understand the flow and conventions used in the TAF, it can be read and interpreted in a matter of seconds.
To give a little more info into what the forecaster was thinking when they created the TAF, the National Weather Service also publishes an Area Forecast Discussion (not to be confused with the standalone "Area Forecast" weather product).
The Area Forecast Discussion provides important insights into forecast conditions, acting as a complement and explanation for recently issued TAFs. It allows you to get inside the forecasters head to see why they made the predictions they did, and allows you to see the variables they considered when issuing the TAF.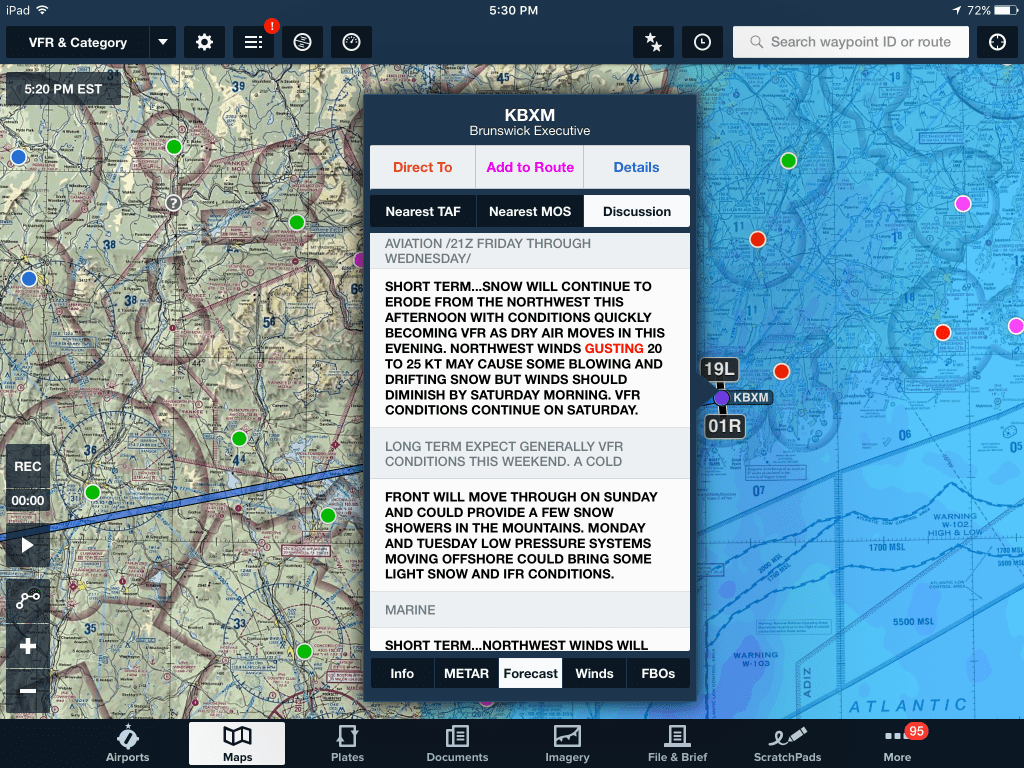 The Forecast Discussion is right next to the TAF throughout the app. On the Weather tab in the Airports page, you'll see a Forecast Discussion button just under the TAF and MOS buttons. And when in the Maps view, tap an airport on the chart to see its information, select Forecast from the bottom row of buttons, and then Discussion from the top row of buttons.
Change the altitude of the winds aloft graphic
Textual winds aloft forecasts are a staple of every preflight weather briefing, but the data becomes significantly more useful when displayed graphically on a map relative to your flight plan. ForeFlight recently added this capability last year, allowing you to select an overlay on the moving map in intervals from 3,000′ MSL up to 54,000′.
Each plot is depicted with a familiar wind barb that graphically displays wind speed and direction. The slider on the right side of the screen provides an altitude control, and you can tap on each station to view the specifics of the forecast wind speed, direction and temperature aloft. You'll also find it very useful to zoom out for a big picture view of the country and scroll through each altitude to view large-scale weather patterns.
Runway wind component analysis
Surface winds are an important consideration during takeoff and landing, and ForeFlight includes an automated utility to help you break down and visualize the winds in relation to the runway. To use this, go to the Runways tab in the Airports page and select one of the runways from the list. You'll see headwind and crosswind components, along with a green arrow next to the most favorable runway direction (red means tailwind).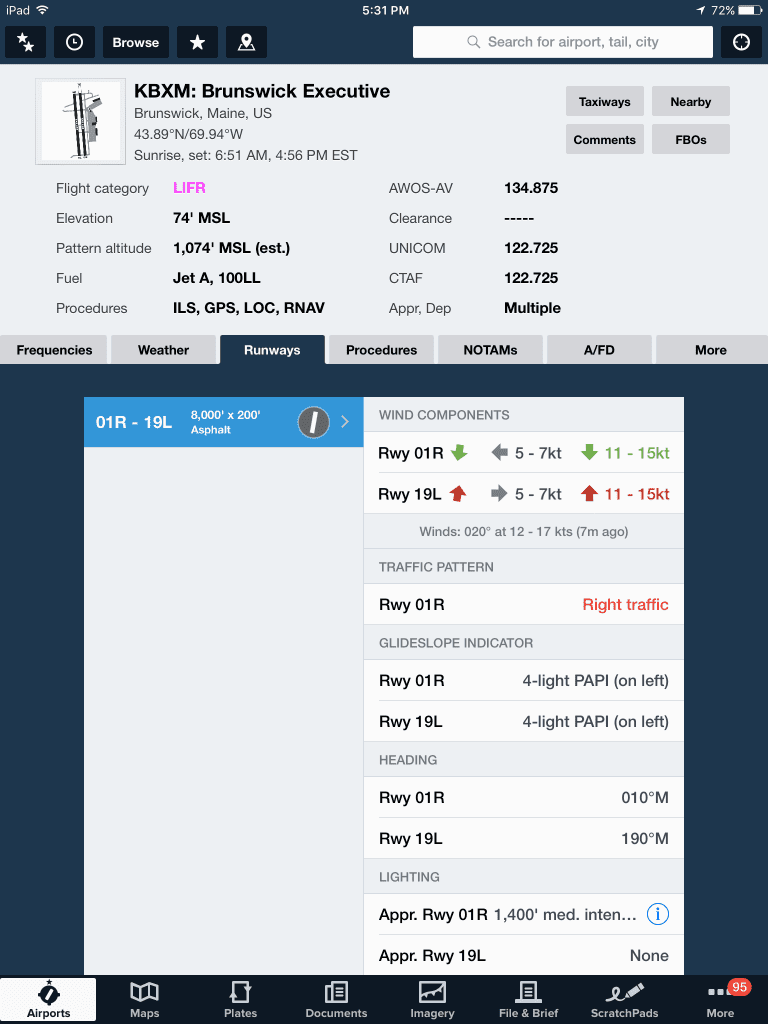 This data will also update in the air when flying with a Stratus ADS-B weather receiver, making it an important arrival planning feature.
Adverse Conditions Alerting Service
ForeFlight's new graphical weather briefing brings the Flight Service Station weather briefing into the 21st century, making the wall of text weather a thing of the past. Since it is directly connected to Lockheed Martin Flight Service (LMFS), this briefing service takes advantage of the LMFS Adverse Conditions Alerting Service, or ACAS.
ACAS keeps tabs on the weather data that was delivered to you during your briefing, and will send a notification containing a summary and detailed description of a condition if a significant change in route or weather conditions is detected. This includes updates to TFRs, airport/runway closed/unsafe NOTAMs, urgent PIREPs, SIGMETs, Convective SIGMETs, AIRMETs, Center Weather Advisories (CWAs), and Severe Weather Watches/Warnings.
To participate in this program, go to the File/Brief section of the app and create a new flight plan. You then just need to make sure the Flight Notifications toggle is enabled before filing your flight plan.
Long-range weather forecasts
The Imagery tab is an ofter overlooked weather resource in ForeFlight, but contains some of the most  advanced weather forecasting products available to pilots. This is the place to go when you want information a little further out, say for a flight that is 3 or 4 days away still.
In the CONUS weather group you'll find Quantity of Precipitation and Probability of Precipitation, which will give precipitation forecasts for several days out in easy-to-interpret charts. While you might not care about exact rainfall amounts, this can help you indirectly identify areas that may have marginal weather and associated hazards in the days ahead.
When flying during thunderstorm season, make it a point to check out the Convective Outlook and Extended Convective Forecasts. These do a great job of forecasting areas where thunderstorms are likely to develop in the days ahead. And when within 8 hours of your departure time, switch over to the Convective Forecast planning chart to view thunderstorm forecasts in more useful 2-hour windows.
https://ds2q22dwzczts.cloudfront.net/wp-content/uploads/2016/02/07180828/Foreflight-preflight-weather-tips.png
600
1200
Bret Koebbe
https://ipadpilotnews-images.s3.us-east-2.amazonaws.com/wp-content/uploads/2021/04/07120009/logo.png
Bret Koebbe
2016-02-05 18:14:00
2016-02-05 19:20:05
5 ForeFlight preflight weather tips