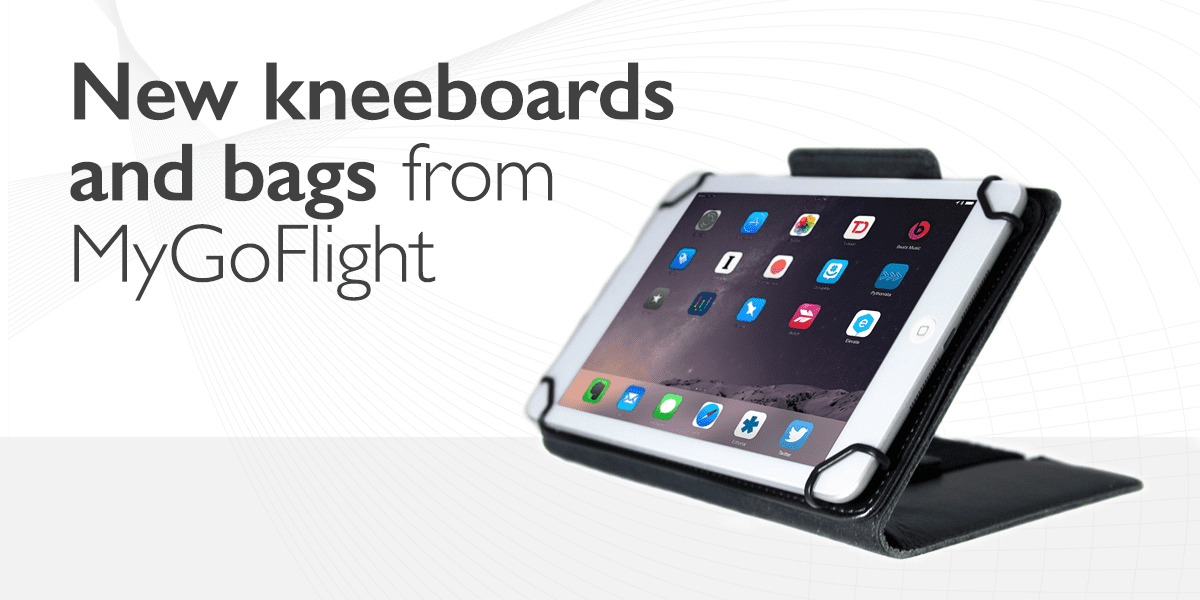 MyGoFlight updates kneeboards and bags for 2015
3

min read
MyGoFlight has offered a premium line of iPad accessories for years now, and one of the reasons they're winning fans is their commitment to enhancing their products in response to pilot feedback. In recent weeks, the company has released new versions of their two best-selling products: the Folio C kneeboard and the Flight Bag PLC Pro. Here's what's new.
The Folio C kneeboard is a nice combination of iPad kneeboard, metal writing desk and stylish leather case. Its bi-fold design and metal clipboard makes it easy to use as a simple writing desk (if you just can't bring yourself to go totally paperless), then flip it open to access your iPad. It's also stylish enough to use as your everyday iPad case, by removing the magnetic clipboard and closing the leather cover. The kneeboard seems to be particularly popular with Cirrus pilots, who have no yoke to block a kneeboard like this.
One of the drawbacks of the old design, though, was that the molded plastic cradle for holding the iPad was a tight fit, so it did not work with cases. Since the majority of pilots use some type of protective cover, that meant the kneeboard wasn't a universal option. The new design takes a different approach, using four sturdy plastic clips with elastic bands so it can adapt to almost any case. We found it held our iPad Air 2 snugly with a variety of cases. Also, the new flexible mounting system means the Folio C will work with many Android tablets in addition to iPads.
The PLC Pro is a premium flight bag made specifically for pilots flying with the iPad. It has a number of pockets designed to keep everything organized, from headsets to charging cords and laptops. We like it for its "Goldilocks size," which is large enough to hold a lot of gear (including two headsets), but small enough to fit comfortably in the cockpit. It can work as a briefcase with a shoulder strap or a backpack, making a very versatile bag. At $179.00, it's not inexpensive, but it is well made and thoughtfully laid out.
The latest version has some minor, but very helpful, changes. For one, the zippers have been modified so they are much easier to open (a complaint some pilots had about earlier models). The main center compartment has also been modified so it opens outward instead of just zipping open in the middle. It doesn't sound like much, but this change makes the PLC Pro much easier to load and much easier to access in flight. The size of this compartment has also been increased slightly, so it more comfortably fits larger laptops. Finally, the bag now features metal hardware for better durability.
The Flight Bag PLC Pro is available for $179.00, and the Folio C Kneeboard is available for $129.00, with models for iPad Mini and 10″ iPads (including Air).
https://ds2q22dwzczts.cloudfront.net/wp-content/uploads/2015/07/07182014/new_bags_mygoflight.png
600
1200
John Zimmerman
https://ipadpilotnews-images.s3.us-east-2.amazonaws.com/wp-content/uploads/2021/04/07120009/logo.png
John Zimmerman
2015-07-29 13:24:29
2015-07-29 13:24:29
MyGoFlight updates kneeboards and bags for 2015