Pilot's guide to the iPad connected panel
7

min read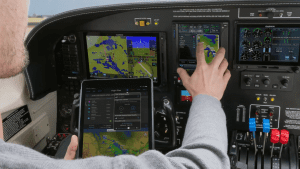 The "connected panel" concept was first introduced around 2011, about a year after the original iPad hit the market, as a technology platform that would allow pilots to set up a wireless 2-way connection between your favorite iPad app and the certified avionics in your panel.
The concept got off to a slow start, but thanks to new avionics developments from most of the major avionics manufacturers, this technology is now incorporated into most new avionics upgrades and is available in just about every new airplane coming off the line today.
When first introduced, the connected systems allowed you to keep your active flight plans in sync between your iPad and GPS in the panel, eliminating the need to enter it twice before takeoff, or modify it in two locations while en route. As the technology evolved and ADS-B Out transponders became the new norm, the systems added the ability to wirelessly transmit ADS-B weather and traffic info from the panel to compatible iPad apps as well.
There are lots of hardware/app configuration options currently available, and to help you decide which is best for you, we assembled this guide showing all the options grouped by avionics manufacturer.
Garmin
Garmin's connected panel systems have grown considerably in recent years, and the fact that they're compatible with both the Garmin Pilot app and ForeFlight has attracted a lot of interest from iPad pilots.
Flight Stream 110: this installed box, usually installed behind the panel or out of sight, uses Bluetooth to create a wireless link between an iPad and a GDL 88 or GDL 84 ADS-B transceiver to send GPS position, ADS-B weather and traffic to your iPad. It is also compatible with the GDL 69/69A to deliver XM weather and radio to your iPad.
Flight Stream 210: this model builds on the capability of the 110 and adds the ability to transfer flight plans between your iPad and compatible Garmin GNS (e.g. GNS430W) or GTN (e.g. GTN650) navigators. It also includes a built-in AHRS, which will drive the attitude indicator and synthetic vision display on the iPad.
Flight Stream 510: This tiny MultiMediaCard creates a wireless bridge between Garmin Pilot and Garmin panel-mount avionics, enabling flight plan transfer and ADS-B weather display on an iPad. It is compatible with GTN 650/750, G500/G600, G1000 NXi and G3000. Most significantly, the powerful little card also allows pilots to wirelessly (and quickly) update databases on panel-mount GPSs like the GTN 650/750.
GTX 345 Transponder: this full-featured transponder takes most of the capabilities of the GDL-88 ADS-In receiver and Flight Stream 110 and incorporates it into a standard size 1090MHz ADS-B Out transponder. It also includes Bluetooth to transmit the weather and traffic data to your iPad or Garmin portable GPS. The GTX 345 has an AHRS sensor built-in, so it'll send pitch and bank data to drive a backup attitude indicator and synthetic vision on the iPad. It does not offer any flight plan transfer features, so if you own a 430W or GTN650, you'll also need the Flight Stream 210 to add that capability.
GNX 375 Navigator and Transponder: In addition to offering the same transponder capabilities as the GTX 345, the GNX 375 adds a full-color touchscreen display and full IFR WAAS GPS navigation. It includes all the wireless Connext features allowing it to wirelessly transfer flight plans and stream weather, traffic, GPS position and backup attitude to an iPad and Garmin handheld GPS units.
Garmin G3X Touch: Garmin's glass cockpit system for experimental and certified aircraft includes the Connext wireless capability built-in, allowing you to transfer flight plans between your iPad, the Garmin G3X Touch, and any other installed Garmin navigators (e.g. GTN650). The experimental version includes Bluetooth and can connect a portable GDL50/GDL51/GDL52 receiver to display traffic and weather on the G3X Touch.
Compatible apps: Garmin Pilot, ForeFlight and FltPlan Go
More information: Garmin Flight Stream 110/210, Garmin Flight Stream 510, Garmin GTX345 Transponder, Garmin GNX 375 Nav/Transponder and Garmin G3X Touch.
Avidyne
Avidyne offers several GPS/NAV/Comms in their 400/500 series, which are designed with the same dimensions as the Garmin 430/530 series.
IFD 400/500 series: Avidyne was forward-looking with these GPS receivers and included both WiFi and Bluetooth for future growth options. This allows them to communicate directly with compatible apps to send GPS data to mobile devices and keep flight plans in sync. A dedicated Avidyne app is also available to wirelessly connect to the IFD navigator.
Compatible apps: ForeFlight, FltPlan Go, FlyQ, CloudAhoy, OzRunways (Australia), SkyDemon (Europe) and Avidyne IFD100
More information: Avidyne IFD systems
Appareo
Appareo is most widely known among iPad pilots for its portable Stratus ADS-B In weather and traffic receivers. The company has also developed a certified ADS-B Out transponder that integrates with existing Stratus 3, 2, 1S and 2S.
Stratus ESG: This 1090 MHz ADS-B out transponder includes a WAAS GPS source and is the same size as existing transponders on the market. It's a great low-cost ADS-B out solution for pilots who already own a Stratus 3, 2, 1S or 2S, since these portable devices can be hard-wired behind the panel to the ESG transponder to provide an affordable connected panel system. This allows the portable Stratus to use the GPS and ADS-B antennas on the exterior of your airplane for improved performance, and power from your aircraft's electrical system.
Stratus 3i: This optional Wi-Fi accessory is a remote-mount version of the Stratus 3 that is specifically made for Stratus ES/ESG. There is no battery or GPS receiver, so it won't work by itself, but it's an affordable way to add ADS-B In capability when wired to a Stratus ESG transponder. These two products together make up a package Appareo calls Stratus ESGi.
Compatible apps: ForeFlight, WingX, FltPlan Go, FlyQ, iFly GPS, AvPlan EFB, Stratus Insight, Xavion, SkyDemon, OzRunways, Naviator
More information: Appareo ESG Transponder and Stratus 3i
uAvionix
The uAvionix echoUAT ADS-B transceiver is a remote-mount unit that works with your existing transponder to provide ADS-B out compliance.
echoUAT Transceiver: In addition to providing ADS-B Out capabilities, this small device receives dual-band ADS-B traffic and subscription-free in-flight weather information on both 978MHz and 1090MHz, and delivers real-time aircraft positions and weather overlays to your favorite EFB supporting the GDL 90 protocol.
Compatible apps: Foreflight, WingX, FltPlan Go, iFly GPS, Avare, Naviator, AvPlan, Stratus Insight, EasyVFR, Skydemon, FlyQ
More information: uAvionix echoUAT
L-3
L3's Lynx line of both panel-mount and remote-mount transponders offer full ADS-B In and Out capabilities, along with the unique ability to display the traffic and weather data right on the front of the transponder's full-color display.
NGT-9000: This panel-mount 1090 MHz ADS-B In/Out transponder includes a WAAS GPS source and color touchscreen to display weather and traffic. It also includes Wi-Fi to send ADS-B weather, traffic and GPS position to compatible iPad apps.
Compatible apps: FlyQ EFB, Flight Plan Go, WingX Pro, SkyRadar, ForeFlight Mobile, AvPlan EFB, Naviator, iFly, Stratus Insight
More Information: L-3 Lynx Connectivity

Dynon
Dynon's SkyView system is a popular glass-cockpit flight instrument and navigation system. With an optional WiFi adapter, you can add powerful connected panel capabilities to this system.
Dynon WiFi Adapter: After adding this WiFi adapter you'll be able to wirelessly send GPS position data, flight plans and AHRS data to your iPad.
Compatible Apps: ForeFlight, FlyQ, iFlyGPS, SkyDemon, FltPlan Go
More information: Dynon SkyView Wireless Connectivity
FreeFlight
FreeFlight offers several ADS-B In and Out options to meet the FAA requirements, which include WiFi to optionally send the weather and traffic data to your iPad.
RANGR ADS-B Transponders: This installed ADS-B transponder includes a WiFi module to send ADS-B traffic and weather to an iPad.
Compatible Apps: ForeFlight, WingX Pro, iFly GPS, Avare, and FlyQ
More information: FreeFlight RANGR transponders
Bendix/King
Aeronav 800/900/910: These models feature Bluetooth and WiFi to send GPS position data to an iPad and offer 2-way flight plan sync.
Compatible apps: ForeFlight, FltPlan Go, FlyQ, AvPlan EFB
More information: Bendix/King Aeronav avionics
https://ds2q22dwzczts.cloudfront.net/wp-content/uploads/2020/02/07125936/GTN2-1-1.png
1080
1920
Bret Koebbe
https://ipadpilotnews-images.s3.us-east-2.amazonaws.com/wp-content/uploads/2021/04/07120009/logo.png
Bret Koebbe
2023-04-19 14:58:08
2023-04-19 15:05:22
Pilot's guide to the iPad connected panel