Customize your ForeFlight digital logbook
4

min read
Digital logbooks have been around for many years, but ForeFlight's introduction of this feature seems to have made it mainstream. More and more pilots are using the app to log flights and track currency, but there's more to this feature than just basic flight logging. Here are eight ways to get the most out of your new logbook.
1. Configure fields just the way you want. Every pilot is different, so what's important to one will be useless to another. ForeFlight makes it easy to turn on and off individual logbook fields as you see fit. If you're a VFR-only pilot, for example, you can hide Instrument time and Approaches. If you're flying a jet and need to log type-specific time, it's easy to add a custom field for each airplane. From the main logbook page, go to Settings, then Configure Fields. You'll see a simple menu of options.
2. Use track logs to create draft entries. If you use ForeFlight's handy track logging feature (and you should; it's automatic), the app will automatically suggest logbook entries after a flight. After all, it knows where you departed from, where you landed and how long it took to fly there, so this can save a lot of time. Just go to the Logbook page and approve or delete the draft entry, or make modifications if needed. Even better, if you fly with a Stratus ADS-B receiver and ADS-B Out in your airplane, ForeFlight will "listen" for your airplane's N-number and auto-fill that in your draft entry. This makes logging almost completely automatic.
3. Use experience reports for insurance forms. When it comes time to apply for or renew aircraft insurance, you usually have to fill out a long form that asks for total time, time in type, time in the last 12 months, etc. This is one place where a digital logbook really shines, and ForeFlight makes it easy. From the main Logbook page, tap on Reports, then Experience Report. This will give you a nice one-page view of your time by aircraft category, class and type, plus totals for pilot in command, cross country and more. To change the date range, tap the menu at the top of the screen: you can select last 30 days, last 90 days, last 6 months, last 12 months or all time. You can even select custom start/stop dates.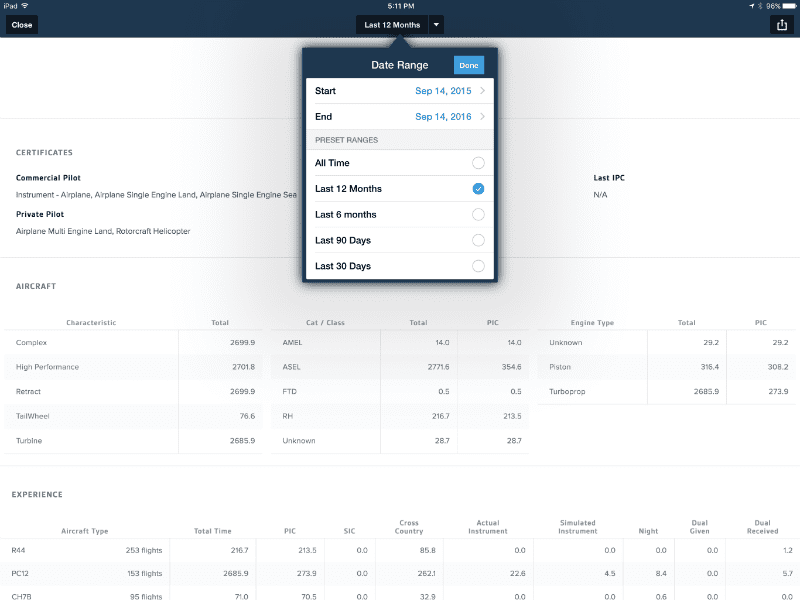 4. Save time with checkride prep reports. If you're training for a Private Pilot license or Instrument Rating, there are a lot of requirements to check off. ForeFlight makes it easy to review your progress on each of the steps. Go to Reports, then either Private Pilot ASEL or Instrument Airplane. You'll see a checklist of the required times, and whether you meet them.
5. Keep a copy of your pilot certificate. You should always have your pilot certificate with you when you fly, but just in case you lose it, ForeFlight offers an easy way to have backup. Tap on Qualifications, then the specific license you want to view. From there, you can tap Add Photo and use your iPad to take a picture of your license (front and back). It's not a legal replacement for your plastic certificate, but it's better than nothing if you get ramp checked and don't have your wallet.
6. Swipe to delete. One of the most common questions we get is, "how do I delete a logbook entry that's incorrect or incomplete?" There are actually two ways to do it. First, you can tap on an individual entry and scroll all the way to the bottom, where you'll find a Delete button. A faster way to do it is by swiping from right to left on the main logbook entries page.
7. Make it a flying memory book. Sure, a logbook is an important document for keeping track of currency. But it can also be a fun way to remember flights and passengers. In particular, three fields in ForeFlight logbook can transform your log from boring text to lively travelogue. First, add the names of people you fly with the Crew & Passengers field. Then add pictures of your flight and destination with the Flight Photos section. Finally, add some notes (was the airport restaurant good, how was the weather, what lessons were learned) in the Comments section.
8. Search for particular flights. Sometimes you can't remember when you flew a certain flight or even what airplane it was in. When in doubt, use the Filter search box at the top of your list of flights. You can search by airport identifier (departure or destination) or N-number.
Any tips you've learned? Add a comment below.
https://ds2q22dwzczts.cloudfront.net/wp-content/uploads/2019/07/07134421/Logbook-endorsement.jpg
600
800
John Zimmerman
https://ipadpilotnews-images.s3.us-east-2.amazonaws.com/wp-content/uploads/2021/04/07120009/logo.png
John Zimmerman
2022-09-30 14:06:10
2022-09-30 14:06:10
Customize your ForeFlight digital logbook