Check out these four big aviation app updates
3

min read
Aviation app companies have been busy this Spring developing a set of exciting new features for pilots in their apps. We received a preview of the latest EFB app updates at Sun 'n Fun in Lakeland, Florida, earlier in the month to see what's new.
Aerovie
The first thing you'll notice after updating to Aerovie version 5.0 is an updated user interface, that brings a tab-bar menu to the bottom of the screen that makes it easy to quickly switch between each section of the app. This reorganization also helps to streamline the menus at the top of the screen.
There are some new weather features added to the moving map screen, including a forecast layer for clear air and mountain wave turbulence not associated with convective weather. The slider on the right side of the screen adjusts the altitude:
You'll also find a new layer to view upper air charts up to FL400. This will show cloud coverage with the surface altitude selected, and Convective Available Potential Energy (CAPE) data on the 500Mb/FL180 chart:
When viewing decoded TAFs, you'll see a temperature line showing the forecast temperate for that time based on the GFS model forecast: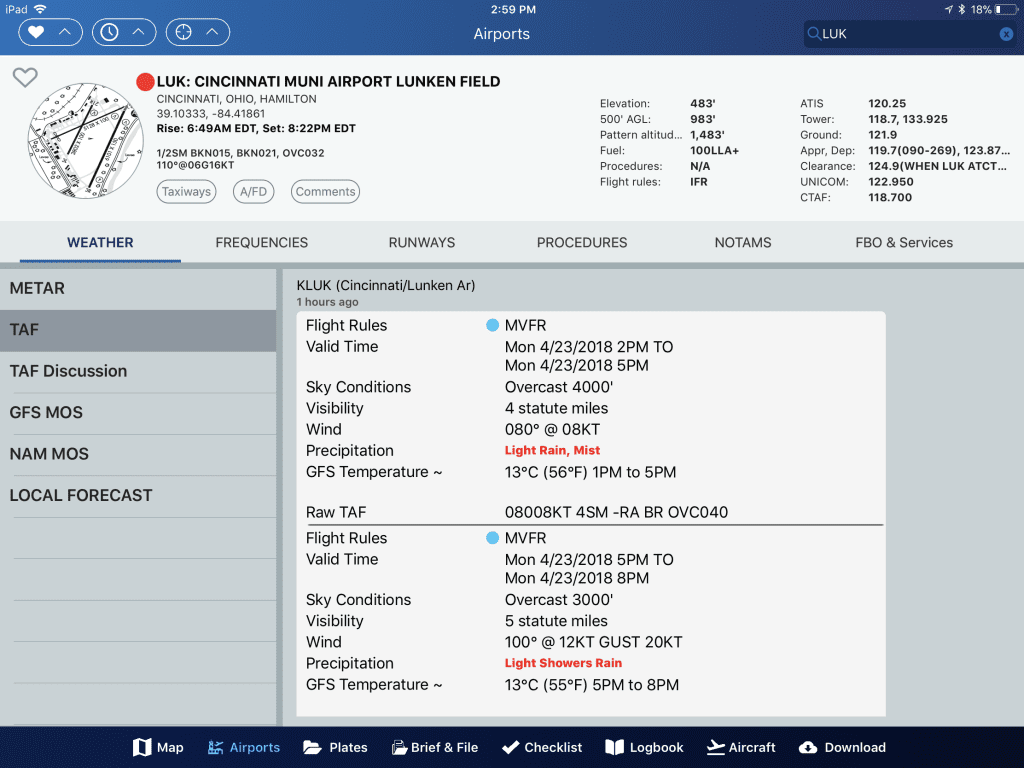 The update adds several other new features, including improved aircraft performance profiles, a checklist library, checklist import/export feature and the option to display a fuel trip planning range ring overlay on the moving map.
Download Aerovie from the App Store
iFly
Adventure Pilot recently released the latest update to their app, iFly GPS, adding Synthetic Vision as a display option on the screen. The addition of synthetic vision provides a 3D terrain view as well as detailed obstruction icons, highway in the sky route guidance, RealView airport images and 3D traffic display when paired with a compatible ADS-B receiver. If not paired with an AHRS device, iFly GPS will use GPS-derived altitude, ground speed, and vertical speed. Synthetic Vision is available as a free upgrade with any paid iFly GPS subscription.
Download iFly GPS from the App Store
Air Navigation Pro
Air Navigation Pro has been a longtime favorite among those flying outside the US. It offers flight planning, GPS navigation and international trip support for pilots, including charts for the US, Europe, South America and more. Up until recently, you had to purchase the app for nearly $50 just to try it out, which limited its exposure to those looking to try it out first.
Fortunately, the app's developers changed that with the introduction of a new two-week free trial program, allowing you to download the app for free and give it a test flight before committing to a subscription.
Download Air Navigation Pro from the App Store
ForeFlight 10
ForeFlight gave a sneak preview of their latest update at Sun 'n Fun, which just became available in the app store today. We'll provide a full review later in the week after we get a chance to fly with ForeFlight 10, but here's a quick rundown of the new features to look for during your next flight.
The search function was improved across the Airports, Maps, and Plates views to display routes, cities, airports, aeronautical information, and procedures, no matter which screen you use to search:
Airspace can now be viewed in the profile view, and airspace depictions will automatically highlight on the moving map when your flight passes near or through them.
There's a new option for automatic downloads, which will keep your databases always up to date by automatically downloading new charts and databases as soon as you open the app when connected to Wi-Fi.
There are also options to view global airspace details, including frequencies, cruise tables and operational notes.
Download ForeFlight from the App Store
https://ds2q22dwzczts.cloudfront.net/wp-content/uploads/2018/04/07163313/IMG_1682-copy.jpg
1434
1906
Bret Koebbe
https://ipadpilotnews-images.s3.us-east-2.amazonaws.com/wp-content/uploads/2021/04/07120009/logo.png
Bret Koebbe
2018-04-23 16:09:56
2018-04-23 16:50:19
Check out these four big aviation app updates