Tips for using the new ForeFlight 8
7

min read
ForeFlight received a lot of attention at Oshkosh this year when it previewed version 8 of its industry-leading app. This major release is now available for download in the App Store and it adds a number of new features and refinements. Let's explore what's changed and go over a few tips to take advantage of the latest tools.
First, what's new. Although there are dozens of updates, ForeFlight 8 focuses on three main areas: data-driven maps, connected logbook, and ForeFlight Web.
All-new maps
The most noticeable addition builds on ForeFlight's all-new map engine, which was introduced earlier this summer. This fast, powerful map engine on the Maps page enables a new Aeronautical layer. Instead of a typical chart, which is a digital version of a paper chart, this layer is dynamic and data-driven. That means the map automatically declutters as you zoom out, text is always presented the right way and there are an infinite number of zoom levels. We were impressed with the speed of the maps here – zooming in and panning around worked flawlessly, with almost zero lag.
The Aero layer is also customizable, so you can change the way it looks to suit your preferences. Below you'll see the same map, but in the Light, Classic and Dark styles:
These new, data-driven maps are also global, a major enhancement for ForeFlight. While complete charts still aren't available outside the US and Canada, this Aero layer (plus the airport database) makes flight planning and in-flight navigation much easier around the world. This screenshot of Europe gives you an idea of the detail now available:
Finally, the Aero layer also includes airport diagrams right on the Maps page – no need to visit the Plates or Airports pages. Just keep zooming in on an airport and you'll see an airport diagram, complete with taxiway labels and FBO locations.
Logbook
Logbook has been a surprisingly popular feature in ForeFlight since it was introduced late last year, and it also gets an upgrade in ForeFlight 8. The new flight sharing option allows you to send draft logbook entries to a co-pilot, flight instructor or friend, and even post it to social media. There's also a handy remote signature option that should be particularly useful for student pilots and flight instructors. A student can quickly send a draft entry to their CFI, who has the ability to edit and sign the entry. This should make logging easier, and keep students and CFIs in sync.
ForeFlight also introduced a Logbook Connect platform that allows other companies to tie into a pilot's logbook. Right now this is limited to Redbird and Schedule Pointe, which allow pilots to log training sessions, but we expect to see more on this platform as time goes on. The goal seems to be making logbook entries automatic, so you never have to fill out the details.
ForeFlight Web
Somewhat lost in all the news around ForeFlight 8 are the major advances online. ForeFlight Web is much more than a research project now; it's a full-featured, powerful planning tool. The new Aero layer is available online, in addition to all the typical weather overlays. The familiar nav log is here, too, plus the route advisor that helps you find the best route between departure and destination. That makes the online app a great way to plan a flight: choose the right route, get accurate time/fuel calculations and evaluate the weather.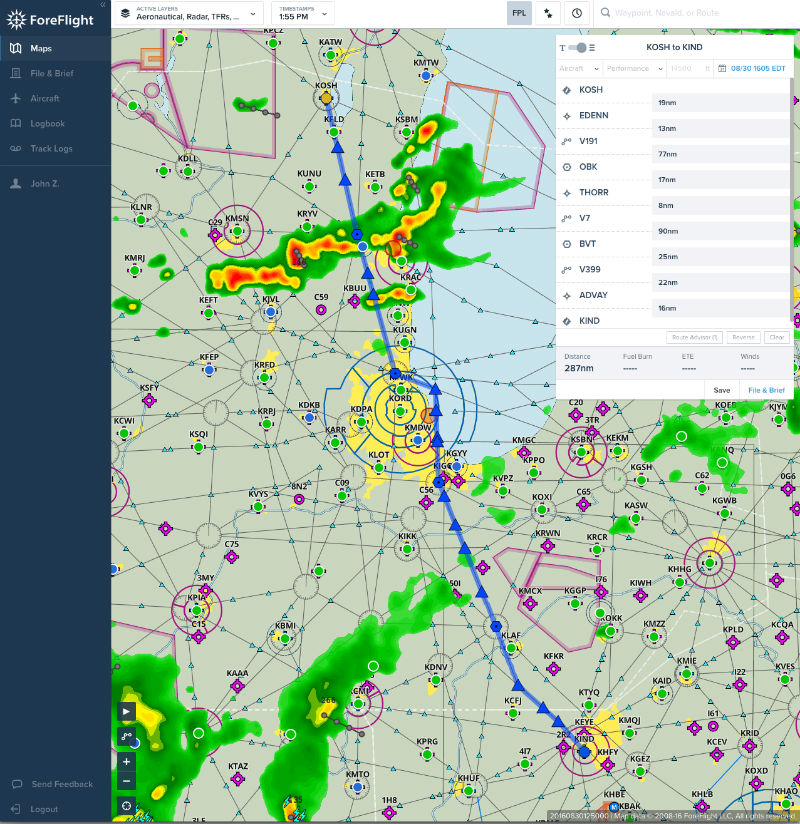 Once you've planned a flight on the Maps page online, you can send that route to File & Brief (click on the File & Brief button at the bottom of the FPL box). This works just like the app, with "chapters" that organize all the standard briefing products into an easily digested format. After receiving a briefing, you can file a flight plan right from the web.
Other updates
As usual, there are plenty of smaller updates in the latest release. These include:
Pop-up TFR alerts. ForeFlight has offered pop-up traffic and runway alerts for some time, and that same feature now comes to temporary flight restrictions (TFRs). If you're close to entering a TFR, the app will alert you both visually and audibly – even if the TFR layer is not on.
FPL button. The familiar three dashed line button at the top left of the Maps page is gone. It does the same thing, but it's now labeled FPL (for flight plan), which is more intuitive. This opens the route planning window at the top of the screen.
Stratus ESG/ESGi and GDL 39 integration. The list of avionics that connects to ForeFlight continues to grow, as the app now supports Appareo's Stratus ESG ADS-B transponder. In addition, Garmin's GDL 39 portable ADS-B receiver now works with ForeFlight, joining the panel-mounted Flight Stream products.
Tips and tricks
Now let's go over a few tips for getting the most out of ForeFlight 8. One minor but useful change is that you can now combine basemaps, whereas previously only one basemap at a time could be used. In the example below, we have the Aero layer turned on (the data-driven aviation map view) then the VFR sectional chart layer on top of it. The results is a helpful mix of official FAA chart and scalable data points, where airports and airspace in particular are highlighted. This works for IFR en route charts as well.
Another good option is track-up navigation, where the app automatically orients the Maps page so that your airplane is at the bottom of the screen moving forward. This has been an option in ForeFlight for years, but the new Aero layer makes it a lot more readable. Since the text is always right-side up and decluttering is automatic (unlike a chart), we found this setting to be a major upgrade. If you're a North-up pilot, take another look at track-up navigation. Just center the map on your airplane with the crosshair at the top right, then tap the compass symbol to switch back and forth.
While the Aero layer works quite well in its initial setup, there are a lot of options for customizing the display to match the type of flying you do most often. We recommend spending some time on the couch with your iPad to get these settings just right. For example, if you're a VFR pilot, you might want to hide airways and center boundaries; if you're IFR, you might not care about terrain or private airports. Even the text size (for airport labels and victor airways) can be adjusted.
One final upgrade on the Maps page isn't immediately obvious, but it's a real time saver.If you're flying on an airway, you can tap on the label (V128 in the example below) and see the Minimum Enroute Altitude (MEA) and Minimum Obstruction Clearance Altitude (MOCA), if there is one.
When it comes to the online version of ForeFlight, it's obvious the company has worked hard to make it as similar to the app as possible. The pages are called the same thing (Maps, File & Brief, etc.) and most of the icons are similar as well. To view the route editor and trip information, click on the FPL button at the top. From there, you can enter a route, aircraft tail number, cruise speed and more. Click on Route Advisor to see a pop-up screen with the recently cleared routes. Select an option, then click Select Route to make it the active route.
Once you have a route selected, you can toggle between the route editor view and the route details view by clicking the toggle between T and the three dashed lines.
Finally, you can even view airport information online just like the app. Search for an airport in the box at the top right corner of the screen and you'll see the map center on that airport and display a pop-up box. This is just like the app, with options for Info, METAR, Forecast and Winds. From the Info page, you can click on Taxi Diagram or an instrument procedure. This will open a new window with that chart (as a PDF) – perfect for printing.
The most important part of ForeFlight Web is invisible – automatic sync. You can plan a flight online, then go right to your iPad and tap on the recent routes button. You'll see everything you just did online, without having to re-enter information. This is perfect for planning on a desktop then flying with a tablet, or for a dispatcher to plan a flight online and have the pilots in the field immediately see the route. Sync includes routes, favorites, logbook entries and track logs. It's always working in the background.
More information
For pilots looking to learn more about ForeFlight, there are two excellent courses available: Sporty's Flying with ForeFlight course and Eric Hake's ForeFlight Power User course.
For more information, check out ForeFlight's preview video below:
http://ds2q22dwzczts.cloudfront.net/wp-content/uploads/2016/08/07175520/ForeFlight-8-MEAs.png
600
800
John Zimmerman
https://ipadpilotnews-images.s3.us-east-2.amazonaws.com/wp-content/uploads/2021/04/07120009/logo.png
John Zimmerman
2016-08-30 15:01:26
2016-09-01 16:22:40
Tips for using the new ForeFlight 8